Where Are They Now: Doug Dubach
We didn't have to look far to find Doug Dubach: He was one of the many industry friends who made the trek up to Castillo Ranch last Friday for Racer X Ride Day. Dubach is a longtime Yamaha factory rider-turned-businessman. He now runs Dubach Racing in between big vet races and, starting this summer, trips to AMA area and regional qualifiers. That's because Dubach plans on racing at Loretta Lynn's Ranch for the first time ever this coming August.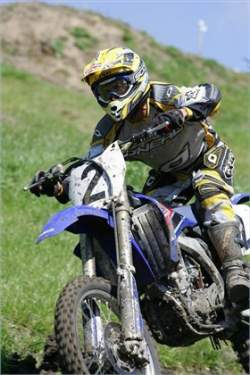 Doug Dubach at the 2006 Racer X Ride Day
photo: Simon Cudby

Racer X: First off, it was great seeing you last Friday at the Racer X Ride Day out at Castillo Ranch. It looks like you've still got it. And that was a mighty big motor home you were able to parallel park.
Doug Dubach: [Laughs] Well, I think that was probably my most impressive move of the whole day, getting that thing back down that road and not stuck in the mud. So I do have some hidden talents.

A lot of people know you and recognize you from your days as a Yamaha factory rider, but we read about and see you all the time with the White Brothers World Championships that you still do. You won some championships in Canada, and now you're starting to point yourself toward a different championship after all these years, aren't you?
Well, I figure 42 and three-fourths is a good time to start my amateur career. I never really had much of one. I went to Ponca City once and was disqualified by a really lousy situation. So that soured my single amateur event.

Did you get one of your patented holeshots that was just so unbelievable that they said, "Dubach, DQ!"
[Laughs] No, it was actually something completely different. I had a shift lever that they told me it wasn't a problem to run in the stock class, but come Sunday when I'd won the whole shooting match, they decided that it was illegal. So it was just a bad experience at the whole event.

Well, for what it's worth, that's part of probably every amateur national. If you think it's tough at Ponca, try running that shifter at Loretta Lynn's.
Well, that shifter went in the trash the very next day. But back in my day, as they say, the whole amateur push was just not there. Guys did it because there were good events to go to, but it didn't have the impact that it does these days. So I was just anxious to turn pro so I could actually make some money and quit one of my four jobs that I had all through my young years. So it was just the path that I went and I was quick to be pro. Actually, going from a mini beginner to a 125 pro, it took me about 18 months. So that shows how big of a hurry I was in to earn a paycheck at the end of the day.

It works a little differently now because most people try and stretch their amateur career out over 18 years, not 18 months.
Exactly! It's amazing, because you can't help but to learn and to speak to people and these guys are all bummed because they're like, "I was a B rider with eight bikes and loads of gear and parts, and now that I've turned pro, nobody cares." So for me, it all has been something that I wanted to go do. Especially some of these tracks that I never got to go to. I see pictures of Lake Whitney and Loretta's and I just never had time. I was instantly a pro, and being a pro doesn't take you to those tracks. So it was something that always interested me, and then I hired Tom Wallace as our amateur support guy, and he started telling me, "Man, you should go. You have no excuse. You got so many amateur riders nowadays.…" We've got over 400 amateur guys in our support program, so he said I should go and see what it's all about. So that's sort of how it all came together. But you can't deny the fact that I have to lay the groundwork for when Carter gets old enough.

Carter was also out at your ride day and I noticed that he's got two things that he does well: He starts well, and he also likes to crash and lay under his bike until someone comes over as the ambulance.
Well, that's an old track. When you did crash in the first turn and you wanted the race restarted ... but I think now there's some penalty. If you're the cause of something, they don't let you restart. I don't know, it's a bad rule. It worked back in the '80s.

Well, Carter doesn't know that because he's what, 2 [laughs]? And he was on a bicycle, I should add.
But it did have a DR. D exhaust!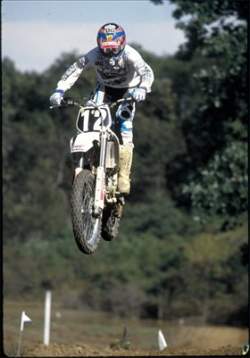 Doug Dubach, circa 1992
photo: Jim Talkington

So how is Dr. D going?
It's outstanding. We've come a long ways in the few short years that we've been around. I bought my own building, and I own all my own equipment. We manufacture everything under our own roof. So we've taken some huge strides in these few short years. Sales are great and I think every person that comes in contact with our product and company has a good experience. It's one of those things where there are a lot of established guys out there, and I think people are really finding a good, fresh place to be with our company.

Looking ahead to this summer, you might have a couple people that you're familiar with out there racing. I understand from Andy Bowyer over at MX Sports, not only did Mike Craig ride that area qualifier with you out in California, but Larry Ward did some qualifying here back in the East, although I talked to Kevin Walker and Larry's mom said she won't believe it until she sees the motor home pull into Loretta's.
[Laughs] That's one thing, but missing that hunting trip to go to Loretta's is a whole different story.

Qualifying is one thing, but taking a week without having a loaded rifle is another thing. But the aforementioned Kevin Walker is looking forward to having company. I've got to say, for the longevity and popularity that you had as a professional racer, Kevin kind of did the same thing by making a name and a career for himself as an amateur in the Southeast. It's going to be great seeing you guys get together in the Plus 35.
Yeah, Kevin came out to California, and he was a little out of his element, so I had kind of an easy time with him. But I'm afraid that the shoe is going to be on the other foot, me going east. So we'll see. Either way, he's a great sport and we had a great time when he came out here. He's a true competitor, so we'll see what happens.

Are you going to bring Tom back as not only the amateur support liaison but also the Dr. D factory mechanic? Or are you bringing the dean of mechanics, Mr. Alan Olson?
I don't know, Alan may have a few frequent-flier miles built up, and he may jump on board and come out there. We'll have to see. I think the humidity gets to him. We may need a little umbrella girl to walk around with him. I took Tom to Whitney and he didn't prove to be much of a mechanic. He was more into selling pipes. I might need to bring both of those guys.

Does Tom still have that strange Australia-meets-Pittsburgh accent going? I saw him at the Indy Trade Show, and I told him that I can't even remember where he's from!
It's somewhere in England, but I'm not sure where. He has a unique mix of South Wales-meets-Pittsburgh local.

Well, we'll be stoked to see you down there, Doug.
It's going to be fun. I can't wait. I've had a pretty solid career and all of this is going to be icing on the cake.