Privateer Profile: Josh Summey
With the NCAA Men's Basketball Tournament in the books, one name you probably have etched in your mind is Adam Morrison. The Gonzaga marksman was the leading scorer this past college basketball season (and is also notorious for his shaggy hair and '70s mustache), but what makes his feat all that more intriguing is the fact that he was a diabetic. Well, in our sport, Moto XXX rider Josh Summey is also a diabetic. He was diagnosed last year but has since gotten the disease under control with a better diet and daily shots of insulin - just like Adam Morrison. And just last weekend, we saw Summey racing a round of the Suzuki GNCC Series in Union, SC. We decided to catch up with Josh for this week's Sponsorhouse.com Privateer Profile. Be sure to show Josh and his sponsors some support by clicking on the links at the bottom of the page.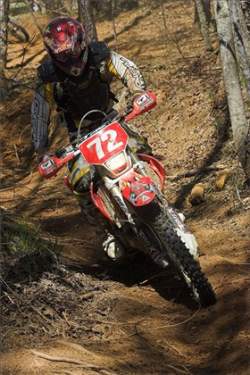 Moto XXX's Josh Summey raced the Big Buck GNCC last weekend in South Carolina
photo: Ray Gundy
Racer X: Josh, you finished up the Eastern Regional Supercross Series and now is a good time to take a few weeks off. But instead of taking a vacation, you went out and raced the Big Buck GNCC in Union, SC, over the weekend. How did that go?
Josh Summey
: That was a lot of fun. I did a few of those races in 2003, before I signed with Team Samsung. It went good. At the end of the second lap, I think I was right around 10th or 11th, but toward the end of that lap my camelback had come loose, so I didn't have any water left. I had to pull in and switch my whole camelback system, so that kind of cost me quite a bit of time. I think I went back to 18th or something. But overall, it was a lot of fun. I felt great compared to the races that I had done a couple years ago, and I rode it on a CRF250X. Last year I used the contingency money that I won in supercross to buy that bike.
Judging from the photos, you didn't look like a professional supercross racer but rather a professional GNCC racer. You had the headlight, the red backgrounds, and the camelback.
Yeah, I knew what was going on from the races I done in the past, so I knew what to expect.
Were you mainly racing the event for some added training before the AMA Motocross Nationals?
My main goal was to feel strong for the whole three hours. I just didn't want to go and just ride hard to the first few laps. I would've liked to have gotten a top-10. Looking at my lap times, I definitely think I could've been anywhere from eighth to tenth, but overall, it went all right. I definitely have a lot of respect for those top guys in that series.
Compare that race to a 15-minute supercross main event.
In that series it seems Juha [Salminen] really starts out fast, so I knew the pace was going to be pretty fast. The second lap is when I made most of my passes, but it's just unfortunate what happened with the camelback. But you just have to pace yourself, because it's a lot different riding straight for three hours and only racing a 15-minute main event.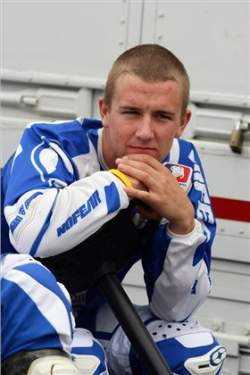 Last year, Josh was a member of the Samsung team
photo: Simon Cudby

Are you planning on racing any more GNCC races this year?
Yeah, I'd love to. There's actually one in Yadkinville, NC, which is about an hour north of my house, so I'd like to hit that one if it works out. I was thinking about racing the Loretta Lynn's GNCC on April 23, but I think I'm going to be heading to California for some outdoor testing here pretty soon.
Let's talk about your supercross season. You finished up the Eastern Region in Houston with a solid sixth place, your best finish of the season. That had to be a bright spot among a pretty up-and-down season.
Yeah, it was okay, but it still didn't meet the goals I set for myself coming in. But it was a good way to finish up the season.
You didn't qualify for two main events. What happened?
Well, the first race I didn't qualify for was St. Louis. I got there and felt great in practice, but by the time the qualifiers came around, I just rode tight and was really nervous, since it was the first race. So I kind of blew that race. The other race was Indianapolis and I was running in second behind
Chris Gosselaar
, and I just made a timing error in one of the rhythm sections. He was taking off a jump I was landing on, so we hit and I went down pretty hard. I had to go to the hospital for a precautionary checkup, so I wasn't able to come back and race the LCQ.
Last year you were a member of the Holigan Walters team, and you were picked up by Moto XXX, which is a proven team. How did that deal come about?
I've been working with Scott Sepkovic and he asked what I thought about Moto XXX. He was helping them put a deal together with Unbound Energy. I knew they had fast bikes, like when Larry Ward won a national on a YZ250F, and just watching Kyle Lewis get holeshots on the 450. So I was excited to try something new.
Have you learned anything working alongside veteran Kyle Lewis and Tim Ferry?
Oh, it's great. Those two guys really help out a lot with stuff on and off the track. If you're willing to pay attention, those guys have no problem with giving you advice.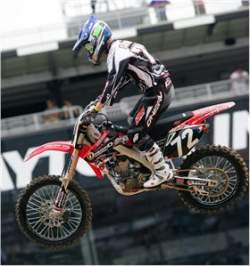 Josh will be joining teammates Kyle Lewis and Tim Ferry on a CRF450R for the AMA outdoor nationals this summer
photo: Simon Cudby

The 2006 AMA Motocross Nationals look to be the most competitive season we've seen in years. What are your expectations?
I'm actually going to be racing the 450 class outdoors. I'm getting a 450 on Monday, and then I'll be going out to California to practice and test. The top 20 is where you get your points at, but I think from 10th to 15th is a pretty reasonable goal for myself. I think with some of the tracks I'm more familiar with, like
High Point
, I think I could finish inside the top 20.
Was it your decision to move up to the 450 class?
Well, after talking to Allan, it's going to make things a lot easier for the team. Instead of having to try and focus attention on both a 450 and a 250F, he can just focus on the 450s.
Do you still live in NC?
Yeah, I live in Stanley, which is about 20 minutes south of Charlotte. I grew up in this area pretty much my whole life.
You have anyone you'd like to thank?
I just want to thank the entire Moto XXX team, all of the team sponsors, my parents, and Steve Litz, who kind of got me off and going with the Yamaha deal a few years back.
www.motoxxx.com

www.unboundenergy.com

www.ampm.com

American Honda

www.oneal.com

www.akrapovic-ai.si

Pro Honda Oils & Chemicals

www.procomptires.com

www.tagmetals.cc

www.m2rhelmets.com

www.ePersonals.com

www.mxmotosports.com

www.asterisk.com

www.motionpro.com

www.lasleeve.com

www.pro-x.com

www.n-style.com

www.scottusa.com

www.vpracingfuels.com

www.brakingusa.com

www.readyracing.com

www.n-fab.com

www.polisport.com

www.atomic22.com

www.sdgusa.com

Sidi Boots

www.dunlopmotorcycle.com

www.darksideclothing.com

www.crowerpower.com

www.carbonfiberworks.com

www.metaltekracing.com

www.fatwreck.com

www.californiasupertrucks.com

www.hinsonracing.com

www.vortex-performance.com.au

www.ogio.com

www.mb1suspension.com

RK / Excel

www.wrapvehicles.com

www.motochat.com

www.lucky13apparel.com

Honda Genuine Parts

Ti-Lube