Between the Motos: Mike Brown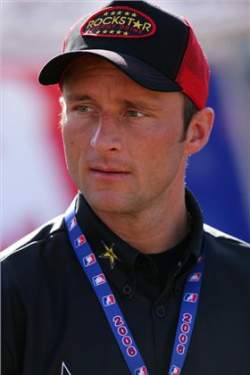 Hard to believe it's been a dozen years since this man first won a pro race.

Rockstar Suzuki rider Mike Brown's first win as a professional came on April 9, 1994—more than a dozen years ago—at the Pontiac Silverdome. Before that, he was a Loretta Lynn's champion, and he later became the 2001 AMA 125cc National Motocross Champion. Now the quiet man from Piney Flats, Tennessee, is making a go at another motocross title. He's parked his RM250 Suzuki supercross bike to focus from now until Hangtown on the RM-Z250F he hopes will get him back on top of the AMA Toyota Motocross circuit. Before Brown went into full lockdown mode with his training, we caught up with him for this week's Between the Motos.

Racer X: First of all, Mike, while we know supercross isn't exactly your style, you had a pretty good season. You've been very consistent and made every main event you entered.
Mike Brown: Yeah, it's been good. Like you said, it's not my style, but it's been a good season for me. I get down on myself pretty easily for not being up there with the top guys, but it wasn't too bad. I qualified for all the main events and had some good races.

You placed seventh in the main event in the Edward James Dome in St. Louis. That appeared to be a very good result for you.
Yeah, it was, for sure. I good a good start — I was, like, in fourth or fifth. I don't know why, but I was able to stay up there with the lead guys. For the first 10 laps I had good distance between Travis Preston, but then I started thinking too much and Preston and [Nick] Wey caught me at the end. But yeah, it was a good night, for sure. But now I'm done with supercross. I'm going to shut it down to begin concentrating on the outdoors.

What'll be your program for the nationals?
I'll ride a 250F in the Lites class. I'm hoping for a championship and hope the bikes will be up for it, too.

Are you happy with the way things have been going with the RockStar Suzuki team so far?
I think so. It's a new team that's still learning, but they've got good people and are getting people to help. I've already ridden the 250F a bit, and that's why I stopped with supercross after Houston. We want to start dialing the bike in for the nationals. The bike is really important in the Lites class and I'm hoping the Suzuki is good enough to help me win races. I think it should be all right.

The 2005 125 National Championship—in the first four rounds, you were on the podium every time, and you won Budds Creek. But then you were seventh at round five at Red Bud, sixth at Unadilla, and seventh at round seven at Lakewood. Things seemed to start falling apart.
Yeah, the season started awesome. I had a win and a number of top-threes and -fours. I was right there in every race. But then at the halfway point, I don't know.…

At that point, the finger-pointing about your bikes being" off-song" began between you and Pro Circuit.
The bikes were not the best. I don't know if they were old or if it was me or what, I really don't know. [The bike] ended worse than it started, I do know that. I just want to let it be—I don't want to blame anyone. I don't want to blame Pro Circuit. There's nothing left to be said. It's all done now. I'm not saying things went wrong the second half of last year because of me, and I don't want to say they went wrong because of anyone.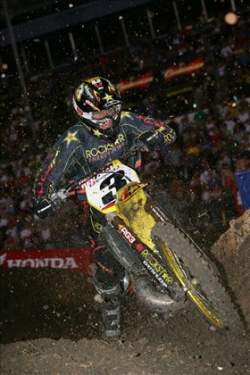 Brownie rode the RM250 for much of the SX season, but now it's parked and he's on his RM-Z250 outdoor bike

Then came the political maneuvering of the Motocross des Nations team. You were picked to ride the 250F for Team USA in France, then, for reasons still unclear to most, you were asked to leave the team.
I really don't know what happened there either. I was getting good results. The team was announced at Lakewood and everyone was so pumped. Honda was like, "We'll give you a bike; we'll give you the good stuff." But then each weekend, it seemed like the offers for support became less and less. Before one national, I had a meeting with Erik Kehoe [Honda], Steve Whitelock [AMA], and J.C. Waterhouse [Factory Connection], and we talked about what type of support I was going to get from Honda. Things were still moving along.
Then came Binghamton. Supposedly, there was supposed to be some sort of meeting about the team after the race. Nobody said anything to me about that meeting. After the race, I was gone and on my way to the airport. The next day I got a phone call from Steve Whitelock. He said, "Why weren't you at the meeting after the race?" I told him I didn't know a thing about a meeting; if there was a meeting about the Motocross des Nations, of course I would have been there! I wanted to go! It was a bunch of bull crap. I guess Steve and Roger DeCoster held this meeting and Kevin Windham and Ricky Carmichael were there and I didn't show up. I didn't even know about it.

How did word come down that you were off the team?
After Millville, RC called me one night and said it might be better if I wasn't on the team because he knew I was having problems with my bikes. He said he didn't want me to go over there and make the team lose because I didn't have a good bike. I could understand what Ricky was saying, but I was also being told that someone was going to step in and give me a good bike to ride for the Motocross des Nations. So not long after the call from Ricky, I got a call from Steve Whitelock saying I wasn't going to be on the team. Like I said, I could understand what RC told me, but knowing about that meeting really pissed me off.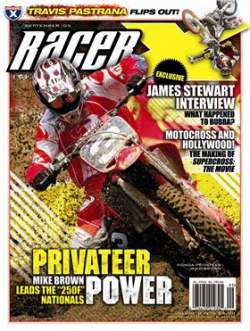 Brown made a Racer X cover last year when he blasted into the lead in the AMA 125 National point standings.

Looking ahead, what's your goal for the 2006 250F Nationals?
To win races would be awesome. That's what it's about: winning races. If you can win races, you can win the championship. If I can win races, it'll make the team happy and it'll make me happy. I'm the old guy now. I'd like to try and win one more championship, for sure.

Is the 2006 AMA Toyota National Championship going to tell the tale, as far as your career goes?
For sure. I have a multi-year contract with these guys, but I want to see how the outdoors go. I don't want to be back racing in 15th place. If I can win motos or a race, for sure I'll stay around. I just don't want to be racing in the back. That would just be wasting people's time and money.

Any idea what the future may hold when you are done racing motocross? I know you love car racing.
I really don't know. Are you going to get me that NASCAR ride we talked about? [laughs]. It would awesome to race cars, but I know it's really hard to get into. If not that, maybe I could be a team manger for a motocross team or something. I'd love to stay involved and go to the races. That would be great. We'll see. If that doesn't work out, maybe I'll build houses.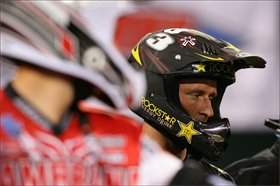 Brown knows he will always be remembered as a man who won a championship

Between supercross, the nationals, and Grand Prix motocross, you've led quite a career. When you look back on it all, are you happy with what you've accomplished in your career?
Yes, I am. I've been everywhere. I've been to so many different nations and places around the world. Man, I've been to so many malls! It's scary when I think back on it now. But you know, it's been a great experience. I love to travel and see different things. And, you know, I won a championship—that made everything complete. That's what I wanted to do my whole life. And for the rest of my life, people will say, "That's Mike Brown. That guy won a championship."

So your sights are now firmly set on the 250F National Championship?
Yeah, they are. That, and I want to be safe. Always.