Monday Conversation: Juha Salminen
KTM's Juha Salminen has found the groove in the Suzuki Grand National Cross Country Series. Just like he did in the FIM World Enduro Series in Europe, the Finnish off-road superstar (his name is pronounced "You-Ha") has figured out the GNCC game and is completely dominating. In fact, he's now 4-for-4 this season after winning the Pirelli Big Buck GNCC in Union, South Carolina yesterday. Before Salminen moved here last year, the European elite warned everyone that Juha is the real deal. No one was able to beat him there, and so far this year no one can beat him here. So, the world's best off-road racer continues to amaze…
Before he left for a well-deserved trip back to his native Finland, we caught up to the friendly 29-year old for this week's Alpinestars Monday Conversation.
Racer X: So Juha, you're going back home to Finland?
Juha Salminen: Yeah, but only for a week!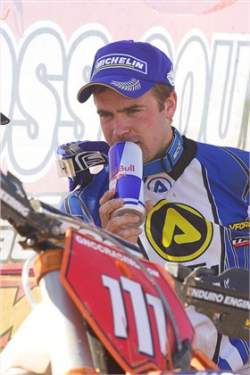 Juha (You-Ha) Salminen.

When was the last time you went home?
January.
I know you have a girlfriend at home. How well are you able to keep in touch?
Well, you know, we all still live in the same world. We have the internet, so with email and phones it's not a problem.
So is it straight vacation, or will you do some training?
Oh, there will be some training, too. I have plenty to do at home, but it's race season so you have to keep up with your conditioning.
Well, I'm going to tell you something: You won the first four GNCCs this year with ease, so maybe you don't need to do so much training!
(Laughs) Yeah, but you know, this is my work. If I want to stay here at the top, I have to train. If the other guys are working hard to beat me, I have to work even harder to keep my level here.
Well how much of your dominance comes through hard work? Are you really working harder than everyone, or do you think you just have the talent, or skill, or maybe some combination of those that you've already developed racing in Europe?
Um, you know, I think I'm working pretty hard. And I've been doing this for ten years, so I know what I have to do. But the title, every year you win, the people are going to come after you, so you have to be even better the next year. You have to do things that help make you better. And I think that might be one of my strongest points. I'm always trying to do the things that can help me or make me better, and not just the things I am good at or always maybe want to do all of the time. I don't really change my schedule or training program each year, but I do try to make things a little better every year.
Now that you've established yourself as the man over here, the competition is studying you and trying to pick up your game. They're trying to go faster earlier. They talk about standing up more and being smoother and picking different lines, maybe running a gear higher. They're all working on their skills – are you still out learning new skills, too?
Yeah. You've seen it, when we went testing earlier in the year. We have the pit boards out and all kinds of video cameras and other things so I can get information on what I'm doing on the track. For every lap I do, even in practice, there is some meaning. I don't do any trail riding or just go out there and have fun with the bike. Every lap I try to do something different or better. That's the thing. You can't be just riding the bike, you always need to be wondering what you are doing and how you can do better.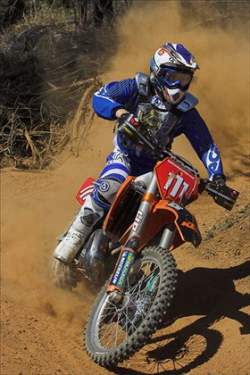 Juha is smooth and fast. And he might be unbeatable.

Do you ever trail ride for fun?
No, not really. I don't go out with the off-road bike and ride for fun. If I want to have fun with my friends at home, I will do it on the trials bike. But for my enduro bike or motocross bike, I don't remember the last time I went play riding. It doesn't help me go faster.
When you work that hard, then, do you get burnt out? Are there days when you don't feel like doing this?
Yeah, of course. But, you know, younger guys, they are full of motivation and they have fun with the bike. They are coming up so they want to ride all the time. But as you get more age and experience, you can't train as much as the younger guys. So, the time that you do spend on the bike, the quality of that time needs to be really, really good. But when I was younger, I would ride all day and all night!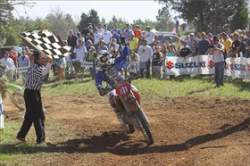 Juha is now 4-for-4 after winning the Pirelli Big Buck GNCC in South Carolina yesterday.

You're not even 30, but you're acting like you're an old guy! You're going back to Europe next year. Is the end of your career in sight?
I don't know. I do multiple-year contracts. I never know what my plans are after the two years in my contract. I sign it and try to do it as best as I can. I don't even think about past the two years I have signed.
You've been dominating for so long, are there times when you get bored out there and you lose focus?
That's what has been happening. I will have a big lead and I'm riding around and all of a sudden it's the middle of the race and I'm losing my lead. That's why I need all of the team guys out there with the pitboards telling me what the gap is. I haven't had the competition so far as these first four races, so I'm basically just racing against the time on the pit board. That's the problem – just trying to concentrate for three hours.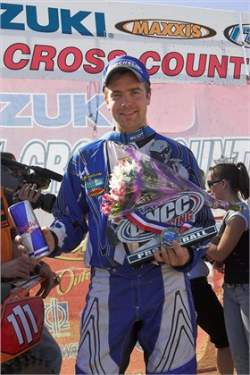 Juha is happy everywhere he goes- but then again, he wins everywhere he goes.

Do you wish you had some battles?
That's coming. It will happen – sooner or later someone will do it. You saw it last year at Unadilla, with Nathan Kanney. It was his home track, and he was amazing fast. So there's always someone in the race that can do it. You can't think, "Oh, there was nobody there at the last race so that's the way it will be in this race." There are always 30 or 40 guys in the pro class, and every one of them, we are all rivals. So you must always try to do your best, because I never think that there is no one that can compete with me. It will come, the day that we have problems or the competition is there.
I know you're going to deny this, but c'mon, you've led every lap of every race this year. What about the perfect season?
I don't care about that. My job is to win the title for KTM. That is all I care about. I don't care if I don't win any races as long as I win the title. I have had a perfect season already in Europe, so I know what that is all about
You've won every championship you've gone after since 1999. This is now your seventh-straight year of doing this. When was the last time you went to the starting line of a race and thought, "Hmmm, I don't know if I can beat these guys."
(Laughs) Well, you would have to go back to maybe some motocross races, when I tried some World GPs just for fun a few years ago. You have to be realistic; you had the world's best motocross riders there, and in my mind, I knew those guys were fast. I got fifth once in a GP in the Open Class, and you know, that's what those guys specialize in. But in my mind, I still tried my best. And if I had tried my best and finished last, I would have been happy. I can't win every race.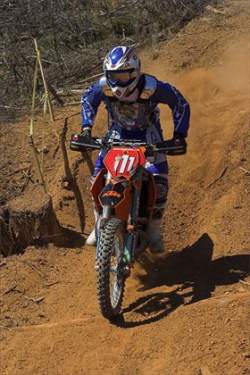 Juha's trials background gives him the balance to stand up all the way around the track.

Well, so far so good this year. So I heard you drove back to Ohio from the race last night. Are you even tired after these races?
(Laughs) You know, you are surprised how much energy you have when you are about to travel home! So I drove while my mechanic and KTM Team Manager Antti was sleeping! So I drove it home for him, all 650 miles. That's a nice bonus when you win the race and you work for KTM.
Yeah! Antti has the best job going. You win the races for him and then you drive him home!
(Laughs) Yes, he has it very good. If the question is am I tired, well yes, I am, I only slept like two hours last night. But luckily I am going home and I have plenty of time to sleep on the plane.
Well go get to it. Have a safe flight and we'll see you back at Loretta Lynn's in two weeks.
Thanks. Anything for you! See you soon.