Great Races: The 1983 Anaheim Supercross
"I remember the mud hole at the '83 Anaheim Supercross," Johnny O'Mara said while watching his daughter Shelby celebrate her second birthday at JW Tumbles in Laguna Niguel, California. It was Sunday afternoon, April 2 of '06, and Johnny was talking about getting dirty. "My whole career, I didn't really like to get dirty. And even though I had success in the mud, I was not into that mud hole at Anaheim at all."
Later that night, I slipped a disc from the
World's Greatest Supercross Races
DVD set into my player and found the '83 Anaheim SX. "It's a tremendous crowd at Anaheim Stadium, but they're not here to see the Angels play or the Rams," NBC Sports commentator Paul Page said, sporting a blue Members Only jacket and a full head of hair. "Baseball, football, they'll draw crowds of 60,000 or 64,000, but the largest crowd in the history of Anaheim Stadium is here tonight." A quick shot of the Anaheim Stadium scoreboard read: "SELL OUT APPROX 70,000." With that, Page and NBC Sports broadcast partner Johnny Rutherford (the collar of the multi-time Indy 500 winner's Members Only jacket pulled straight up) began to elaborate on the rough, rutted, damp circuit that would host the opening round of the 1983 AMA Wrangler Supercross Series.
"And as if the track itself were not enough of a challenge, they've added one more little wrinkle, and some of the riders are not that happy about it," Page said, referring to a big man-made mud hole, where legend Bob "Hurricane" Hannah was standing in a blue HRP jersey and wearing a blue-and-yellow Wrangler hat, looking angry.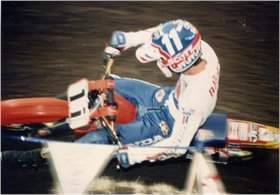 Bailey at Anaheim '83
photo: Racer X Archives
"Well, everybody has got to handle it," Hannah mused. "It's no different for me than for anybody else. It creates a problem in that it makes it a little slippery, makes it bad on our eyes and on our goggles, and if you try to pass in it and somebody is in front of you, you can't see. But everybody has the same problem, so I guess we'll all have to deal with it."
The main event that night included one of strongest gatherings of supercross talent in AMA history: Hannah, O'Mara, Rick Johnson, Mark Barnett, Broc Glover, Jeff Ward, Jim Gibson, Billy Liles, Donnie Cataloupi, Danny "Magoo" Chandler, and a young Honda rider named David Bailey.
The gate dropped and it was Chandler coming out of first turn with the holeshot, but before the first lap was over, Chandler looped out big in the whoops, and in the words of Johnny Rutherford, "The bike just went and walked away from under him!" Glover raced into the lead, Bailey found himself in second, and Washington's Phil Larson held station in third. Lap after lap, Glover and Bailey splashed through the water hazard, but at the two-thirds mark of the race, Glover lost control in the "rockers," a tame whoop section (at least by today's standards), and both of his feet flew well above the seat. Glover saved it, but Bailey was through and seemingly gone.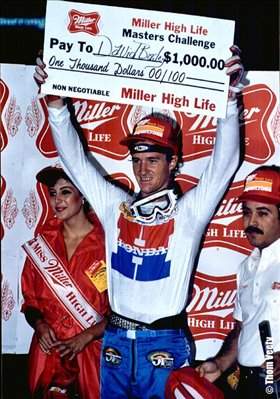 Bailey celebrates his now-famous Anaheim win
photo: Thom Veety
With just a handful of laps remaining, Bailey was closing in on his first professional supercross victory as O'Mara was chasing after Glover for second. When the checkered flag flew, Bailey flew across the finish line, taking both hands off the bars and thrusting them high into the air. Seconds later, his teammate O'Mara did the same thing, the O'Show having nipped the surprised Glover for second at the bitter end.
"It's great! I wish everybody out there could feel the way I do right now!" beamed Bailey, wearing a red, open-face Shoei helmet, its JT Racing duckbill visor splattered with mud. "I mean, this is an all-time high!" Then, from out of the crowd, someone handed Bailey a quart of Miller High Life beer (a series sponsor). Bailey grabbed it and added one of the most memorable podium quotes on all-time: "I'm going to drink this whole thing!"
Months later, Bailey claimed the 1983 AMA Supercross Championship, plus he 250cc National Motocross Championship, which helped him earn that year's Wrangler Grand National Championship for combined points. And yes, he drank the whole thing!