Back in 2001 and '02, Mickael Pichon was considered the fastest Grand Prix rider. His two 250cc world titles placed him among the legends of the sport, and he had the speed to match just about anyone in the world, including those in America. Now, some four years later, the rider known as "Rocket" is working hard to continue his motocross living. Gone are the days of dominating the Grand Prix scene, although his battles with Stefan Everts and Joel Smets in recent years have proven he is very much a class rider.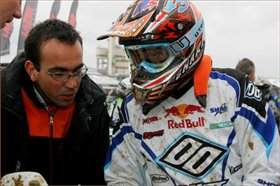 Mickael Pichon
When the 2005 GP season ended, it was obvious that Mickael needed a change, and signing with KTM looked like a good move. It's no secret that KTM invests the most into the Grand Prix scene, and for a rider of Pichon's mentality, only 100 percent effort works. We caught up with Mickael on the Saturday of the Grand Prix of Flanders.
"I got married in the winter," Pichon said. "it was great fun. I liked getting married. I was a little nervous, but it worked out good. We have two kids now and our house is finished, so it's really nice. Maybe I have a third kid, but I think when I stop racing, I want to first finish my career and then add another kid to the family.
"Everything is going well," he continued. "I had a good time in the winter, and I did good testing and a good feeling with the bike. I had a long break in the winter to get the motivation back. We have been working hard and everything is going the way I want. At the end of the season, my speed was good, but when I started riding again at the start of the season, I was slower than Sebastien [Tortelli]. He didn't take a break, and when you do take a long break like I did, it takes a while to get your speed back. I was surprised and had a hard time in the early part, but my speed is getting better all the time and I am looking at changing the way I work. I want to peak in the middle of the season."
We were surprised when we asked Mickael if this might be his last season on the Grand Prix scene. It's common knowledge that with Joel Smets and Stefan Everts retiring, the era of Smets, Everts, and Pichon is coming to an end. It's not often that three great world champions race in the same era, and these three are the best of this time. Don't be surprised to see Pichon also hang up his helmet at the 2006 Motocross of Nations.
"It's possible [retiring at the end of the '06 season], although the way I feel now, I think I also race in 2007," he explained. "It depends on how the year goes. If they [KTM] give me another chance in 2007, I might stay around. I have a lot of people behind me supporting me and giving me everything I want. There are so many good people in the KTM team with so much motivation, and it's good to have people in the team like Pit [Beirer], Kurt [Nicoll] and Georges [Jobe], former riders who know what is happening. They all have experience in racing, and they know what they are talking about. I like the people at KTM. Sebastien and I get on really good, and we all want to beat Stefan really bad. We know he is really strong, and for me it's not about beating Stefan, it's about giving 100 percent. Then I am also happy."
As for his rivalry with Everts, that is something Pichon is not so busy with anymore. He just want to enjoy his craft in the final years of what has been a very good career.
"You know, I don't care how fast Stefan is," he said. "I just want to have fun on the bike. I have changed in that now: I just want to do my best and see. Stefan is riding really good lately, and he is better than all of us at the moment. We know that everything can change and he is often stronger than us in the middle of the season, and not so strong early, so we will see what happens. KTM have strong bikes."
Of course, in the opening moto of the Grand Prix of Flanders, Pichon suffered a DNF, and he failed to appear for the second moto when it was found he had some type of mystery illness. For the good of the Grand Prix series, let's hope Pichon can recapture some of that speed of 2001 and 2002 and match the likes of Everts and Tortelli.