Between the Motos: Jim Castillo
Jim Castillo is the man behind Innovation Sports, its offspring Asterisk, and the Asterisk Mobile Medics in Amp'd Mobile Supercross and Toyota AMA Motocross. He's also the landlord at Castillo Ranch, the site of our annual Racer X Industry Ride Day the day after tomorrow! There's been a lot of rain in SoCal, but the Friday-afternoon ride is still on for invited guests. In fact, the rain might make this the best ride day ever, as you are about to read, because Jim might just open a whole new grass track for us!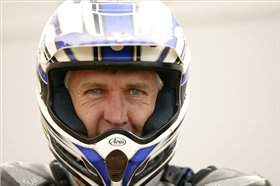 Jim Castillo still enjoys moto-ing around the ranch
photo: Simon Cudby

Racer X: Jim, what's the weather like out there at Castillo Ranch?
Jim Castillo: Well, I'm not actually there, but it was supposed to rain today – again! And Monday it rained really hard all day, and Tuesday it rained hard. So we basically got a whole month of rain in the last two days up there. So it's pretty drenched right now.

Well, I was checking on weather.com, and it looks like it's going to clear up today, be beautiful tomorrow, and hopefully on Friday. Be that as it may, we don't want to come out and tear up the ranch. There's a lot of area out there, but we'll try and keep it confined to one spot. What happens if the track is too muddy as it is?
Well, I think how we prepped the track last year it was too muddy! The problem would be getting everybody out to it. The hill that climbs up to the level of where the track is, it has a lot of clay and it becomes very slimy when it's wet. So I think that's the biggest problem.
Actually, I'm kind of looking forward to that alternate idea that hadn't really crossed my mind, but the idea that came from Ping to just lay out a track out on what looks like a golf course right now!

You mean going up in the hills and just laying out a grass track on the mountain with road jumps and all that old-school stuff, that'll be like Unadilla or maybe even the old legendary Sears Point Trans-Am tracks?
Exactly. Initially I thought, Oh, that's going to be a lot of trouble. But there are no rules against it, so we can do it. That's our alternate idea, and it may be what we end up doing. But it won't be a problem—we'll seed it after and it'll be perfect, plus it sure sounds like fun to ride.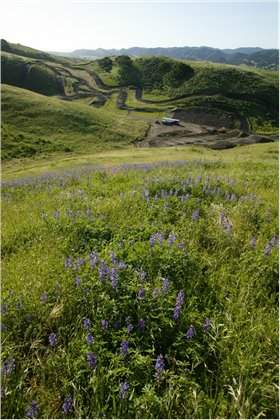 If the Santa Barbara-area rain keeps up, one of these hills might host a new track by this time Friday
photo: Simon Cudby

I can't wait to do it. One way or the other, and on behalf of everyone in the industry who gets to come out to Castillo Ranch this one time a year, we do appreciate it. But you've been busy lately. There have been some changes with Innovation Sports and you're getting a chance to really put some thought into what's next at Asterisk, right?
Yeah, we've been doing a lot of that. Selling Innovation was really a time-consuming thing; owning Innovation wasn't. Everybody goes, "Oh, now you're going to have time to really devote to Asterisk." Well, I had people running it, and I didn't really do anything there. But the process of selling it and then all of the stuff you have to do after seems like it's really time-consuming, and it's driving me nuts. But the products and the different ideas we have at Asterisk going forward are really interesting and exciting, and I think it's going to be a lot more fun anyway. So I'm good with that whole thing, but it was a chore.

Personally, I made the switch a couple years ago, and to me, they're even better than the prescription ones. You don't have to go through with getting sketched and fit and getting a cast made that is pretty much off the shelf.
Well, that was of course our intention. There was a lot of difficulty in getting a custom brace, one of them being the cost. And so that was our intention in making a brace that you can get off the shelf and it would fit and work as well as, it not better than, what was available before. And we're continuing to improve it. We have a lot of things in the works that will make it a substantially better brace than it is now, even. So we're always doing that type of thing, and we have a lot of other products that are not really knee-related that are on the board now, too. So we have some good stuff.

Speaking of good stuff, I once again need to thank you and everyone involved with the Asterisk Mobile Medics Unit, because the whole program has been maybe the best innovation for supercross in the last half-dozen years. I can't believe that we actually existed as an industry without Doc Bodnar and Dr. Augustine and Eddie Casillas and everyone around. The riders' safety is at a different level now. And although we still, every now and then, have some terrible injuries, I think the general health and well-being of the riders is better from what you and your crew started.
Yeah, I think it ended up being a very good idea and we're really glad to do it. As a matter of fact, next year it'll be in a semi. We already bought the truck and trailer, and we're getting that ready to up the system we have now, and I think that's going to improve the benefits of all that. Also, the whole sport has evolved a lot, though. Now we have our top riders approaching almost NASCAR incomes, as opposed to a couple hundred thousand dollars a year. So everything has evolved and the whole sport is becoming more real, and that's just part of it.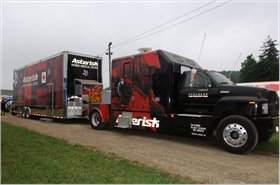 The Asterisk Mobile Medics will be bigger and better in 2007
photo: TFS

For what it's worth, I know that the riders and wives appreciate it, and even a certain journalist I know who went over there with an ingrown toenail appreciates it, because those guys will pretty much help everyone. So thanks a lot.
Those guys are just great people, and they really enjoy doing what they're doing, and they do a fantastic job and we're really happy with the crew.

Okay, I'll let you get back out there and we'll see you tomorrow up at the ranch, and let's pray for no more rain.
It looks like that prayer will be answered. But either way, it looks like we'll have a lot of fun, so it'll be interesting.