1998 Revisited: Everts and Tortelli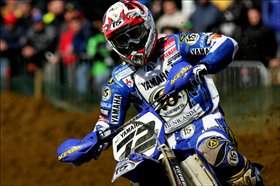 Stefan Everts
It was back in 1998 that Stefan Everts was last beaten in a world championship (he was injured in preseason races 1999 and 2000 and missed those titles). It was a time when a young charger by the name of Sebastien Tortelli arrived on the 250cc scene and produced his own magical season, beating Everts for the championship in the final race of the final round of the series. The Grand Prix of Greece will go down in history as one of the most exciting races in the long history of the sport, a race where Tortelli stopped the three-year winning streak by Everts (who had won the World 250cc championship in 1995, 1996, and 1997). Tortelli would move to America and race the AMA Supercross and Motocross series, and while he was gone, Everts would add titles in 2001, '02, '03, '04, and '05, making him the most successful rider in the history of the sport.
Last weekend, though, Everts got his own back a little on the flying Frenchman, as he scored the overall victory at the Grand Prix of Flanders. Everts and Tortelli swapped moto wins, both going 1-2, although the fact Everts won the second moto gave him victory. Stefan was not surprised by Tortelli's speed in the opening moto of the opening round of the MX1 series, held in Zolder, Belgium, last weekend. Third place went to Jan de Groot Kawasaki rider Tanel Leok.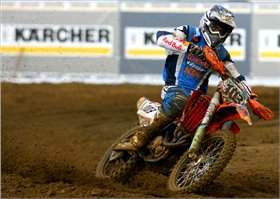 Sebastien Tortelli
"To be honest, I was not surprised by his speed," Everts said. "I was not riding well, making a lot of mistakes. He was fast, but he was not riding that well. I still had the feeling that I could beat him, and I was just riding really bad. I was not really worried. Many people talk [that Tortelli can beat him again]. I know what the truth is, and the rest is flying around, we wait and see what the truth is. For sure, I don't want another season like 1998 where it was just me and Tortelli. I think for the championship, it's not good. Last year we had good races, me or [Mickael] Pichon or Ben [Townley], or [Josh] Coppins were winning. This year, if it stays like this, where Tortelli and I lapped many of the field, it will be a pity. I don't think it will stay the same. I think those other guys are not so fit and Zolder was really a tough circuit. You really had to work hard on the weekend and the younger guys need to be fitter, but on easier circuits, they will be better."
For Everts, the emotion of his last season on the road (Everts will retire at the end of the season) does not make him lose concentration on the job at hand, and he also knows that many people are supporting him and watching his every move.
"No emotions from me yet," he says. "I think I will have moments throughout the season. You can't tell yourself to stop with emotions - it will come or it will not come. I know I am just keeping the same attitude I always have and concentrating on my racing."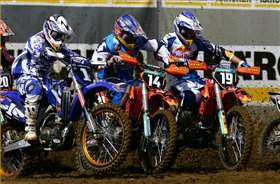 MX2-class action from Zolder
For Everts, a new personal sponsor, Intur Sports, is also something to be excited about. Having the L&M tobacco company for so many years as his personal sponsor was good for Everts and the sport of motocross, but his new sponsor is also getting involved and might just hang around once Everts is gone.
"It's a personal sponsor and a team sponsor," he explains. "It is not as big as L&M, but it is still a nice sponsor to have. It's good to have as a team sponsor, and they are talking about sponsoring the team in the future, after I stop. I am pretty excited about how it all looks. Also, the new sponsor logo is exciting and it looks clean. I picked up a Belgian newspaper today and saw the pictures and was really happy with how it all looked."
Tyla Rattray
would win the MX2 class after picking up a minor injury in his Saturday qualification race. The Champ KTM rider also rode with a broken front brake in his opening moto but still managed to salvage the victory with 3-1 results. Second in the MX2 was Dutchman Marc de Reuver (also of the Champ KTM team) and third place went to Kenneth Gundersen on a Yamaha.

Results: Zolder, Belgium

MX2 Overall
1.
Tyla Rattray
(Zaf) 45
2.Marc De Reuver (Ned) 38
3.Kenneth Gundersen (Noo) 37
4.David Philippaerts (Ita) 33
5.
Christophe Pourcel
(Fra) 32
6.Sebastien Pourcel (Fra) 29
7.Antonio Cairoli (Ita) 28
8.Antoine Meo (Fra) 25
9.Rui Goncalves (Por) 24
10.Carl Nunn (Gbr) 24

MX1 Overall
1.Stefan Everts (Bel) 47
2.Sebastien Tortelli (Fra) 47
3.Tanel Leok (Est) 38
4.Steve Ramon (Bel) 34
5.Kevin Strijbos (Bel) 33
6.Ken De Dijker (Bel) 30
7.Jonathan Barragan (Spa) 27
8.Stephen Sword (Gbr) 26
9.Pascal Leuret (Fra) 25
10.Cedric Melotte (Bel) 25
…14.Marvin Van Daele 12
16.Manuel Priem 9
19.Danny Thybers 6