Monday Conversation Part II: Davi Millsaps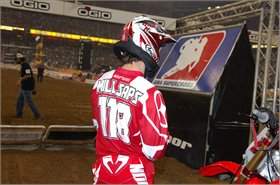 Millsaps had a big points cushion, but anything can happen

Team Honda's Davi Millsaps just needed to stay out of trouble to clinch the Amp'd Mobile Supercross Eastern Regional title, and that's what he did, from the front. With his closest rival, Josh Grant, out due to a first-lap mishap, Millsaps just needed to cruise to clinch what he says he worked his whole life for.
What is it like to just get something you have dreamed about and worked for as long as you can remember? For the easygoing Millsaps, he was his usual comical self at the press conference and for this interview afterward, where he doesn't make any long speeches.

Racer X: Hey, champ, how does it feel?
Davi Millsaps: Good, you know? It's definitely a dream come true. I've worked my whole life for this. I don't think it's hit me yet. I think I'm kind of in shock still, so.…

What are you going to do to celebrate?
Go to bed!

How was the race day?
It was actually good. I just relaxed. My mom was almost going to throw up. When she got nervous, it made me nervous. She was freaking out! When I got on the track, I was really tight, then I loosened up, then I tightened up and did that again and again about six times in that race.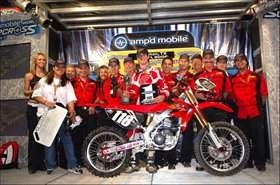 The very happy Honda crew at Houston

You just didn't seem tense at all, not like your first supercross at Minneapolis that time.
[Laughs] I had the world on my shoulders since last weekend, and it's good for it to roll off.

This 450 thing: Dallas and Seattle, yes?
Yes.

Vegas?
Maybe.

Outdoors?
You'll see.

I'll take that as a 450 this summer.
It's a surprise.

Do you get a big bonus for winning this title?
Big enough.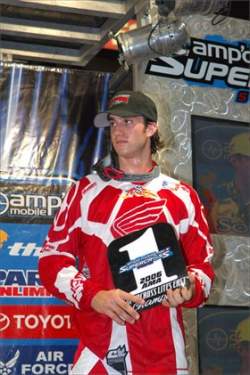 The young champion is just about over the Lites class, but he has not confirmed if he will switch to the 450 class this summer

Big enough to buy a what?
Name something.

A car?
Yeah.

Do they give you a Honda car?
No. I wish!

Okay, happy sleeping. Enjoy the celebration.
Thanks, Steve.