Monday Conversation: James Stewart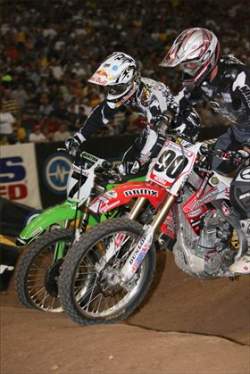 Stewart (7) laps Doug DeHaan in Houston

There is something about April 1 that reminds people to lighten up a little, and this was good for the Amp'd Mobile AMA Supercross Series. After 13 straight weeks of racing, everyone was starting to show some wear. Fox Racing helped start the day right with an "RC" patch on Stewart's gear and a "Bubbalicious" on RC's in the first practice.
From there it was a race day just like the last two were, with Stewart showing great speed in practice and his heat. In the main he got a good enough start, and he would have the lead within a few turns. RC was just close enough to see him check out.
April also means Stewart can start negotiating for his 2007 season and beyond, and even though the month was less than a day old, he was waiting for the question….

Racer X: James, congratulations for now winning three in a row. Are you going to win the rest of these?
James Stewart: [Smiles] I wish I could predict the future and say yeah. I feel good. Everything is clicking right now. I'm putting good laps in. Hopefully, I can [win the rest]. It would be nice. You never know what's going to happen, but thank God now we have a little break.

Now that you have shown you definitely have the speed to win these consistently, when you're sitting on the gate before a main, what chance do you give yourself to win each time?
I give myself a good chance. I knew today from practice and the heat race that I was a little faster, so I knew I had the speed. It's never a question of speed, but do I get through the first corner and, after that, worry about lappers and not make any dumb mistakes and go down? Tonight was a good night - the last three weekends were.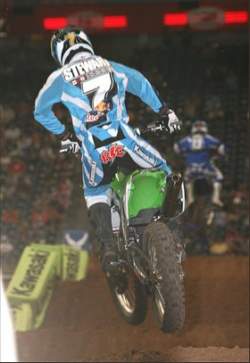 Switching butt patches was only one of Bubba's April's Fools jokes

You barely got past Doug DeHaan in the whoops when you lapped him - it looked like you were about to get squeezed off the track to the right.
Yeah, I think we barely touched. I got pissed at this one guy, I don't remember who it was. I kinda waved at him over the finish line. It was okay. Just the way the track was tonight, it was slippery and not one-lined, but everyone kind of stayed on one. It was cool.

Hmmm….
I know you want to ask about the contracts, but I don't know!

I'm assuming it's a bit early on that.
Yeah, it is still a little early. It's April, but it's still early.

Did you play any April Fool's jokes besides switching the gear patches with RC in practice?
Yeah, I told Clear Channel that I wasn't coming out for opening ceremonies, that I was over them [laughs]. No, I was just playing around!

Those whoops, it seemed you picked up momentum in the middle, then at one point just jumped out of them at the end. Do you always ride whoops like that?
No, just tonight. It was really tricky trying to not swap through them. The more speed I had there, the straighter I would be, and at the end they were kind of missing, so I got a little speed in and just tried to jump to the end. Tonight was good. The whoops were tough tonight. It's all good, all good.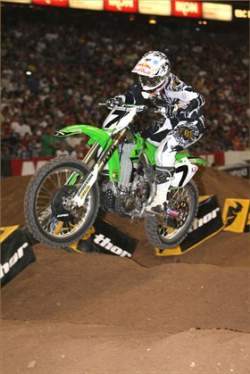 James is looking forward to the outdoors

Your consistency now is where I'm sure you wanted it to be at the start of the season. If you started at Anaheim riding like you are now, would you be in the points lead right now?
I could say a lot of things and the whole season would be different. All I can do is do my best. I'm working a lot of bugs out. It's the first year with this bike and my first year of doing a long season like this. I think between myself and the team, we're happy. We're doing all we can, so that's what matters.

Are you going to carry this momentum into the outdoors?
Last year I felt like I just really didn't have it. I knew I kind of had it, but I felt like I kind of got robbed, trying my best and still getting pulled away from. This year we have a better chance and I'm really looking forward to it.

Enjoy the break, James.
Thank you!