Another crazy week in this sport—and not necessarily a good one. The whole Riverside County OHV ban because of noise is the most ridiculous piece of legislation I can remember seeing. And when people like the AMA, Jeremy McGrath, Rick Johnson, Nathan Ramsey and Andrew Short and hundreds of families can't get five county supervisors to reconsider, it doesn't bode well for the rest of us in the good old USA.... Wonder if they have a ban on shooting firearms?
Banning OHV riding in Riverside County is like banning prayer in church. I really hope this somehow gets fixed, but until the bikes quiet down some, it's going to be hard to get this turned around.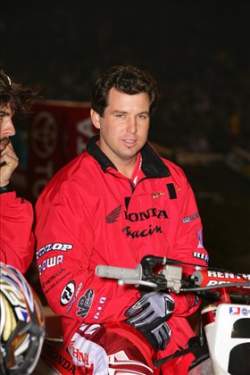 It was a busy week for Jeremy—both of them.
photo: Simon Cudby
The strangest story of the week comes from Jackson Hole, Wyoming. I will let
Racer X
reader
Dustin Varga
explain:
" We had a Jeremy McGrath impostor in town last week. We were all pretty stoked to hear that the King was in town and rumor had it that he was buying a house and some snowmobiles as well. It couldn't get any better, as there are plenty of McGrath fans in Wyoming, and that most of us ride sleds as well as bikes. To make a long story short, the dude ended up skipping town after he racked up a $15,000 bill at the local Four Seasons Hotel! He was parading around town claiming to be Jeremy, but refusing to show I.D. because he had been taken for fraud in the past. The people at the hotel went on his word until someone who actually knew what McGrath looked like made everyone look at a photo of him on the web. They went to nab the guy, but he was gone! Keep you eyes out for this dude, he's probably headed off to some other unsuspecting town to get some…"
I sent Dustin's e-mail to Jeremy, who in turn knew all about this guy: "That is crazy! I have been in contact with the sheriff from there as well as the car dealership and the house owners that he skipped out on. What a deal, this guy is a real jackass!"
But there is some good news—especially if you're a David Pingree fan. The man quad riders love to hate (with good cause, actually) has been named to step into the booth with Brian Drebbin for this summer's OLN AMA motocross broadcasts. This will give Ping equal opportunity to trade barbs with Denny Stephenson of Speed TV fame, though no matter what, that #1 plate that Denny got is always going to rain on Ping's parade.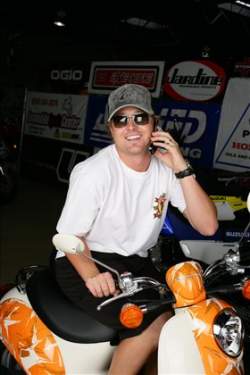 Calling all quads, calling all quads: Be on the lookout for Ping on OLN this summer
photo: Simon Cudby
Having been fortunate enough to do some TV work in the past, and being a prolific race-watcher at home on my couch, I would like to offer Pingree a few tips. I learned from the best—
Art Eckman
and
David Bailey
—and I got to work with some great tips from a true professional,
Todd Harris
.
First all, he should learn all of the major players' names: James Reed and Jerry McGrath do not actually compete in the outdoor nationals, though they may be flaggers somewhere.
They are Cameron Steele's groms, not yours, so please don't call them that. And no one in the Metal Mulisha actually races outdoor motocross, so no need to mention them on each telecast.
Do not make jokes about self-cleaning ovens or small peeping chickens—only Krista Voda can (just barely) get away with that.
Do not bring up your first 125 supercross wins, but if you have to, please refer to them as "125 Supercross wins" and not "Supercross Lites wins." You did not race a 250F, and that name still reminds many of us of a cartoon of women's cigarettes.
And finally, even though you and Ricky see eye to eye (literally), you have to be critical of the guy if he's in the back of the pack floundering around.… Okay, you probably don't have to worry about that one.
Oh yeah, the amazing, talented, dazzling, and unfortunately married Erin Bates is also going to be there as pit reporter. My only advice to her? Smaller clothes.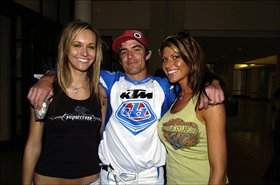 Erin Bates (right) will also be on TV this summer. Thank goodness.
photo: Carl Stone
In other motocross-on-TV news, if you haven't picked up that
World's Greatest Supercrosses DVD
yet, you have no idea what you're missing. I had some friends over last night (including new Morgantown resident
Andy Bowyer
, who now works next door at MX Sports) and we were going back and forth between watching
James Stewart
at the Detroit SX and
Jimmy Ellis
(who also wore #7) at the Olympia Beer Super Bowl of Motocross in 1975. The dichotomy of seeing the best rider of that era with today's pacesetter (at least for the last two races) was just hilarious.
Eric Johnson was walking through No Fear yesterday and spotted a copy of the DVD set, so he popped it into the TV and he and Jeff Surwall ended up going bananas over the old footage.
"I was stunned at how cool the track and crowd looked," wrote EJ of the Pasadena SX, which was held in the Rose Bowl. "And the riding form 1985 was very good. There's no doubt in my mind that SX is what made American MX. All the 125 guys were so aggressive on the Rose Bowl track, and the was kind of like a MX track in a stadium. Larry Brooks looked really good on his Honda, and Bob Moore got the holeshot on a Suzuki RM125!"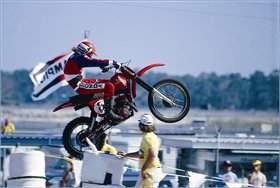 You must have the World's Greatest Supercross DVDs: It's 22 hours of the old school!
photo courtesy of Moto Verte
One other cool thing about the DVD was '75 Super Bowl sideline reporter
Joe Parkhurst
, the man who founded
Cycle World
and, more or less, the modern motorcycle magazine. Joe passed on a couple of years ago, but I have his pit pass from the 1971 Motocross des Nations on my desk as a reminder….
Okay, moving back up to 2006, the Amp'd Mobile AMA Supercross Series heads to Houston's Reliant Stadium for the 13th round of the year. James Stewart's on a roll, with his first winning streak since he won the two rounds in Canada and then the Anaheim opener. Stewart was just flying in Detroit, and so were Ricky Carmichael and the very game Chad Reed. In fact, while Stewart skipped away early, RC and Reed put on one of the best battles for second I have seen in a long time.
In the end, RC got the nod, even after he passed Reed once, then went off the track, then got stacked up behind lappers and had to muscle his way back by the #22 Yamaha again. In the end, Carmichael picked up two valuable points, which puts him 10 up. It's still early to start figuring out the math, but RC must be happy to be where he's sitting - although the plan is certainly to win by more than 25 points because of that whole fuel thing.…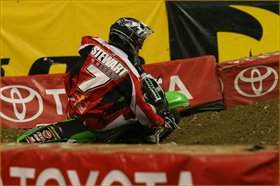 James is really rolling now
photo: Matt Ware
Okay, let me turn this over to Mr. OLN now,
David Pingree
….
I'd never been to Detroit before last weekend and the fact is, I wasn't missing much. Downtown Detroit is a scary place. After having dinner with Andy Bell and his wife, Erin, we walked outside to find a homeless crack addict dancing in the street. He shouted at Andy, "Hey big pimpin', hook me up with a dolla so I can get a beer!"
At least he was being honest.
Ford Field is a great new stadium, but it's kind of like putting a Ruth's Chris Steakhouse in the middle of a trailer park. It seemed out of place. The parking situation was a nightmare and the intermittent rain and snow that fell throughout the day wasn't helping. But inside the stadium there was good racing going on.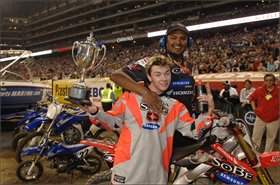 Josh and Naveen were all smiles in the Motor City
photo: Carl Stone

Josh Grant continued to let it hang out and steal another win from Davi Millsaps. Millsaps was visibly pissed off by his second-place finish, but I'm sure it won't matter when he's holding that #1 plate this weekend in Houston. Not that I would know. Maybe Davi can ask Shae Bentley about that.
Bobby Kiniry was having the ride of his life right up until the last whoop section, where it turned into the worst night of his life. A crash in the whoops cost him a podium spot, but he did ride great up to that point. I felt bad for the kid, because he's super nice, he's polite, and he works his butt off. Hang in there, #54—there's one more chance coming this weekend.
Tyler Evans lost his marbles and went all WWF on Canadian rider Doug DeHaan in the LCQ, as Andy Bowyer mentioned in Thursday's Rev-Up (although his plan worked … here we are, talking about Tyler). I did hear that Team Honda was thinking about signing up Ty— Er, wait, April Fool's is tomorrow, right?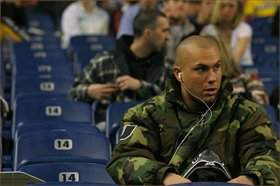 Tyler contemplates his next move, which is probably not signing with Honda
photo: Matt Ware
But the real drama that you might not have seen on the television broadcast took place on the last lap of the 450 main event.
Nick Wey
,
Ivan Tedesco
and
Michael Byrne
were having a heck of a battle for the fourth, fifth, and sixth positions. Wey held fourth for the entire race until lappers slowed him and allowed Tedesco to get by. Byrne pulled up on Wey's rear fender and with only three turns to go to the checkered flag, Byrne dove inside to make a pass. It was aggressive and both riders went down. They scrambled to their bikes but neither rider could get his machine started. Finally, Nick got his bike to fire and cruised to the finish line while Byrne continued to kick.
Wey crossed the checkers and then headed straight for Byrne. He slid his back tire around and slammed it into Byrne's front tire. The Kawasaki crew started throwing their arms in the air and wagging their fingers. Byrne crossed the line and then rode up behind Wey, who had made his way to the podium to collect his holeshot money, and rammed into his rear tire. They both jumped off their bikes and began screaming at each other.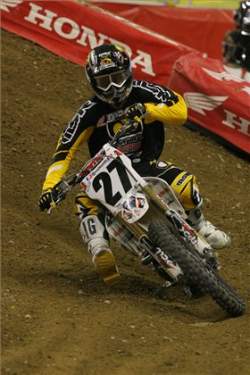 Michigan's own got a little out of hand after the race
photo: Matt Ware
I spoke to Nick about it after the race and he had calmed down: "I might have let my emotions get out of hand," he said. "The move he tried in that corner was aggressive, but I guess I would've done the same thing. But I hadn't even started turning the corner and I was on the ground. That wasn't what made me mad, though. I thought we were getting passed by a bunch of people because we couldn't get our bikes started. I was getting so mad watching people ride by me. I didn't realize until after I got to the podium that thatbecause everyone else had been lapped, that we still finished fifth and sixth! So I calmed down after that. Then he rode up into me and hit my rear tire and it pissed me off all over again. Whatever. It's over now."
The soil in Detroit was the same soil they used in Pontiac for all those years and it is still filled with rocks. I'm not talking about gravel, either. Some of the stones were the size of golf and tennis balls and there was no shortage of them.
One thing that was in short supply was fans. The old Silverdome used to pull 60,000 or more every year. I would be surprised if the new stadium was half-full. The reason might have been ticket costs: The price of admission was more or less doubled from last year because of the new venue. And downtown Detroit isn't exactly a dirt bike mecca (though you can probably ride more places there than you can in Riverside now).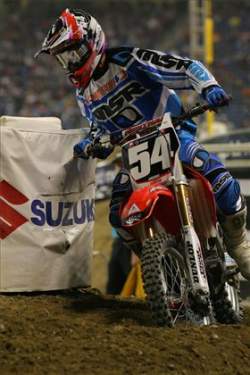 Ping feels bad for Kiniry, who made it to within one turn of the podium before going down
photo: Matt Ware
In California, the rain keeps falling. Many riders have been staying in Florida or somewhere back east because of the wet weather. Those riders still here have had great conditions for outdoor testing but most supercross test tracks are underwater.
That's it for Ping, who is now probably practicing up to wear the helmet cam this summer—the same helmet cam he made so much fun of me about. I hope those quad guys find him and roost him.
David Evans, the manager for James Stewart, sent me this note: "Just saw in the latest edition of Muscle & Fitness there is a page dedicated to how fit motocross athletes are. In the article, Tim Scheett, PhD shares that 'motocross could be one of the most physically demanding sports in the world.' What page is the article on? Page 259."
In more Stewart news, he was featured prominently in nascar.com today with a story about him maybe going there in the future. "Actually I have an interest in NASCAR for sure," Stewart said in the report. "People look at it differently, but I consider what we're doing, with all the different people in the industry and all the guys racing, I think that's NASCAR to us. It's the top level."
If James ends up there, which is something that Carmichael is also thinking about, neither will be the first motocross racer-turned-NASCAR driver, but either would certainly be the most decorated. According to the NASCAR website, at least five Nextel Cup drivers have worked their way into a stock car by racing motorcycles: Robby Gordon, Jimmie Johnson, Joe Nemechek, Scott Riggs, and Clint Bowyer—Andy's little brother.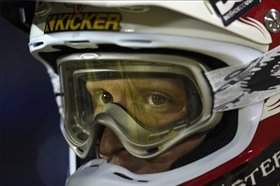 RC may be seeing James again on the asphalt some day
photo: Mario Marini
Just got a note from
Regis Harrington
: "Come by MX Insiders and chat in the War Room during this week's Houston SX. Last week we had a trivia contest during the intermissions that saw members walk away with some cool schwag! We will be doing it again this Saturday, so make sure you stop in and give yourself a chance to win!
www.mxinsiders.com
…" And no strobe-flash photographer in the war room, please.
Speaking of TFS (which apparently stands for The Factory Strobe-killer), he sent in a few updates from Houston today. First of all, in looking out the window of the TFS Egomobile, he spotted Rockstar's new rig, which happens to be a U-Haul trailer. They had a tire fail, so they jacked up the trailer and it broke! So they are renting this weekend. They had to transfer race bikes, parts, and everything to this U-Haul for the weekend.
Also, this will be the last SX of the year for team veteran Mike Brown, who is now going to start getting ready for the outdoor nationals. Wouldn't it be poetic justice if Brown won that title after all the grief he went through at the end of last season?
With the silly season basically starting tomorrow—by contract, Stewart was not allowed to talk until April—there's already buzz starting up about this summer, not next year! Chad Reed may sit out the outdoors in order to get his shoulder worked on, which could open a spot back up for David Vuillemin, who was replaced by Brock Sellards and Josh Demuth, who used to race arenacross, but in different series … wow, now I'm getting lost.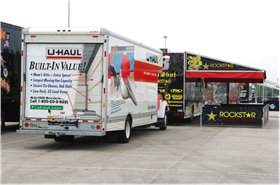 The Rockstars are U-Hauling it this weekend
photo: TFS
But there's also a chance Vuillemin might end up on a Maestro Suzuki, but that may be top-secret. And they could bring in
Eric Sorby
for this summer as well.
TFS also heard that Ernesto Fonseca really likes to hear the letters Tony Gardea brings and reads to him, so everyone out there, please keep writing:
Next Level Sports Management
c/o Ernesto Fonseca
28202 Cabot Road (Suite 300)
Laguna Niguel, CA 92677
Also, there's not a person in the parking lot who isn't happy about the fact that they get two weeks off after this race. Thirteen in a row is a grind—the NFL doesn't even do that.
Another young rider was injured at a recent race: Jon Taylor. He was at Lake Whitney in Texas and was involved in a first-turn crash. He had surgery, and they placed a plate and rods and screws in his neck. The good news was that his spinal cord showed no tears or rips, but doctors say it is just swollen really badly. He has been at Parkland Health and Hospital (Room ICUB5, 5201 Harry Hines Blvd., Dallas, TX 75235). He's starting to get some movement back, but he's got a long way to go. The family is going to need all the help and support to get him through this.…
On April 8-9, Rolling Hills in Reidsville, NC, will have a special JT Day for Taylor. They will hold an auction and raffles all day long to raise money. Announcer Wes Cain and Kevin Cozadd with MXers for Jesus helped raise a lot of money for Jon at Lake Whitney and Oak Hill, and the family wishes to thank them. There are also web pages for him on www.d29mx.com and www.carepages.com. Please make sure you visit and leave a message for a fallen rider.
Reader Jan Aarts sent us a note and asked us to check out this link to a story about KTM and BMW developing a high tech neck and upper back protection system.
It's one of the many letters I have received about safety, and we are trying to organize them all and get them on the web next week. There are some great suggestions, and some impossible ones, too, but at least more people are thinking about it all.
Here's one from Michael Rigdon: "On the safety issue what do you think about making ruts on the face of jumps a thing of the past? In between heats and motos all jumps on straightaways would be graded. Don't know if this is to sissified or not but was just trying to think of what can we do to make things safer while not impacting the racing. Closing comment would be to have only a whoop section after the always left-hand start at SX races. Not having jumps in the section after the first turn would allow for the bikes to get spread out some and reduce the crash landing factor."
Do you have any input here you would like to share on safety? Letters@racerxill.com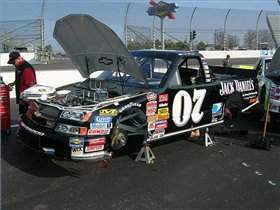 Clint Bowyer is racing a truck this weekend too
photo: Jeff Stacey
Okay, we're getting more into NASCAR (just a little) now that Andy's brother is racing with the good old boys. The Martinsville, VA, race is this weekend, but it's a track that Clint has never even seen, so he's racing the #07 truck in the Craftsman Series.… Actually, he's never raced a truck before, either. Also, the typical Jack Daniels paint scheme will be replaced with a special Direct TV blue and white scheme.
This is refreshing: Down in Australia, the Shire of Manjimup is upset about the cancellation of a motocross race there.
Hey, did you check out the new Renthal's Great Races online feature by Eric Johnson? It's pretty damn good: the Beast from the East versus The Chicken! Good stuff.
Well, that didn't take long: Remember what I told you about this sound stuff happening more and more? Now Southern Georgia has a problem, in Grady County.
Meanwhile, down in Mexico, Chris Tedesco is at the Red Bull X-Fighters contest. He checked in to say that Travis Pastrana is there—he's been cleared by his doctors to ride.
Tedesco is also finding life different down there: "It's very interesting to see other cultures, but man, it sure is nothing like America! I almost died trying to get to the hotel—the cab drivers are insane! I also seem to have food poisoning. Other than that, I'm gonna git-r-done…."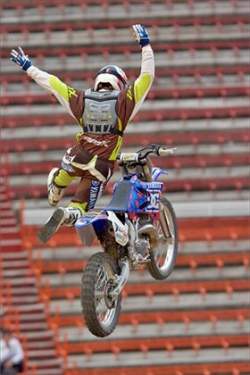 Nate Adams gets ready to go up against Travis again
photo: Chris Tedesco
Speaking of freestyle, today is the last day for voting on the Xtremmys:
www.xtremmy.com
.
We got word from Europe that Stefan Everts was flown into Donington Park undercover this week to ride on a Yamaha YZR-M1 used last year by Colin Edwards—a strange thing to do on the eve of the 2006 MX1 World Championships (or someone just played a really good April Fool's Joke).
By the way, you can watch opening round of the 2006 FIM World Championships this weekend from Zolder, Belgium, live on the internet over at www.mediazone.com. And if you're looking for updates throughout the weekend, check out MXGeoff's stuff over at www.mxlarge.com.
Finally, I heard Blair Morgan—one of Canada's all-time bests—is looking for a ride in the States this summer. Anyone know of anything, let us know and we'll pass it along.
That's all I got. Don't forget to listen to tomorrow night's race on www.supercross.cc.com, beginning at 7 p.m. (Central time) and also keep an eye on www.amamotocross.com for @The Wire Live! Have a great, safe weekend and thanks for reading Racerhead. See you at the races.