Where Are They Now: Chad Pederson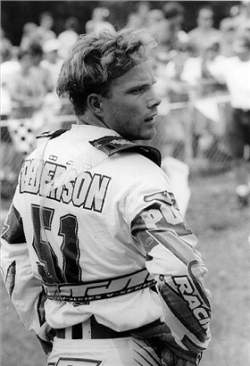 Chad "Swap" Pederson in 1994 at Kenworthys
photo: Davey Coombs
He was known by his competitors as "The Flyin' Iowan." Chad Pederson, from Fort Dodge, Iowa, was one of the baddest minibike riders in the country in the mid-1980s. While he may not have had a knack for creative slogans—the back of his hauler read "Run ye must, or eat my dust!"—he certainly had skills on a bike. As a factory Yamaha rider on a minibike, Pederson battled with the likes of Jimmy Gaddis, Jeff Emig, Buddy Antunez, Jimmy Button, Tommy Clowers, Brian Swink, and the rest of the minicycle elite. And Pederson (or "Swap," as he was known) won his fair share of races. In 1988, Chad moved up to the 125 intermediate class with riders like Jeremy McGrath, Phil Lawrence, Ryan Hughes, and the rest of the 80cc graduating class. Injuries took their toll on Pederson for the next couple of years.
"I was just about to quit racing altogether," Pederson says. "I was used to winning on minibikes, and once I moved to 125s, I just started getting hurt and it didn't stop for two years."
By 1991, things started getting better for Chad and he was a steady fixture at the front of the 125 class in AMA National MX, supercross, and arenacross. His top-10 finishes landed him a ride with the powerful DGY Yamaha team in 1993. Chad rewarded them with a win at the Tampa SX the following year and steady results in the outdoor nationals. In 1995, Pederson won the Skoal Top Privateer Award aboard a Honda. His results again paid off and Chad was called up to the Pro Circuit Kawasaki race team for 1996.
Riding a wave of confidence on the new team, Chad was poised to have a breakthrough year, but a broken wrist and a concussion at the opening round in Minnesota would end his SX season. Pederson came back strong that summer and landed on the podium several times, but it wasn't enough to keep his ride for another year. He hit the arenacross tour the following year and became one of the riders to beat in that series. Pederson finished second and fourth in the next two seasons, then decided to hang up his boots from full-time racing.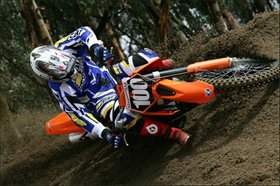 Chad helps out with a Racer X Online test last summer
photo: Simon Cudby
"I was just getting hurt all the time and it was frustrating," he explains. "Every year I would pull myself up by my boot straps and make another run at whatever series I was racing, and every year I would end up in the back of the ambulance. When I met my wife, it really helped me deal with getting out of racing. I just figured out that there was more to life than racing bikes. We moved back to Waseca, Minnesota, and here we are."
Pederson still lives in Minnesota with his wife, Michelle, and their three little girls, Dallas, Callie, and Jade. He teaches motocross schools during the summer, promotes several big events in his area, and also does some construction work during the winter. He still rides regularly and goes as fast as ever … for three laps: He is also a regular test rider for Racer X Online. For more information about Chad's MX school, check out
chadpederson.com
.