Between the Motos: Marty Smith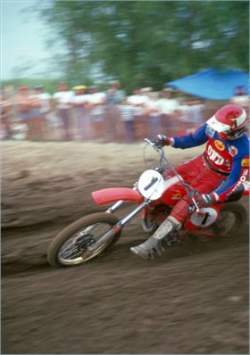 Marty Smith won the first two AMA 125cc National Championships in '74 and '75

Marty Smith is an American motocross god. He was the first superstar of the sport, a rider who matched his immense talent with an easygoing charisma and matinee-idol looks to become a hero to a generation of 1970s motocross fans. The San Diego native rode for the Honda and Suzuki factory teams in a celebrated career that was cut short and ultimately ended due to a first-turn crash at the 1978 Houston SX. But Marty is still at it, teaching Marty Smith Motocross Schools all over the country and still going fast on his dirt bikes.

Racer X: Marty, it's always a pleasure to get a chance to catch up with one of the true gods of American motocross.
Marty Smith: I appreciate that. That's a very nice compliment.

Hey, let's start with The Motocross Files. What a great series that was! You had to be tickled to death to get a chance to do some bench racing with Todd Huffman and his crew and be on TV.
I've really got to tell you that Todd went so above and beyond what really they had to do to make this thing happen. He really worked his butt off, and my props go to him because he really fought for over a year to have it take off, and he did a great job. It was awesome. There was only one problem that had with it—and everybody pretty much felt the same way—and that was that it was just too short.

Have you had anyone coming out of the woodwork, calling you up saying, "Hey, remember me? I worked with you at the Valvoline 125 USGP at Mid-Ohio in '76"?
I've got to tell you, if there has been any one thing in my career that has given me notoriety or brought my name back into the mainstream, I would have to say this is it. I've got people e-mailing me, calling me on my phone and on my cell phone! Students from the East Coast and Midwest saying, "Hey, we saw that it's going to be on tonight and we can't wait to watch it!" In fact, I was at Budds Creek this past week, and I had so many guys come up and say, "Man, we thoroughly enjoyed that, and we taped it."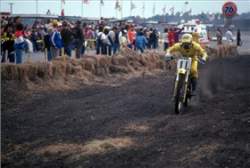 Smith's career came to a close after two seasons with Suzuki
I had a guy send me a scrapbook of pictures that I have never seen. There were all these amazing pictures of my teammates and I and just a lot of cool stuff. The guy said, "Hey, I know you got a son racing now, and I think he deserves to have this. I've been your fan forever, but now that you have a son racing, you've got to have this stuff to share with your family." I've just had so many nice things coming out of this. It's just incredible.
Well, you told me that you got to take your son and your wife back to Budds Creek. First of all, how much do wish that track would've been on the national schedule in the late '70s?
That track and facility, it's unbelievable what Jonathan Beasley has done with that place. As far as a track owner's dream, that's got to be right atop the list. He has it so set up for when it rains or it floods. He's got these two lakes where all the water drains and the track pretty much stays dry. And when he needs some water, he pumps it right out of there with a couple generators and sprinklers. He could water the whole track in 25 minutes! He has a hydraulic-operated starting gate, and he's just got a first-class operation there. I've got to give
Budds Creek
some credit, because it was one of the best facilities I've ever seen my whole life
Did your son get to race on the weekend, too?
Absolutely. We flew in on Thursday afternoon and went to dinner with Jonathan. On Friday I did a school there, and it was tied in with AHRMA. Tyler, my son, won both of his motos. And the whole time he was riding around, thinking, Man,
Bubba
and Ricky race here. And then we checked out where Doug Henry did his whiskey throttle – that was unbelievable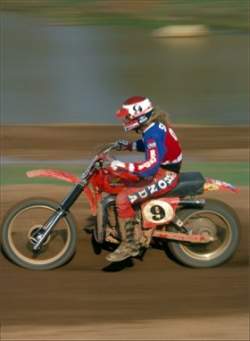 Smith won the '77 500cc AMA title, but he lost the 250cc outdoor title to Tony D.

You know, photos never really do it justice, because it's like you're standing there, looking down off the roof of a 10-story building.
Unless you're a rider and have felt what it's like to get big air, you can't really get the sensation in your stomach of what it's really like until you stand on top of the jump and you look at it, and you look at the wire that runs across from tree to tree that hooks up his PA system. And Doug flew over that wire.

Actually, I was standing right there at the bottom of that hill with Chris Hultner, who was working at the time for Motocross Action, and collectively, we had our backs turned and missed the whole damn thing! We heard the crowd roar, turned around, and caught pieces of Henry's bike just exploding into the air. So I know exactly how far it was, but I missed the photo of the century! But so did Chris.…
[Laughs] When Jonathan said that he actually flew over that PA wire, I had to go over and look at it and took my son over there and said, "Do you know what it would be like to fly that far?" It's a miracle that Doug is alive. And to see what he came through, I have so much respect for him to come back from that. Next time I see Doug, I'm going to go up and give him a big hug and a handshake, because what he came through is a miracle.

I remember that you had a pretty nasty fall in your career, too—on one of those mostly forgotten bad nights in supercross at Houston. You and Tony DiStefano and Jimmy Ellis all piled up off the start, and neither you nor Tony won a race again after that—and Ellis only won one. What happened that night?
Well, it was the start of the main and I was going into the first turn pretty much on the inside of the track. I thought at that time that I had the inside line where nobody else was going to come in, and one of my teammates—I believe it was Steve Wise—came in and he came in pretty hot and heavy and took myself out. And a couple of guys, it was pretty much the front five or six guys, we all went down like dominoes. And it was an ugly deal. That was pretty much the wind that went out of my sails from there on out. That was pretty much it—I dislocated my hip. It was painful, and I got real discouraged because I had to stay there for pretty much the whole main event before they carted me off. Then I sat in an emergency ward hospital hallway until about 5 a.m. before they actually gave me any sedatives or anything like that. It was a long time to be in that kind of pain. So any rider that has been in pain could imagine, that crash just took the fun out of it for me.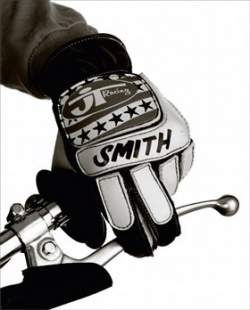 Smith was one of the first "celebrity" motocrossers, earning hiw own gloves by JT Racing

Sounds like they could've used to Doc Bodnar and Dr. Augustine and the Asterisk Mobile Medics.… I remember that race, because my parents were there, and you were my favorite rider at the time, and Dad said, "Son, I've got bad news."
Yeah, I'm glad that it wasn't any worse than it was.

You had an amazing career riding for first Monark and then Honda and finally American Suzuki. Looking back, did you get it all done? Did you leave fulfilled when you quit as a pro?
I definitely left fulfilled. I'm very satisfied. The only thing I wish I could've done differently was in '77 when I won the 500 championship, which was the third of my three championships, I still feel like I could've won the 250 nationals that year too, but I had a mechanical failure with my transmission. It wasn't the mechanic's fault; it was a faulty part. Dave Arnold was my mechanic back then, and he was the best. It was like some kind of shifting dog or drum, but it just wasn't meant to be. My career could've changed because I got that championship, but who knows? Maybe I wouldn't be where I am today if I would've won that fourth championship. So that's the way I look at it. I'm not disgusted or pissed off. It's just one of those things that if there's any one thing I wish I could've had, it was that 250 championship in '77. Because up to that point, nobody had won two championships in the same year, so I really wish I could've won that.
But to answer the question, I'm satisfied completely with my career. A lot of people tell me to look at the money those guys are making today, but you couldn't pay me enough money today to go out and do what those guys are doing today! I give every one of these guys props, because it's a dangerous sport and it's a sport of total dedication, and I give these guys a lot of respect.

If I may pry here, I always understood that you were really smart with the money you did make and made some very wise real-estate investments.
Well, back in the day I did, and I've got to thank my dad for that. To this day, my whole family is doing well because of how my dad set me up. My mom and dad are still alive, and I'm sure you saw them on The Motocross Files. And I think they're bigger movie stars than I am because of that! I have so many memories of them making sandwiches in the pits for all of Team Honda. For everybody who reads this and remembers my family back in the day, it was a great time.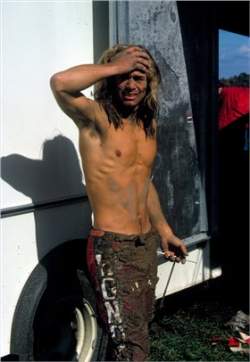 Smith cleans up after a mid-'70s Trans-AMA race at Red Bud
Oh, and about the show, if I could say one thing that came out of that: I had a few people e-mail me and say, "Hey, your grandson was in there with a broken leg. Was it really broken?" Well, yeah, it was really broken. Then they ask, "Was he trying that triple like you said?" Of course not! It was all fun and games, as far as how he broke his leg—he broke it going down a metal slide with my wife. His shoe caught and snapped his leg. But I was joking when I said he was jumping triples on the show—he was 3 years old—but I had numerous people ask about that, so that's just to clear the record.
Let's close with the motocross schools going on all across the country. If an interested rider wants to visit one of your schools, what's the best way to check out the schedule and see what the Marty Smith Motocross School is all about?
One thing they could do is e-mail me at martysmithmotocross@hotmail.com. Or they can check out my website at martysmithmotocross.com. But really, the easiest way is to give them my office phone number so we can talk one-on-one, and that number is 619-659-0273. I like to be personal. Back in the day I was always the guy that stayed back and signed autographs and talked to the kids, and that's they way it still is today, so that's how I prefer to do business today. So if you want to dial a phone number, give me a call.
For what it's worth, that kind of relationship with your fans made a huge impact on some people – trust me on that, I know. Take care, Marty.
No problem. It's good to talk to you, Davey. Thanks a lot!