Bench Racing Ammo: Red Roller Coaster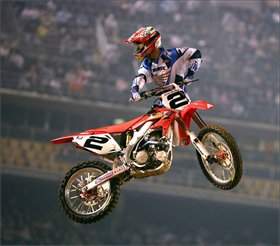 The King of Supercross was satisfied with two fourth-place finishes in '06
Simply put, the 2006 Amp'd Mobile AMA Supercross season has been a roller-coaster ride for the members of Team Honda. From incredible highs to lows beyond imagination, it has been a tumultuous season for Big Red Machine. But the entire team has kept its composure and pressed onward, and amid all of the turmoil and tragedy, they still find themselves in a position to possibly win two 250F regional supercross championships for the first time since Jeremy McGrath and Brian Swink swept the 125 class in 1991 with Team Peak/Pro Circuit Honda. Let's take a look back at their season thus far.
In the 450 class, Honda was in a major hole before the gate dropped on the first race of the season as their number-one rider, Factory Connection's
Kevin Windham
, suffered a broken arm practicing on his SoBe/Samsung Mobile CRF450R and was forced to the sidelines for the first half of the season. Kevin was Honda's number-one title threat, so this put added pressure on the remaining full-time 450 riders in the Honda camp, which included
Travis Preston
and Ernesto Fonseca on the main team and Windham's stablemate
Mike LaRocco
.
But all hope was not lost, as the best supercross racer Honda has ever had, Jeremy McGrath, was returning to racing yet again and was competing in the first six races of the season under the Honda tent. This alone helped raise the overall team morale to another level. McGrath is the undisputed King of Supercross, and his knowledge and experience with testing and racing was invaluable to the other riders. Although Jeremy stated several times that he was out there "to just have fun," he came in more prepared than ever and his results reflected that. Out of the five races he finished (he broke down in the mud trying to qualify at San Francisco), MC took two fourth-place finishes, a fifth, an 11th and 16th - but those two fourth-place finishes felt like wins to MC.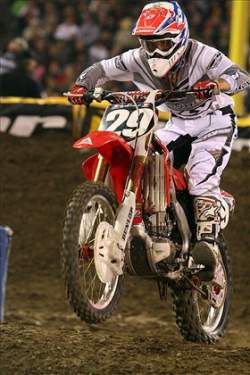 Honda's Andrew Short is the current points leader in the West ...
"In all reality, at my age, I can't see myself beating Reed, RC or Stewart, so a fourth is definitely a good way to leave it be," McGrath said.
Although up front it was a three-way battle between
Ricky Carmichael
,
Chad Reed
, and
James Stewart
, Honda still managed to hit the podium a few times this season. But out of those three times, an actual factory Honda rider only hit it once, and that was Ernesto Fonseca in St. Louis. In San Francisco and Orlando, MDK/Motosport Outlet's
Nick Wey
, on a privateer Honda CRF450R, took third.
Fonseca's podium represented a season highlight for the 450 team, but two weeks later, his accident became the ultimate low. Exactly three weeks ago to this day, Fonseca crashed while practicing at his private track and suffered a career-ending injury. You're in our thoughts and prayers, Ernie.
Just when Honda had an opportunity to get some momentum back as the series rolled into
Mike LaRocco
's hometown race in Indianapolis, the veteran crashed in practice and suffered a dislocated wrist, ending his 2006 season and possibly his career.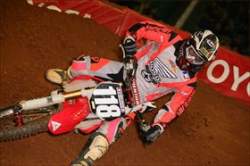 ... while Davi Millsaps is leading the East. Millsaps can clinch the title this weekend in Houston.
So as
Travis Preston
soldiers on as the lone rider under the Honda tent, he is now joined by SoBe/Samsung's
Kevin Windham
, who is back (but not quite up to speed), and 250F SoBe/Samsung Mobile rider
Billy Laninovich
, who is racing the premier class in the East in preparation of his run for a Western Regional championship. Looking at the 450 points standings, although the highest Honda rider is
Nick Wey
in fifth, riders in seventh through 14th are all aboard Hondas. They include Preston, Fonseca, LaRocco, Moto XXX's
Tim Ferry
, Solitaire's
Ryan Clark
, Subway/Coca-Cola Honda's
Jeff Gibson
and
Jason Thomas
, and McGrath, who is still clinging on to 14th overall. That's a lot of Hondas.
But let's take a look at the bright side of Honda's 2006 season thus far: their sheer dominance in the 250F East class with
Davi Millsaps
and
Josh Grant
, plus West Coast leader
Andrew Short
.
After six West Region races, the magic number for Honda's
Andrew Short
is two. That's because, with two races left, his two race wins have given him a two-point lead over
Grant Langston
in his second year riding for Team Honda.
And on the East Coast, Honda riders have won all six races of the 250F series thus far. The magic number for
Davi Millsaps
is one: He's the number-one guy in points with one round left, going for championship number one in season number one with Honda. He has a 22-point lead over SoBe/Samsung Mobile's
Josh Grant
going into Houston, so it should be a good one. No matter what goes down, Honda will be coming away with their first East Region championship since Doug Henry claimed that title back in 1993! If they win the Western Regional championship, it'll be the first since
Travis Preston
won in 2002.
It appears Honda is back to prominence in the 250F class, and with rumors circulating about one or two already-established riders joining the 450 squad in 2007, Honda may be back to prominence in that class, too.