Monday Conversation: James Stewart
James Stewart is on a roll in Amp'd Mobile Supercross, leading the last 40 laps and winning the last two mains for his first AMA SX winning streak in the AMA Series—this while stopping the three-race winning streak series points leader Ricky Carmichael had going.
Stewart got a good start at Detroit and was never challenged, and he even got to look over and see a good race between RC and Reed for a while. Stewart did change his front end a little and hasn't lost it in a first turn in a while. We talked after the Detroit press conference about his recent good results, lappers, and that newsletter!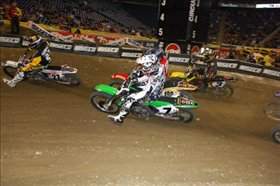 No banana peel: Stewart made some changes and is holding it up in the first turns

Racer X: James, you are really on it. You have two big wins in a row.
James Stewart: Yeah, I had a good start and rode my own race. I put in a good 20 laps. I saw those guys battling back there. I was in a good position to just ride my own race and go on about my business.

For people who haven't seen it, how would you describe the track tonight?
The track was pretty normal as far as lap times. There were a few rocks out there, so it got slippery and kind of broke down. It was a good track. If I were in the back of the pack, it probably wouldn't have been, because it was kind of hard to pass out there. I'm lucky I got a good start.

This crashing thing, since you have won a couple in a row, are you over it, or what can you say about that?
[Laughs] Nothing! Everyone needs to realize, well, except Daytona—that was the hardest crash I had all year—it's not like I'm jumping off the track or doing anything stupid. My front end was just washing out. I think we fixed that, and I'm just trying to ride smart.


Stewart waves to enthusiastic fans

Did you change your front settings? Was it really too stiff?
It was a little stiff. When they go in and work on a first corner, you can't push it in there off the start with 20 guys racing in there. You tend to want to push it in there. So we fixed that now and I have been getting good starts.

In the press conference, there was a lot of talk of lappers. Is part of the problem shorter lap times?
Yeah, definitely with the lap times shorter. I'm glad I wasn't the only one talking so everybody can't blame this one on me! I wasn't the only one out there [saying something]. You know, they're racing, too, so oh well.

What should they do? What about the idea to have them pull off after being passed and scored from there? That would change the sport a lot, wouldn't it?
I don't know. I understand they're racing and stuff, but just like how they do it at the riders' meeting, where if you don't show up, you get fined $250, I feel like if you're out there and you don't move and they hold you up a straightaway or so, they should get fined. I moved out of the way for Ricky [at Daytona]. That's the way it should be. It's racing, but they have to move.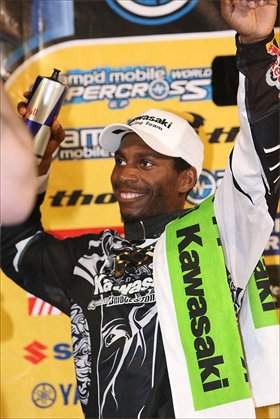 "I got a good start and rode my own race."

You had a bit of a meeting within a meeting after the track walk. I saw yourself, Ricky, Chad, and Dirt Wurx in a circle, talking and pointing to a track map. How did it go?
We just want to make it better for racing, a better start and more lines and stuff. They're going a good job. We suggested changing a few things and it was good.

Hey, we're going to hold off on contract questions for about another week!
[Laughs] Yeah, hold off on that for a little bit.

Okay, last one: Your newsletter on your site, jamestewartonline.com, people don't think you write those things. How does it work?
I just say what I have to say. Sometimes people don't like it, but that's me. That's it. People think I would let someone else speak my words for me? I run it by [manager] David Evans, but that's all me, word for word.

Thanks, and see you in Houston. Hey, are you really going home in a private plane, like, right now?
Yeah! I'll be home in a few hours.

Have a nice flight, and great ride tonight.
Thanks, Steve.