Bench Racing Ammo: An Ode to Pontiac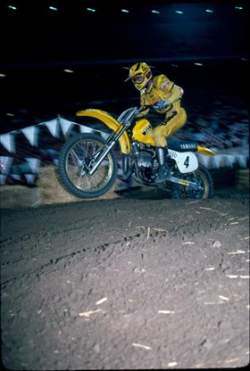 Bob Hannah is the winningest rider in the history of the Pontiac Supercross
photo: Dick Miller Archives
The Pontiac Supercross was one of the longest-running events on the supercross circuit, with its first race taking place on March 27, 1976 and the last taking place April 9, 2005. Throughout those years there have been some spectacular races in the Silverdome, and it has always been a favorite stop on the tour for die-hard fans in the Midwest. But for 2006, the Pontiac SX has been moved 30 miles down Interstate 75 to the magnificent Ford Field in downtown Detroit, the new home of the Detroit Lions. With that in mind, let's take a look back at the historic Pontiac supercross.
- The winningest rider in Pontiac history is Bob "Hurricane" Hannah, who put his Yamaha atop the podium a record nine times between 1977 and 1984.
-The second-winningest rider in Pontiac is Jeremy McGrath, who got six of his 72 250cc SX wins at the old home of the Detroit Lions in Michigan.
- A total of nine riders have won two or more consecutive races in the 250cc class in Pontiac, and they include:
Bob Hannah (1977-'79) – 6 consecutive wins
Donnie Hansen (1982) – 2 wins
David Bailey (1986) – 2 wins
Rick Johnson (1988) – 2 wins
Jean-Michel Bayle (1990-'91) – 2 wins
Damon Bradshaw (1991-'92) – 3 wins
Ezra Lusk (1997-'98) – 2 wins
Jeremy McGrath (1999-'00) – 3 wins
Chad Reed
(2003-'05) – 3 wins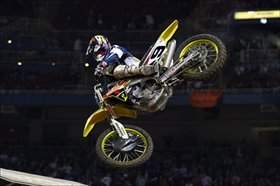 Take out the top three and a Makita Suzuki rider still leads the points: rookie Ivan Tedesco
photo: Matt Ware
Notice a name that isn't on that list of consecutive race winners is
Ricky Carmichael
. RC only won the Pontiac SX one time in his 250cc career, and that was back in April 2001 on a Kawasaki. He will try to get Suzuki their first main-event win here in Michigan since 1983, when Mark "The Bomber" Barnett took the victory. Suzuki only has a total of three Supercross main-event wins in Pontiac.
Michigan's Brian Swink won the 125cc main three times (once in '91 and twice in '92) and Hudsonville, MI's Todd DeHoop won the 125cc main in 1988 as a Suzuki support rider.
Switching gears a bit, what would the Amp'd Mobile Supercross Series look like if the top three in points didn't exist? Would the series get any closer than it is now? Well, Racer X Online reader Brian Friederich took out the top three and adjusted the points accordingly to see what it would look like. It's a shock to see Ivan with such a huge lead!
| | | | | | | | | | | | | | | |
| --- | --- | --- | --- | --- | --- | --- | --- | --- | --- | --- | --- | --- | --- | --- |
| | Total | Rd 1 | Rd 2 | Rd 3 | Rd 4 | Rd 5 | Rd 6 | Rd 7 | Rd 8 | Rd 9 | Rd 10 | Rd 11 | | race wins |
| | | | | | | | | | | | | | | |
| Tedesco | 230 | 22 | 15 | 25 | 8 | 25 | 20 | 25 | 25 | 25 | 18 | 22 | | 5 |
| Wey | 214 | 18 | 22 | 14 | 25 | 14 | 16 | 20 | 18 | 22 | 20 | 25 | | 2 |
| Byrne | 208 | 15 | 20 | 16 | 22 | 20 | 18 | 16 | 20 | 18 | 25 | 18 | | 1 |
| Preston | 172 | 16 | 13 | 13 | 18 | 18 | 4 | 18 | 14 | 16 | 22 | 20 | | |
| Fonseca | 160 | 20 | 18 | 20 | 7 | 16 | 15 | 22 | 22 | 20 | | | | |
| Larocco | 139 | 25 | 16 | 18 | 13 | 22 | 22 | 7 | 16 | | | | | 1 |
| Gibson | 109 | 10 | 12 | 7 | 16 | | 11 | 11 | 11 | 14 | 4 | 13 | | |
| Ferry | 109 | | 9 | | 5 | 12 | 13 | 14 | 9 | 15 | 16 | 16 | | |
| Clark | 108 | 8 | 11 | 11 | 15 | 11 | | 13 | 15 | 6 | 11 | 7 | | |
| Thomas | 96 | 6 | 7 | 10 | 14 | 9 | 8 | 12 | | 13 | 12 | 5 | | |
| McGrath | 93 | 13 | 25 | 22 | | 8 | 25 | | | | | | | 2 |
| Evans | 92 | | 5 | 9 | 20 | 4 | 7 | 9 | 13 | 9 | 10 | 6 | | |
| Vuillemin | 80 | 14 | 14 | 15 | 4 | 15 | 6 | | 4 | 8 | | | | |
| Dement | 80 | | | 6 | 10 | 10 | 5 | 4 | 6 | 12 | 13 | 14 | | |
| Brown | 74 | 12 | 8 | 4 | | | | 15 | 12 | 5 | 9 | 9 | | |
| Lewis | 53 | 11 | | | 6 | 6 | 12 | 10 | 8 | | | | | |
| Voss | 51 | 4 | | | | 13 | | | | 10 | 14 | 10 | | |
| Stiles | 48 | 7 | 10 | | 12 | | 9 | | 10 | | | | | |
| Vallejo | 48 | 5 | 6 | 5 | | | 14 | | | | 7 | 11 | | |
| Saylor | 46 | | | 12 | | 5 | | 5 | | 7 | 5 | 12 | | |
| Sellards | 24 | | | | | | | | 5 | 11 | | 8 | | |
| Laninovich | 19 | | | | | | | | | | 15 | 4 | | |
| Buckelew | 17 | 9 | | 8 | | | | | | | | | | |
| Dostal | 16 | | | | | | 10 | | | | 6 | | | |
| Young | 16 | | | | | | | 8 | | | 8 | | | |
| Windham | 15 | | | | | | | | | | | 15 | | |
| Johnson | 14 | | | | | 7 | | | 7 | | | | | |
| Marsack | 11 | | | | 11 | | | | | | | | | |
| Dehaan | 9 | | | | 9 | | | | | | | | | |
| Siebler | 6 | | | | | | | 6 | | | | | | |
| Reynard | 4 | | 4 | | | | | | | | | | | |
| Keeney | 4 | | | | | | | | | 4 | | | | |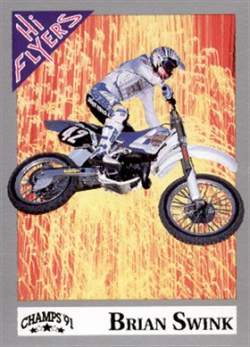 Michigan's Brian Swink won here in '91 and '92 in the 125cc class