Monday Conversation: James Stewart
James Stewart rode the main event Ricky Carmichael didn't want him to have: a clear track, faster lap times, and no mistakes. Stewart was simply so fast in the early laps of the main that RC appeared to realize that trying to match his pace was not in the cards for this one. The Orlando Citrus Bowl is Stewart's "home" supercross, since he's from nearby Haines City. He seemed to be the most at home on Orlando's unique all-sand track, and he looked like the was having a blast going so fast out there.
Orlando 2006 is one more race to add to Stewart's won-every-supercross-he-hasn't-crashed-in streak. He seems to have all the speed he needs, but with five rounds to go, he still has 23 points to make up on RC. Chad Reed is just eight points behind RC but riding hurt—really hurt.
We stopped James for a quick chat right after the post-race press conference to see what it feels like to be called the fastest guy in SX, even by the GOAT.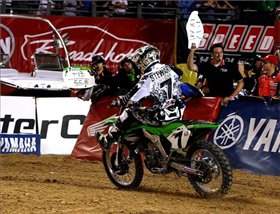 No close race this time: Stewart checked out

Racer X: James, what a night! I'm not even sure how to start asking about a ride like that one.
James Stewart: It was good. I had the speed last weekend at Daytona and just went down. [Tonight] I got the holeshot. I just hit the triple-triple right at the beginning and rode my own race. I felt good all day. The track really broke down. It was more like an outdoor track with just how rough it got and with the ruts and stuff. In the last few weekends, I have been doing good, and I'm really looking forward to next week.

That was a pretty unusual sandy track. Was it more like Daytona?
It was a little bit different. When you go to Daytona, you expect sand. You don't really expect a sandy supercross. It was more like Bithlo [FL] dirt. It was sandy, but it was also sticky. Daytona is sandy and it hits you and it gets everywhere. But it was a good night. I had a great setup this week.

We didn't get to talk to you after last week's main because you weren't feeling good, but by Sunday you were riding again, right?
Yeah, I rode Sunday. Just for a while there in my race, when I hit my stomach, I was out of breath and trying to get it back. I got back up there and did the best I could. I fought my way back to sixth and didn't give up. The bike was a little bent up, but no excuses: I went down and did my best to salvage some points.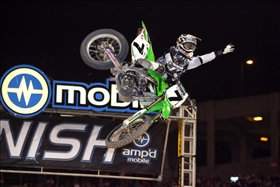 Stewart was Amp'd all day

About how far into the Orlando main event did you decide to back it down a little?
Probably right after I got screwed up in the whoops with Ryan Clark [about lap 5]. I think I was out, like, 10 seconds. I ended up pulling to 15, which was good to me. I just kind of checked on Ricky's pace and rode the same pace until about the last two laps. It was a good night.

What's it feel like to have a guy like Ricky give you full credit in the press conference, saying, "Well, I just got beat" and "James was faster," stuff like that?
It felt good coming from him. Especially with him being one of the best in the world, if not the best in the world. It feels good to hear him tell me I have all the speed in the world and stuff. It's good to hear it from him, and he's a great guy.

It looks like you were having a lot of fun in that heat race, whipping it for the fans.
Yeah, I had a blast. Even in practice. It was a good night. It was fun being with all my friends and relatives. It was cool to have them here.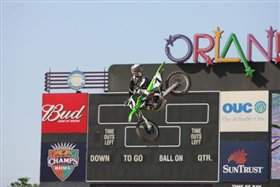 Stewart lives about 30 minutes from Orlando in Haines City, and he could probably name half the people in the stands watching afternoon practice

You mentioned in the press conference everyone you know wanted tickets. How many people hit you up?
Probably 500 people! They hit my dad up, not me. The only way you can get a hold of me is text messages, and I shut my phone off most of the week. I'm actually glad I lost my phone two weeks ago. I've been out of touch.

What are your thoughts on season points? Do you feel under pressure to make up points quickly or anything?
All I can do is try and win races. Anything can happen, like it did at St. Louis. All I can do is my best, and I feel like I'm doing that right now.