Kawasaki/Racer X Race Report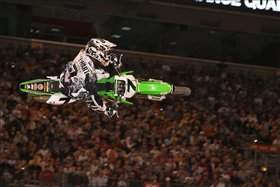 James Stewart found his mojo and put it to the 450 field in Orlando.
James Stewart
started the season off in December with two big wins in Canada, and he did it with speed that was absolutely unmatchable by his competition. At that point James looked so fast and strong that it seemed that dominant performances North of the border would be repeated over and over as the series wound through the U.S.
But here we are, four months later, and only now have we witnessed Stewart log another dominant win. And it might be too late. While no one had an answer for James at the Orlando Supercross tonight – he was consistently nearly two seconds a lap faster than second-placed Ricky Carmichael during his best laps in practice, qualifying, and the main – the bottom line is he is 23 points down on Carmichael in the Amp'd Mobile AMA Supercross Series. With only five races to go, Stewart will need more than a few more dominant wins to get back into the points lead.
But, man, he was incredibly fast in Orlando. In old-school James Stewart fashion, he was able to ride whatever line he wanted and do it faster than anyone else, everywhere on the track. He won the main by 12 seconds over Carmichael.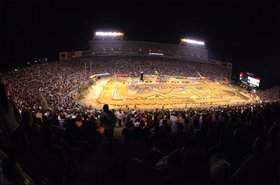 Orlando had a much better turn-out this year.
But Carmichael's AMA title picture actually looks better after his second-place finish tonight, because he pulled a few more points on
Chad Reed
, who gutted out fifth with his separated shoulder. Carmichael is now 10 points ahead of Reed in the AMA Series, with Stewart six points behind him in the Amp'd Mobile World Supercross GP.
Third behind Stewart and Carmichael came MDK Motorsports Honda's Nick Wey, who fought and scratched and clawed all night long, first battling past Kawasaki's Michael Byrne to get into fourth, and then slowly reeling in Makita Suzuki's Ivan Tedesco. Just before the white flag came out, Wey got inside of Tedesco and took over third, a gutty performance by the fastest privateer in the business. Tedesco finished fourth, while Reed reeled in Byrne and passed him to finish fifth.

Travis Preston rode strong early, passing Reed and working his way toward the top five until Reed got him back. Also, Kevin Windham made his season debut on the Samsung/Sobe Factory Connection Honda, in his return from a broken arm. He rode strong early before fading a bit and clinging to a top-ten finish. Early in the race, Windham passed Reed, making him the championship X-factor many had expected. But his conditioning wasn't strong enough to make it last.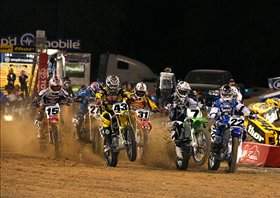 Stewart and Chad Reed nearly hook up in a heat race that would turn out way better for James -- Reed got parked by Tyler Evans and had to race the semi.
Stewart grabbed the $1,500 Progressive Direct Holeshot Award and served notice by immediately jumping a very difficult triple-triple combination out of turn one. From there he was flat gone, leading by seven seconds after three laps. Carmichael got around Byrne to take over second on the first lap, but he simply didn't have the pace to run with Stewart. As always, RC took it on the chin, saying simply, "I got beat."
Tedesco settled into third early, and that might have been his problem. He rode alone for 19 laps, only to get zapped by Wey right at the end.
Reed's night was a bad one. In his heat race he got stuffed in a corner by Tyler Evans and went down, causing him to race the semi for the second week in a row, which he won. He started well in the main but started dropping back quickly. Somehow, someway, he gutted it out from there and ended up passing several riders in the last few laps, including Windham,
Tim Ferry
, Preston, and Byrne. Reed's fifth might have cost him some points on Carmichael, but it wasn't for lack of trying.
In the East Region Lites Series, Sobe/Samsung Honda's
Josh Grant
turned the tables on Team Honda's
Davi Millsaps
. Millsaps is usually the speed demon of the class, but Grant had the edge on times all day and night. In the main, Star Racing/Lucas Oil/Yamaha's Bryan Johnson got the holeshot (and $1000 from Progressive Direct), but was passed quickly by Monster Energy/Pro Circuit/Kawasaki's
Chris Gosselaar
. L'il Goose didn't last long in the lead though, because Grant and Millsaps were coming. Amazingly, Grant actually passed Millsaps in the whoops, saying later that he "closed his eyes and hung on," then got around Gosselaar and took off. Millsaps followed Grant around Gosselaar, but he couldn't close the gap on Grant at all. Grant ended up with his second win of the season, but thanks to his disappointing opening-round ride in St. Louis, he's still 25 points behind Millsaps with two races to go in the series.
Gosselaar is tied for second with Grant after finishing third.
More than 43,000 Orlando fans came to the races, which was a nice jump over last year. Stewart, who only lives a half-hour away in Haines City, joked that half of the crowd came from the tickets he bought! The crowd was clearly on his side all night long.

Now the series heads to Ford Field in Detroit – home of the Super Bowl that the Steelers won a few months ago. Will Stewart finally figure out the combination to consistent domination? Or will we have to wait another few months to see this happen again?