Where Are They Now: Larry Maiers
Back in February at the annual Dealer Expo in Indianapolis, I happened to run across former Motoworld host Larry Maiers. He wasn't there announcing anything, nor was he in front of any TV cameras like he's used to—he was just walking around, taking in the sights and sounds of the motorcycling industry. Maiers is a former supercross, motocross, and arenacross announcer, and you imagine that those forms of racing are his passion, but as I found it, that isn't the case.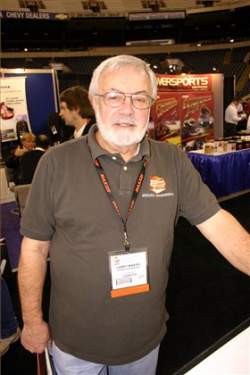 Larry Maiers at the Indy Trade Show
photo: Billy Ursic
"My tastes have always run toward dirt track and cross-country," Maiers, now 67, says. "I started out as an enduro racer, and I've never gotten away from that sport." Born and raised in Michigan, Larry found his way into the motorcycling industry when he was hired by the great John Penton.
"I started working for John Penton in Lorain, Ohio," Maiers explains. "I was from Lansing, Michigan – home of the Jack Pine Enduro – and in 1972 I joined the motorcycle industry as president of Penton Imports and Hi-Point Racing Products."
That position helped Larry transition into the announcing aspect of the sport in the early '70s. "It was about 1974 that I started announcing live race events," says Maiers, who now resides in Hogansville, GA, with his wife, DiAnn. "There were no announcers back then, and I just did it once for a friend. Dave Coombs and Gene Ritchie used to argue back and forth about which one hired me first. The fact is that neither one hired me; I just did it as a favor! And then someone asked me to come and announce a race and they paid me.
"I was doing those races in the early days in exchange for title sponsorship for Penton Imports and Hi-Point Racing Products, so it would be the Hi-Point National. Today people pay thousands of dollars to have that done, but back then there was nobody willing to pay money to have a national named after them. So I traded my announcing services to be the title sponsor for Hi-Point!"
Announcing live races like AMA supercross and the
Unadilla
USGP, plus Ritchie's event at
Red Bud
, Coombs'
High Point
National, and Bill West's St. Petersburg National in Florida, opened another door for Maiers, leading him to a lucrative career in television.
"Someone came along one day and said, 'Hey, I'm going to do a TV program. Are you interested?' I said, 'I don't know anything about TV.' And they said, 'Well, we could teach you TV a hell of a lot easier than we can teach a TV person about motorcycles!'
"So I said sure and walked away thinking that there was no way I'd hear back from that guy. Well, that guy was Lou Seals, and lo and behold, I did hear back from him. He started the first ever motorcycle-only show, and that was
Motoworld
. The first
Motoworld
was in about 1984, I think."
Motoworld
started as a monthly program on the USA Network, then quickly became a weekly program on the Nashville Network and then ESPN.
As the show grew in popularity, Maiers was forced to make a decision regarding his other job at Penton Industries. "I was devoting more time to the television show than I was to my regular job," Maiers says. "I was still president at Penton and Hi-Point, so I had to make a decision. I thought I would probably be the next Johnny Carson, so I chose television as the way to go, and I've been doing it full-time ever since."
Although Larry officially "retired" a few years ago and never became the next Johnny Carson, he's still heavily involved with television in the motorcycling industry. In fact, he recently announced the dirt track in Daytona. He also works for a new television show being produced by Chet Burks called Maverick TV, and he still does announcing for banquets and events like the Yamaha Weekend of Champions, which was held at the MotoGP at Laguna Seca last year.
What does the future hold for Maiers? "Next year, I hope to wake up every morning and see grass and not the roots," he laughs. "I plan to go to as many GNCC events as I can. And I think dirt tracking is the best form of motorcycle racing there is. You know what? They don't make any money, and that's why we don't have any selfish kids out there or riders who don't have time for the spectators and fans. They're just people trying to make a living and doing what they love."