Privateer Profile: Zach Osborne
Last Friday's Daytona Supercross by Honda was the professional supercross debut of 16-year-old Zach Osborne. If you're a follower of amateur motocross, you have surely heard of this young rider from Abingdon, VA. He is a multi-time amateur national champion and has been KTM's number-one amateur rider for the past few seasons. Without any announcements or press releases, Zach entered the Daytona Supercross in the 250F class, where he came away with a 14th-place finish. And that was after a spectacular first-turn crash, which you witnessed if you were tuned into Speed. Be sure to show Zach and his sponsors some support by clicking on the links at the bottom of the page.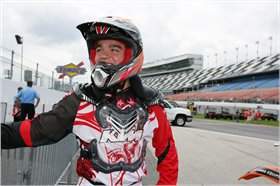 Last week's Daytona Supercross marked the professional debut of 16-year-old Zach Osborne

Racer X: Zach, what's going on?
Zach Osborne: I'm just helping out my dad at his excavation company right now.

What do you do for him?
I mostly do just mechanical stuff, but sometimes he'll let me go out and run some equipment.

You probably have an awesome practice track.
Yeah, it's pretty nice [laughs].

How nervous were you last Friday night?
Well, I wasn't that nervous at all. I had a really good time at the race and everything, and believe it or not, that was probably the least nervous I've ever been for a race in my life. So it was an awesome experience for me.

Was it what you had imagined all those years as an amateur?
Yeah, it was. I had a good time with it, and whatever the outcome was, I was willing to accept it.

Well, the outcome was a 14th-place finish in the main event. But what were your expectations coming in?
I wanted to win my day qualifier, which I did, and I wanted to not do the LCQ in the night program, which I did, barely. In the main I wanted to get top 10, but I fell on the start.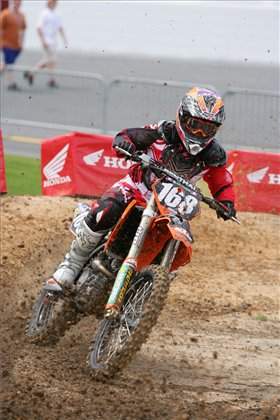 Zach won his day qualifier

What exactly happened on the start? After further review on our TiVo, it doesn't look you came in contact with anyone. Was it just a case of trying to out-brake everyone else?
I wanted to sweep outside but Schnell didn't make the turn and we hit and I went over the berm.

It looked crazy.
Yeah, but it wasn't that bad.

When did you decide that you were going to race the Daytona Supercross? You really came in under the radar. Or was that the plan all along?
I decided to race it a few weeks before the event. Like, on the last day you could possibly send your entry in is when I did.

Was everyone really supportive of your decision to race it?
Most everybody was kind of sketchy about it, but they all stood behind me, and when it was over they were all pumped.

When did you turn 16?
I turned 16 in September.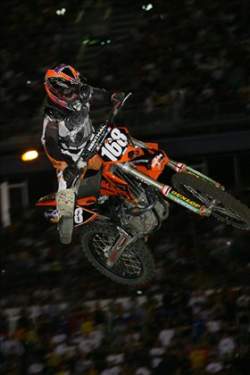 After crashing in the first turn, Osborne raced back to 14th in the 250F main event

Are you going to finish out the rest of the Eastern Region series in the 250F class?
No, I'm not riding any more supercross this year. I'm just going to ride the outdoors. I'll probably start in Mt. Morris and ride all of the East Coast ones.

Are you going to concentrate on more amateur nationals this year?
No, I'm not going to do any amateur nationals.

Why not?
Well, I'm not big enough for a 450 and it's kind of hard to compete on the 250. So if I went to Loretta's I could only ride one class, so that's really not worth it.

How long have you been a KTM support rider?
I've been with KTM since 2002, I think. I actually started riding on 50s and 60s, but I had to move to a different brand for an 80. But I'm really happy to be with them. They're a great company to ride for and the bikes are awesome.

What's your goal for the rest of the season?
I want to get a couple top-fives or podiums in the outdoors, and next year I'll do a full season.

Good luck, Zach.
Thanks, Billy.


Zach Osborne's Sponsors