Monday Conversation: Ricky Carmichael
Just two weeks after defending champion Ricky Carmichael all but told supercross to bite his butt patch over the fuel-penalty issue, he won Daytona and he's back in the points lead. His two series rivals are battered and ready for a vacation – each having put in what even Carmichael would agree were heroic efforts under the circumstances on Friday night at Daytona – but there are still six rounds to go.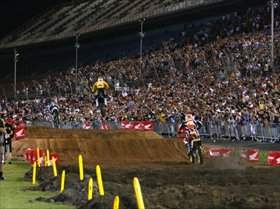 The most exciting moment you can have in supercross right now is these three this close together during a main event

At Daytona International Speedway, Ricky got handed the lead a couple of laps into the main when the leader, James Stewart, fell and took some hard blows. He got going anyway and, amazingly, caught back up to sixth. Back in second, Chad Reed was riding in pain due to a separated shoulder he suffered the day before while practicing. The fact that he was even out there—or that Stewart got back up and going again—were testaments to how badly these guys want to win the championship.
But in order to do that, they have to stay with #4. In two weeks' time, RC has gone from dropping 49 points between his St. Louis DNF and the 25-point San Diego penalty and basically being out of title contention, to leading it, and he's probably the only one of the top three who is going to throw a leg over a bike this week as the series stays in Florida and moves down Interstate 4 (coincidentally) to Orlando.
We chased RC's chauffeured golf cart all the way from the DIS media center to the Suzuki semi for this interview, and the champ graciously invited us into the front room to chat about the night … well, at least until the race came on TV! If you think fans are glued to SX TV, you should watch the tops guys when a race is on!

Racer X: Ricky, a lot happened tonight. What was more important: winning a record fifth Daytona, taking the series lead, or something else?
Ricky Carmichael: Winning it for Suzuki, because it's been since 1981! I was two years old, by the way. And for Ernesto. And getting the points lead.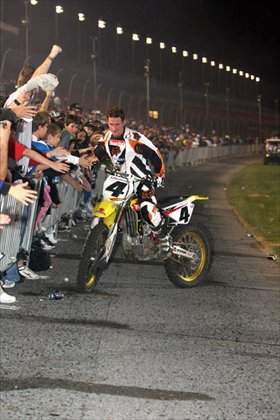 "How did you like my burnout?" It was pretty cool to everyone except Doug from Bridgestone, who was supposed to note the tire condition in his notebook.

How did you approach this Daytona? You said last year the shorter track and cooler weather caught you by surprise.
Yeah, and it still caught me by surprise. I thought it would be a little more old-style Daytona. We got here and the whoops were gigantic. It became one-lined a little bit. That was part of it. I dealt with it. I think I was the most consistent guy through there all night long. I was disappointed to see James fall down. I think we could have had a good battle, and I was looking forward to racing him. I could have used his help, too, a little bit.

To get in between yourself and Chad because of points?
Yeah, and I have been having fun racing him, as well.

James won that heat race you were both in. How did you plan your response in the main?
We made a couple adjustments on the bike to get it working better. I felt really good in the main, so I was pumped.

You mentioned last week that you were struggling with the new steel shock spring. How's that going?
We made some improvements last week. It's definitely getting a lot better. I look forward to going back to my supercross bike and rolling out three more good races before the break.

Were these jumps by Dirt Wurx more curved than usual at Daytona?
Oh, yeah, the shapes of the jumps were a lot better tonight. The whoops were unbelievable, and I hate to bring that section up because everyone will think I'm whining, but I think everyone could see you couldn't really even race through them.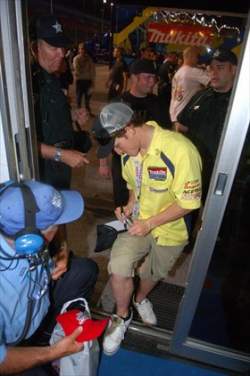 After RC won the main and did the press conference, he got a golf-cart ride back to the Suzuki pits for more autographs, then signed some souvenirs for the security folks

It seemed like they broke down and guys were kicking around all over the place in there.
Yeah. That's the way it goes. It was Dirt Wurx's first time doing it, so I'm sure they didn't know and it will be better next year. They did a good job, considering.

Back to this main event. James was a few seconds ahead, then something happened and he went down hard. Once you realize he's pretty far back, does a series points calculator start running in your head?
When I came back around the next lap, I saw him and went, 'Uh oh." It's just a bummer. That's the way it goes. He will get better.

We know, as far as your series plan, this is an important race for you—like there is a before-Daytona and an after-Daytona. Where exactly are you now compared to what you planned for?
As far as the series and the way it goes, it's different than it has been before. I definitely am glad to be back in the points lead. I made up a lot of points since St. Louis. I'm proud of the way the team is handling everything and proud of my program. I just want to do my best. I have my goals, and I'm doing good, so I can't complain. [The main is on Speed TV nearby and it's about to start. RC's eyes are on the screen.]

I bet you're about to watch this main on TV!
Yeah, sorry, I'm kinda in space right now.… Hey, every time I go to an autograph session, a dealer open house, I say, "Don't play motorcycle videos," because we all want to watch them!

At some point, do you look at the points between yourself and James to see if you don't even need to finish ahead of him?
Maybe down the road, but right now I need to get more points. I just need to go out and win races at this point.

Congrats on the win, Ricky.
Thanks, Steve.