Where Are They Now: Greg Rand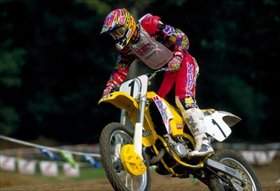 Greg Rand at Loretta Lynn's
photo: Fran Kuhn
So I go to the DMXS Pre-Party at the Atlanta Supercross at a bar in Buckhead that used to be called Coyote Ugly. A guy walks in wearing a pink polo shirt, about the size of a fullback, and I'm thinking he's a former football player-turned-young urban professional. In other words, kind of out of place for a DMXS beer bash…. Holy smokes, that's Greg Rand!
If you don't remember the name, it's either because you aren't from Ohio or you didn't pay attention to the big amateur national results in the early 1990s. Hillsboro, Ohio's Rand was one of the fastest, most promising young riders in the country—a true "can't-miss kid." He battled often with Robbie Reynard and
Kevin Windham
, rode for the Suzuki factory support team, and has a half-dozen AMA Amateur National Championships from Loretta Lynn's. But he turned pro in 1993 right after Loretta's and quickly learned just how much different pro motocross can be.
"The first 125 National I went to, I got a bad start and worked my way up to sixth," the always-friendly Rand said of his welcome-the-pros moment. "So I was doing good, but then they brought out the halfway flag and I was like. 'Oh my God!' So I knew I had to do a lot of work. But then when I started really working out and all, I got hurt.
"I broke my leg snowboarding before I was supposed to start supercross racing, which was in '94," added Rand, whose style was comparable to that of a young Reynard or even Windham: smooth to the point of effortless. "So I went to one supercross race and I got a dead-last start in the main and worked my way up to eight or ninth. And then I got hurt as soon as the outdoors started. And then I just really never got back in shape.
"And then I got hurt again," he shrugged. "And again. I just got hurt at he wrong times." That led to a loss in confidence in himself and the confidence others had in him. "When you don't perform and people are wondering what's going on and then they think you can't do it, it gets in your head. There's a lot of pressure to it, I think."
Rand sat out a year, picked it back up, and did some arenacross, then opted out altogether, which made me look twice when he walked into that bar in Atlanta with his friend and fellow Ohio racer Brandon Smith. "I haven't been to a race since I got hurt, really," he explained. "I haven't been to a supercross since '98 when I went to Indy. I'm just building houses now, being married, living a normal life. No kids yet. We just built a new house on a golf course, and I think we sold it today. I bought 30 acres right along the golf course, so we're going to go back there and build a house where we're going to stay."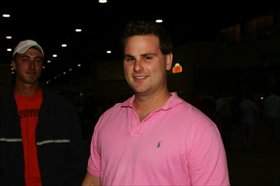 Rand today
photo: Paul Buckley
Greg's company is called Rand Builders, but he did think about a brief comeback last year—until a friend got hurt badly. "When Shane Lusk got hurt, I called Yogi and I sold my bike," he said the next day in the pits at the Georgia Dome. "I made it out walking, and I just didn't want to do something stupid. I started riding again, and I was probably riding probably as fast as I ever had, but I'm not in shape enough to do it—and I don't like to fall! Your mind never leaves you, but your body does."
At the race, he hung out with old friend Brian Swink, who was also in town. As for how much supercross has changed, Rand, now 29, said, "I couldn't believe it! Back when we had box vans, there was, like, eight box vans for each team and we were all by ourselves. Now guys have semis that can't even make a main event – I never thought I'd see that!"