Privateer Profile: Dusty Klatt
Last weekend was one that Canadian Dusty Klatt would rather forget. The 2004 and 2005 MX2 West Canadian MX Champion has been spending a lot of time in the United States this season and has been contesting the 250F class on the East Coast for Blackfoot Honda. Unfortunately, Dusty hasn't had the results he's been hoping for, as he has only qualified for one main event in three tries. His season hit an all-time low and his frustrations hit an all-time high last weekend in Indy when his race bike was stolen from the Blackfoot semi the night before the race and he was forced to ride a bike built from spare parts. He wasn't comfortable or confident on the bike and ended up having a hard get-off in the day qualifier, ending his day altogether. Putting all of this behind him, Dusty hopes to finish out the 2006 season on a high note. Be sure to show Dusty and his sponsors some support by clicking the links at the bottom of the page.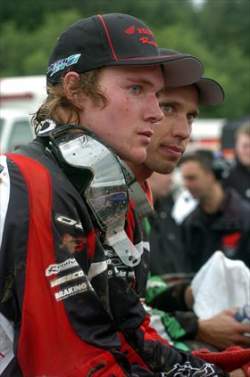 Dusty Klatt
photo: Allison Kennedy

Racer X: Dusty, from getting your race bike stolen in Indianapolis to not making the main event, last weekend was pretty rough, wasn't it?
Dusty Klatt: Yeah, it was, definitely. It didn't go as we planned, that's for sure.

You had to ride a bike that was built from the ground up with spare parts. How did that bike feel?
The team worked really hard to get that bike together, but it wasn't a full-on race motor or anything, so it wasn't really close to the bike I was riding. It was pretty much like my practice bike, so I felt like I was definitely at a disadvantage going out there. But I rode it since it was all I had, and I tried to make do with it.

Unfortunately, you weren't even able to qualify for the night program. What happened?
Yeah, the first lap, I got taken out in the second corner. I got up, and then on the far triple I messed up coming up to it and let off to double it, but I ended up jumping too far and knocked myself out. I ended up getting five stitches in my chin and bit a pretty nasty hole in my tongue.

Is it true that one of the bikes has been recovered?
Yes. Mitch's bike has been recovered and our truck driver is headed out to go get it. I guess mine was sold by whoever stole it, and they have an idea where it's at.

Regardless of that, your U.S. supercross trip hasn't been what you were hoping, has it?
No, not really. It was good to make the main at the first round, but after that, my starts have just been slowing me down. I've been trying to work on those, and I'm kind of hoping that will help things come together. I feel great on the track, and I can push the entire time – it's just a matter of getting a good start. There are so many guys that are fast, but they're just all over the place. You get stuck behind them and they're rolling jumps. It's just tough coming through the pack.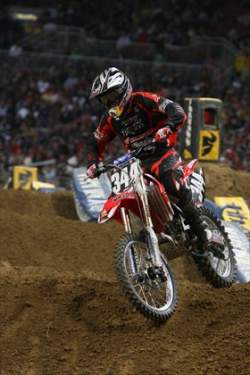 Klatt qualified in St. Louis and finished 13th
photo: Matt Ware

You see guys like Teddy Maier and Kyle Chisholm finishing in the top 10 pretty consistently, and those are guys you have no trouble beating in Canada. That has to be disappointing.
Oh, yeah. They're just getting good starts and that's helping them out. Teddy has gotten a good start every weekend, and he's able to run the pace of the leaders and not deal with anyone rolling jumps in the back of the pack. I think that's all I need to do half decent.

So where have you been staying while you're here in the States?
We've been staying at the GPF training facility. It's been going really well. I've been here for three months total. We came down one month before Christmas, went back, and then came down again and been here ever since.

Who are you staying with?
We have a house we're renting out. It's me, my teammate Mitch Cooke, and my mechanic, Johnny [Balducci], who's been working on our bikes and stuff.

Well, let's talk about something positive, which is your racing career in Canada. You recently inked a deal with Red Bull; tell us about that.
Yeah, for '05 we were hoping to work something out, but there were a few issues. We wear Fox, and they didn't' want us to do the full Red Bull helmet deal, but things came around this year and Red Bull gave us some money to go do the U.S. supercross series. The deal is for me to run the stickers on my helmet and up in Canada, so it's good to get my own deal signed with them this year. I was pretty pumped on that.

And you're switching to the MX1 class for the 2006 Canadian season. Are you looking forward to that?
Yeah, I'm really looking forward to riding the 450 outdoors. I think it'll be a good year.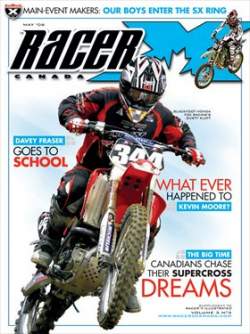 Dusty is the May '06 Racer X Canada cover boy

There are four rounds remaining in the East Coast series, so tell me, can you get your Blackfoot Honda in the top 10 in those remaining races?
Yeah, I would like to. I kind of took it easy this week since I whacked my head pretty hard last weekend, but I'm going to try my hardest and put all my efforts into getting a top-10. I feel I can run up there if I do get a start, so we'll see.

Are you heading home at the end of the East Region series?
Yeah, I'll be heading home to get ready for the outdoor season. We'll probably start testing our national bikes for the race season.

Who do you want to thank, Dusty?
I'd like to give a big thanks out to Blackfoot Honda, Red Bull, and all of our team sponsors. And I'd like to say thanks to all of my friends and family back at home who have supported me.


Dusty Klatt's sponsors: