Bench Racing Ammo: Win or Crash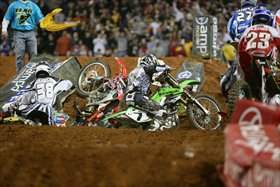 After beating Ricky Carmichael in their heat race in Atlanta, James Stewart did not make it down the first stretch in the main before falling
photo: Simon Cudby
If you've been watching the tumultuous 2006 Amp'd Mobile AMA Supercross Series, you have likely noticed two things: 1) The incredibly fast
James Stewart
wins when he doesn't crash; 2) Unfortunately, Stewart has been crashing a lot. Even the veteran
Ricky Carmichael
, four-time champion here, says that the Team Kawasaki rider is "definitely the next guy." His unworldly speed sets him above even Carmichael at most stadiums, but he's also a magnet for first-lap crashes. In fact, it's become win-or-crash for Stewart, which is why #7 is only third in the current standings, 17 points behind Chad Reed and 16 behind RC. If you don't believe that, check out these excerpts from Jason Weigandt's first nine Kawasaki Race Reports of the 2006 season.
Anaheim 1
After a horrible start in the main event, James rode patiently through the pack to win the opening round of the Amp'd Mobile Supercross Series."
Result: 1st place
Points: 25
Phoenix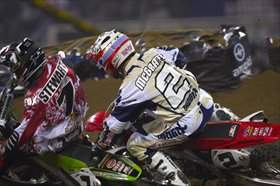 Stewart's aggressive move on Jeremy McGrath at Anaheim 3 caused both to go down.
photo: Mario Marini
Stewart was even further back after
crashing in the first turn
. By the time he got up he was a full straight behind the 19th-place rider."
Result: 3rd
Points: 20
Anaheim 2
Seemingly dead locked on speed, the Floridians chased each other around Angel Stadium until the 18th lap, when Stewart lost his front end in a corner and crashed, handing the lead and win to Carmichael. Stewart, who still struggles with starting his Kawasaki KX450F, got passed by Yamaha's Chad Reed and ultimately finished third, with Reed second.
Result: 3rd
Points: 20
San Francisco
"Finally with one lap to go, Stewart got right behind RC and then drew up next to him as they raced down what was supposed to be a rhythm section. They battled and James was able to retake the lead just as the white flag came out. The fans were going nuts. Carmichael would try to make another pass in the same section he took the lead earlier, and they went into the whoops side-by-side. It was wild action, and Stewart managed to chop down from the outside to take Carmichael's line and take the lead."
Result: 1st
Points: 25
Anaheim 3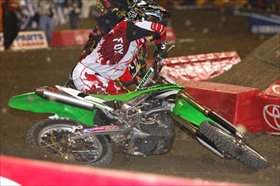 Stewart has never lost a 450 main in which he did not fall
photo: Steve "TFS" Bruhn
Well, if you heard an echo in the distance tonight it was from the unbelievable series of unfortunate events that
James Stewart
suffered in the main. What appeared to be a holeshot and a possible walk-away win (he decimated his heat race and was almost a second quicker than RC) got ugly in the first turn,
as his front wheel skated out from underneath him
.
"From there it got worse. One lap later,
James ran it in hard under Jeremy McGrath and took both of them out in a loose corner preceding the sand section
. Less than a lap later,
he went down again, tipping it over in a corner
…. Three crashes in two laps pretty much spelled "meltdown." James has been cool as ice all season and it was disheartening to see him suffer such a monumental bummer."
Result: 8th
Points: 13
San Diego
Finally, as the two-lap board came out, Stewart made his move and made it look easy. He went to the inside in a bowl turn and took control. The white flag came out and Carmichael stayed right there, ready to pounce as more lappers loomed. If he could have gotten a few feet closer, he could have tried the banzaii move in the last two turns, but there was no room, and Stewart held on for a big win."
Result: 1st
Points: 25
St. Louis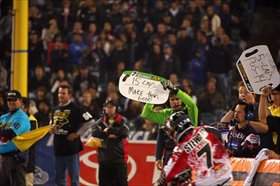 Jeremy Albrecht urges on another amazing last-to-podium ride for Stewart
photo: Steve "TFS" Bruhn
Stewart was going to have to get around Tedesco to prevent Reed from getting away, but instead
he threw it away in a corner
. He came to the inside of Tedesco and grabbed the brakes to prevent running into him, and then his front end tucked [when he hit the Tuff Block] and he went over the high side hard.
"At first he still had the bike running, but the machine was obviously damaged and when he stalled it, he absolutely could not restart it. The riders swarmed past as Stewart kicked and kicked and kicked. A whole lap passed until finally he got rolling in 19th place."
Result: 17th
Points: 4
Atlanta
Reed was handed another lead early in the race, as Stewart crashed just outside of the first turn, and Carmichael got another bad start. Stewart, meanwhile, was on a wild charge from nearly last. He would finally make his way up to and past Carmichael's Makita Suzuki teammate Ivan Tedesco to take over third. That's three first-turn crashes this year for Stewart, and they are really costing him."
Result: 3rd
Points: 20
Indianapolis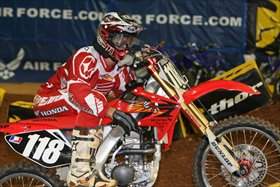 Millsaps' crash in Atlanta possibly cost him the win
photo: Steve "TFS" Bruhn
As for Stewart,
he was the fastest rider in the main, but he went down in the first turn yet again.
That's two races in a row that he's done that and four times this year. He looked mad after picking his bike up this time, shaking his head violently as he picked up his Kawasaki – engine still running – and made a charge back through the pack.
"And what a charge it was. Stewart passed nearly half the field in about two laps, and then was bearing down on the podium guys a few laps later." Result: 2nd
Points: 22
Ironically, in the 250F class, Team Honda's Davi Millsaps has two wins and one crash; SoBe/Samsung Mobile's Josh Grant has two crashes and one win. And if you remember, last year Josh Grant was battling Josh Hansen for the win at Daytona before crashing together, resulting in Hansen winning and Grant finishing second. Add all of this up (along with Travis Pastrana's much-anticipated return to supercross) and Daytona should be an incredibly exciting race. Make sure to tune into Speed Channel at 9:30 p.m. EST for same-day coverage!