Monday Conversation: Ricky Carmichael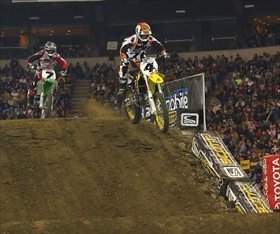 Ricky was having problems in his heat race and was passed and beaten by Stewart

Unless you've been hiding under a can of premix, you probably know all about what happened with Ricky Carmichael's 25-point penalty: The FIM stepped in, the AMA readjusted the Amp'd Mobile AMA Supercross points, and then RC came out at Indianapolis this weekend and won for the second straight weekend. He's now one point behind Team Yamaha's Chad Reed in the standings and 16 clear of James Stewart (who was extremely fast again but also fell again in the first turn). We spoke to Ricky following the race.

Racer X: Ricky, things have been so dramatic lately, I don't know where to start!
Ricky Carmichael: I don't know either after last week. The way the whole deal went down, to answer one question, I am happy I got the points back, but I'm still a little upset about the $20,000 fine because it's still insinuating we did something wrong. The dollar amount isn't the problem; it could be 20 cents and I would feel the same. I stand behind my team. I think we were not in the wrong. I think it's good for the fans and good for the sport. As far as the other guys not agreeing with it, I see their side.
People say, "It was only because it was Carmichael they never would have done that.…" But you know what? I believe they would have if it would have changed anything in the outcome of their seasons [Reed in '04 and Stewart in '05]. People have forgotten very quickly that when Chad got his penalty issued, he had a huge cushion in the points and it didn't change anything. When Kawi got hit it was the same deal, James was out and it didn't change anything in the series standings.
I will say this: When I first heard about the penalty with Yamaha in 2004, I thought that they were cheating, and I was wrong. I was at home with my knee injury listening to the races on my computer like a lot of fans and heard the famous "They were three times over the limit" and instantly thought that they were cheating. I was totally wrong, and I apologize.
The other thing that bugs me is that everyone assumes that I'm getting some special favor from Steve Whitelock or the AMA. Not true! My conversations with Steve Whitelock in the past two weeks have been specifically about losing my points last Friday and getting them back this Friday, and the tone of the 30-second conversations were not great on either call. I'm probably not on his buddy list after this whole deal. But now it's water under the bridge.
You know, it's been a rough two weeks for me. I can't say enough for the fans. The fan support that I got on line and stuff was just overwhelming. To all you guys, it really made me feel good and welcome. It's been a rough two weeks. I'm glad that this race is over. It's been hard to enjoy, with the way people have been acting towards me and the team.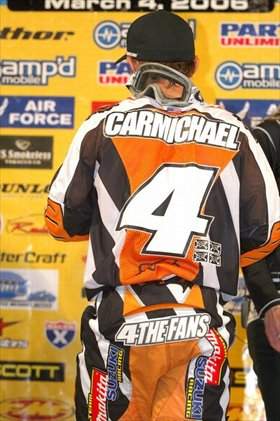 There is usually some commentary or message on RC's patch each week. This time he wanted to comment on the points fuss without stirring things up more.

Things are strange with people this weekend?
Not so many people, but just a few individuals. It's a shame, but I know what kind of people they are. Life goes on. They will realize that there is more to life than the spur of the moment. I'm pumped for my team and we're going to work hard and do our best. We have a little cushion in the FIM series, which is nice, and now I'm back in the hunt for the U.S. series. I have my goals for the rest of the season. I'm not going to tell you what it is, but….

You want to win the series by 25 points so everyone will shut up?
No, it isn't even that. I don't think that's realistic. There have already been a few gifts given out at St. Louis, and that's more than I wanted to give away. It's done, and we go on and race. I want to do some good racing, and may the best man win.

Did you guys all start your practice this weekend like you had something to prove? It seems people were pretty motivated and hanging it out right off the bat.
I didn't. I have my plan every weekend, and I just try to work into it and do the best I can do. I don't go haywire right from the get-go. That doesn't work for me; I do my normal routine. I haven't changed. I think the other guys—definitely Chad—have a point to prove in practice. He has really stepped up his game there. But I really shined in the main event. I also wish James would have gotten a better start. I would have liked to have done battle. He was riding really well tonight.

You gave him a lot of credit in the press conference and said he's riding faster. Do you want to go 20 laps side-by-side with him?
Yeah. I want to go 20 laps side-by-side like we did at Anaheim and San Diego. I gained a lot of respect for him in those good battles. He raced clean and no need to do anything stupid. I'm pumped with the way we have raced together. I respect him for that.

I see on Mike Gosselaar's pit board that he puts your lap time on it and James' below it. Do you watch those during a race?
Yeah, we were back and forth. He would inch up on me a little here and there. I'm just pumped on the win and happy [the points fuss] is over. Mentally, I'm sick of it. I'm disappointed, happy … I don't know what to think.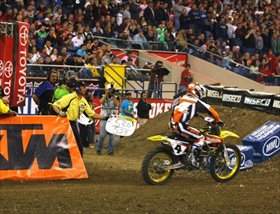 RC's mechanic, Mike Gosselaar, gives Ricky his and Stewart's lap times. RC's is at the top; James' is below.

You sound more like yourself this weekend. Last week you were pretty outspoken in the press conference and in our interview. That was the first time I heard you just let go of a series. Now it's back.
It's been a damn roller-coaster. Like I said, I still have a lot of work ahead of me. I had a bad problem in St. Louis, and it ain't over yet. I still have a lot of work ahead of me. I'm approaching it now just like I did when I went into Atlanta. At last week's press conference, I felt like I needed to stand up for myself and for my team, so I might have come off a little harsh, but we were accused of something that should not have ever gotten that far.

Do you still have that Daytona track at home? You going to be ready?
Yeah, I've been riding quite a bit and testing a little more. Since we changed our spring on our bike—since my titanium spring broke—we've been fighting it a little bit, so I'm looking forward to testing and getting it better.

Thanks for the time, and good luck in Daytona.
Thanks, Steve.