Kawasaki/Racer X Race Report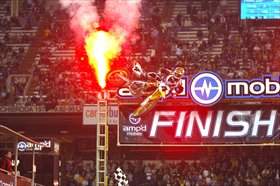 RC wins and moves to just a point away from Reed for the AMA series lead
And as the twists and turns of the 2006 Amp'd Mobile Supercross Series continue, suddenly things take on an air of similarity compared to years' past.
Ricky Carmichael
is proving to be the man in the series, even if the competition is faster and better than ever. Ricky will now even go so far as to admit he's not the fastest guy in the game anymore – tonight he gave that honor to
James Stewart
, saying in the post-race press conference "he's definitely the fastest guy" – but the bottom line is Ricky has won more races than anyone else this year, again. And while
Chad Reed
still clings to a narrow one-point lead in the AMA Supercross Series, Carmichael appears to have the form of a champion. With another solid race – a good start and consistent laps - RC won the race tonight in at the RCA Dome in Indianapolis.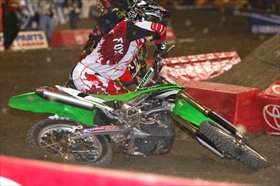 After going down in the first turn yet again, Stewart charged back to second
As for Stewart, he was the fastest rider in the main, but he went down in the first turn yet again. That's two races in a row that he's done that and four times this year. He looked mad after picking his bike up this time, shaking his head violently as he picked up his Kawasaki – engine still running – and made a charge back through the pack. And what a charge it was. Stewart passed nearly half the field in about two laps, and then was bearing down on the podium guys a few laps later. He cut an incredible swath through the pack, even though he said the track "sucked" and it was too one-lined. Before the halfway point, Stewart passed a fast pack of riders, including Reed,
Nick Wey
and Ernesto Fonseca, and took over second. At that point Carmichael had an eight-second lead, and while James was making up about a half-second per lap, it wasn't nearly enough to close to gap. Carmichael logged a good fast lap on lap 13, and then ran into traffic, which allowed Stewart to close to about four seconds. But then the traffic, in this case a battle between
Heath Voss
and Jeff Dement, got in Stewart's way, and cost him whatever time he had made up.
So Carmichael won and Stewart went from last to second, one spot better than his charge last week.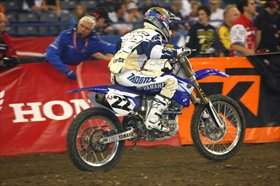 Reed was third and off the pace in Indy
Reed was third and off the pace. He said he struggled for some reason on the loose dirt in Indy.
Ivan Tedesco
took another fourth and Wey held off Fonseca in a furious battle to finish fifth.
Carmichael, now with his 25-point penalty rescinded, is out front in the Amp'd Mobile World SXGP standings and right behind Reed in the AMA Series. Points are unofficial at the moment, but Carmichael should have a 16-point lead over Stewart at the moment, and Stewart should be 17 behind Reed in the AMA Series.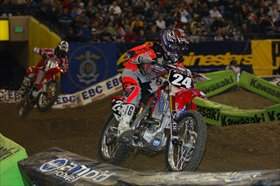 Grant finished second but served notice that he's a real player in supercross
In the East Region Lites,
Josh Grant
was looking to prove last week's win in Atlanta was no fluke. After Kelly Smith nabbed the holeshot on his MDK/Motosport Outlet Honda, Grant snuck right underneath him and took the lead. Points leader
Davi Millsaps
was right there behind him, though, and took the lead, only for Grant to get it right back. Then Millsaps made a few mistakes, and Grant started stretching it out. Grant was proving himself, outrunning Millsaps, who is generally the fastest man in the class. But then disaster struck.
Chris Blose
, who was about to go a lap down, cased a jump and crashed, and Grant was left hanging in the air with nowhere to go. He managed to avoid Blose, but he ended up crashing avoiding him and handing the lead to Millsaps. Just like that, Davi was in the lead and gone.
Grant finished second but served notice that he's a real player in supercross. Third went to Chris Gosselaar, who has been solid this year filling in for the Monster Energy/Pro Circuit/Kawasaki team.
Millsaps has a big points lead since Grant finished last at the East Lites opener.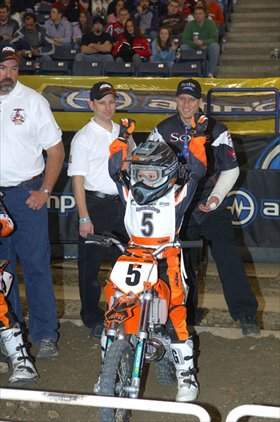 Ryder Larocco receives a warm welcome prior to the KJSC
Three months ago, at the pre-race press conference before Anaheim 1, Ricky Carmichael said he just wanted to put himself in a good position before Daytona. He said that's when the real season starts, at least in his mind. Based on that, it looks like the season has just begun.