Privateer Profile: #93 Teddy Maier
Fort Dodge, Iowa's Teddy Maier is off to a superb start in the 2006 Eastern Regional 250F division. After a solid eighth place in the opening round in St. Louis, Teddy was able to improve that with a seventh at Atlanta. Going into his sixth season racing Kawasakis for Team Green, this 20-year-old hopes to be a solid top-five contender before the season ends. We got in touch with Teddy today for this installment of the Sponsorhouse.com Privateer Profile. Be sure to show Teddy and his sponsors some support by clicking on the links at the bottom of the page.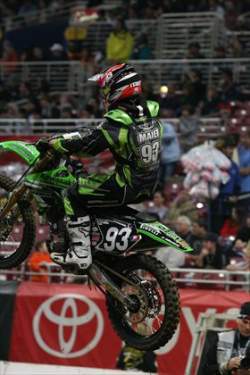 Richmond Kawasaki's Teddy Maier
is currently sitting fifth in points
in the East Region
photo: Matt Ware

Racer X: Teddy, two weeks ago in St. Louis was your first supercross race as a pro. Were you intimidated at all?
Teddy Maier: No, not at all. It was kind of my home race, so I had a lot of friends there, so it helped me relax.

You finished a very impressive eighth in your debut and followed that up with a strong seventh-place finish in Atlanta. You must be very happy with those two performances.
Yeah, I'm really happy. Everyone said that the first race is the hardest, but I think the second one is because you have to prove yourself. I've been riding tight. I really haven't been riding like myself. But last week I didn't get to ride at all because I had to drive home from California. But this week I've been able to ride about every day, so I'm feeling good.

Are you surprised that you did that well at the first two races?
No, not surprised. I think I can do better, especially once I loosen up and get more relaxed.

So are you gunning for a sixth-place finish this week to keep the streak going?
[Laughs] Yeah! My goal is to get top five this weekend, actually. We'll just have to see how it goes.

You're riding really well so far, so what have you been doing through this off-season to prepare?
Well, at Millville last year I messed my knee up and it hasn't been right ever since. I messed up my MCL and stretched my ACL. And then I crashed in California on the Kawasaki track and plowed my knee into the ground. I then got an MRI and he said it needed surgery, so I couldn't ride the West Coast like I planned on doing. So I couldn't ride for about two and a half weeks or so, but now I'm back riding and it feels like a new knee, and it doesn't feel like I missed a beat. I'm really glad that I figured out what was wrong with it.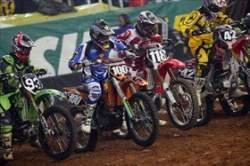 Teddy's starts this season haven't been the greatest
photo: Simon Cudby

You're a member of the newly formed Team Green/Richmond Racing Kawasaki team, managed by Billy Whitley. How's everything going with that team so far?
Oh, it's going good. Last year I did half of the arenacross series with them. I filled in for Colton Facciotti when he got hurt, and I've been with them ever since. I went up to Canada last year and did the West Coast Canadian Nationals. And I plan on doing the West Coast Canadian Nationals again with them

Are you glad you're racing SX compared to AX?
Yeah. I didn't have anything going on last year, so I had no choice. I just had to take what I could get.

Does it give you added confidence being on a team like that?
Yeah. The biggest thing is the bikes. They're really good, and it's the best bike I've ever been on.

Who is your mechanic this year?
Pat O'Connor was my mechanic, but he has to stay home, so I'm going to have a new mechanic starting this weekend.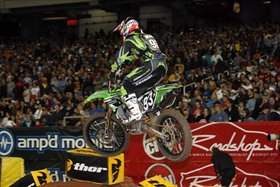 Teddy Maier has a bright future in supercross
photo: Steve "TFS" Bruhn

What's his name?
His name is Corey. I don't even know his last name!

How long have you been on Kawasakis?
I've been a Team Green rider since 2000.

Tell us how the new KX250F compares to previous models.
I don't know, I just really like the aluminum frame. It makes the bike feel a lot better. But as far as the engine goes, Pro Circuit did a really great job with them this year.

What are your expectations like for this weekend in Indianapolis?
I just think this weekend I feel a lot more comfortable, and hopefully I can pull off a top-five. I just need to get a better start.

Do you think a better start is the key?
Yeah, my starts haven't been really good. At Atlanta I had a top-five start on the first gate drop but they had to red-flag it. The second I came out like ninth or something.

Looking ahead to the outdoors, does the team plan on racing the U.S. nationals or are you guys heading to Canada?
I think this year we're doing the Canadian nationals, but in 2007 I think Billy wants to do the U.S. nationals.

Thanks, Teddy, and good luck in Indy.
Thank you, Billy.

Teddy Maier's sponsors:

Richmond Racing
Athena