Bench Racing Ammo: Atlanta Edition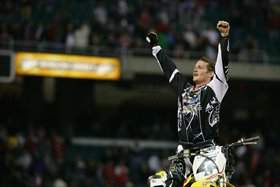 On a 125, 250, 450, two-stroke or four-stroke, leaded and unleaded - Ricky Carmichael is the man in the Georgia Dome.
Amid all the controversy surrounding his fuel, Team Makita Suzuki's Ricky Carmichael quietly rode into the AMA record books yet again last weekend in what is basically considered his hometown supercross at the Georgia Dome in Atlanta.
RC's win Saturday night not only marked his fifth premier-class win in the Georgia Dome, which ties him with seven-time AMA Supercross Champion Jeremy McGrath, but it was also his 100th career start in AMA supercross. Combine the win with his two 125cc-class wins here—the first of which marked his first win as a professional on February 22, 1997—and RC is the undisputed king of the Georgia Dome.
But what makes this place so special? Is it the 70,000+ screaming fans that make Ricky feel so comfortable in this dome, which is less than 300 miles from his home in Havana, Florida?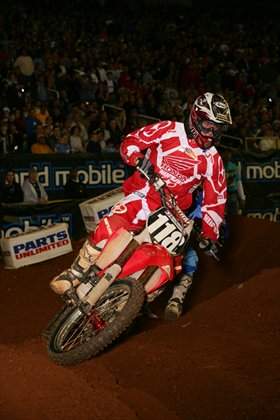 Davi Millsaps was one of two 250F riders on the podium from Cairo, Georgia.
"Yeah, I love these guys," RC said in the Alpinestars Monday Conversation here at Racer X Online. "They're awesome to me. They're so gracious. It's a great place. I love this venue."
He also added, "They keep showing up like this and maybe we'll be out here six times a year," as even with the biggest crowd on the entire schedule, Georgia hosts just one SX a year to California's five (plus two outdoor nationals).
Or maybe it's the moist, red clay that RC likes so much, which is the same dirt that he sees, lap after monotonous lap, practicing at his Florida home. If it is the fact that he feels comfortable on the Georgia dirt, the same probably goes for the second- and third-place finishers in the 250F class, Millsaps Training Facility students Davi Millsaps and
Martin Davalos
, who both looked right at home in the 250F main event.
Team Honda's Millsaps, who was born in Florida, has been living and training in Cairo, GA, for most of his amateur and professional career. Star Racing Yamaha's Davalos, on the other hand, was born in Ecuador and has moved to Cairo for the sole purpose of becoming successful at professional motocross. So far it seems to be working, since this was only Davalos' second race as a professional. Congratulations!
By the way, Ecuador becomes the third country below the U.S. border (in the Western Hemisphere) to find its way onto an AMA supercross podium, joining Mexico (Pedro Gonzalez) and Costa Rica (Ernesto Fonseca).