Monday Conversation: Chad Reed
It's a given in Amp'd Mobile Supercross that just when you think it's going to be RC vs. Stewart, Chad Reed wins. Reed had been in a dry spell for the first third of the AMA series, but at St. Louis he rode hard when Stewart and Carmichael had problems. Not only did he score the win, but he's now the points leader, too.
After the press conference, we asked Reed about his turnaround, the ongoing track debate, and those cranky readers on internet message boards who were giving him grief.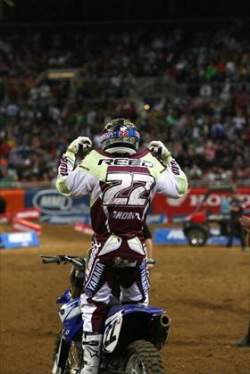 Moments after winning the main in St Louis, Reed shows the crowd the weight coming off his shoulders

Racer X: Chad, congratulations! You got that first win of the season.
Chad Reed: Man, that was a tough one. The most frustrating thing is when you know you can win and you're just not getting it done. I just feel a whole lot of weight off my shoulders, and hopefully we can move on forward and keep the battle going.

You said in the press conference that this might have been the most important win of your career. Why is that?
I had so much pressure on myself; not from anybody but me. I knew I could win. The team knew I could win. Everybody around me knew I could win. I'm the guy who was letting those guys down. It's nice to get it out of the way, and we can take another step forward.

Just one last question on this Tedesco thing: You guys had words last week after that heat race, but at the press conference everything seemed cool. Do you guys stop and talk about these things, or at some point are they just forgotten?
At a certain point, we are human before we are racers. I think a lot of people, including Ivan, took the whole "chump" thing different from how I expressed it. Everyone has their own way of looking at it. I respect that. I just said to Ivan, "Hey, I said it, and it wasn't meant to be the way you took it." I think it's just a respect thing. He felt that I was disrespecting him, and it was not that at all. Ivan is a great guy. I was on his team at Yamaha of Troy, and he wasn't a podium guy that year, and I have seen him grow to where he is now. I applaud that and have a lot of respect for him. Hopefully, we can move forward and battle like we did this weekend in the heat race. It was clean. I didn't have to watch my back and he didn't have to watch his back. That's racing. You can be aggressive, but I don't like to take it past that level.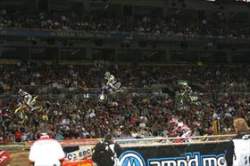 Reed, in between a fast-improving Tedesco and a hard-charging Stewart. Two turns after this, Stewart would be on the ground and Reed and Tedesco would be fighting for the lead.

After you left San Diego, what was your game plan? What did you do?
To leave the West in the West and move forward [laughs]! Sunday I flew to Florida. Monday I was riding. I completely changed my tracks. I need to learn a different style of riding. I have learned to be technical and learned to ride the way I was taught, which was technical, big whoops, and attack the track. I think I have to do it a little different these days.

What's really changed on the tracks?
Obviously, it's the smaller whoops. The tracks are a little more flowing, and different shapes. It's not anyone's fault. They're trying to improve racing. Sometimes it's at our expense. You can't hate someone because they are trying to improve it. At this point, I need to move forward and accept that the tracks are not going to get any different and not going to get any harder. When I say that, now I think the track this weekend was really pretty gnarly. I thought it was going to be pretty mellow for the first East race, but they really lipped things up. They made the whoops ... well, they built them back up after the heat race. One was smaller than the other and it bit Ricky. I almost did it. A couple of guys did it. I was thinking, Don't everybody crash, because they finally built some nice whoops and everyone is crashing. That's not what we want! I think it was just the way they built it.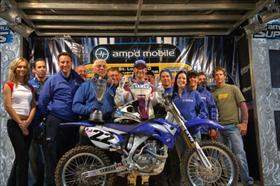 When Chad wins, they win, too

Do you have any comments for the people online who have been giving you a hard time?
I guess the people online share the frustration that I'm feeling. If you're a Chad Reed fan and on the bandwagon and talking smack to the other guys, saying I am going to win, and then I'm not doing it, I'm sure they feel like they're getting beat down, so they want to beat me down. It's fun. I think Motonews is a good time. It's somewhere for motorcycle fans from around the world to express what they want to say and have some fun. I've learned to have fun with it. I kind of made a comment on the loudspeaker to give those guys something to talk about. It's all in fun.

What was that?
I said something like, "To give those fools online something to talk about." I would imagine they're tearing me up right now [laughs].

The site probably crashed over it.
I love those guys over there. Those guys, even the one guy who beats me up a lot, he got a picture with my wife, and that was fun. It's all a good time.

So are you going to win as many as Ricky and James do for the rest of the season?
Hopefully, and then some. I was the guy who pulled through tonight and capitalized on their mistakes. As frustrating as my season has been, it's been second, second, second, a third, a fifth, and a win. We're not looking so bad. I'm going to work on some things, and there is always room to grow. It feels like a lot of weight off my shoulders. I'm not content, but I am pleased to get one win.

Is this a contest to see who makes the least mistakes?
When there is a battle between three guys who are unbelievably fast at any given time, and can win at any given time, and that can grenade themselves at any given time, I think you have to be that guy who is there every weekend. Everyone talks about strengths and weaknesses, but it will come down to the guy who can be there every weekend, and hopefully, that's going to be me. We worked hard for it and built a good package to win the title. We're going to give it everything that we have.

Thanks for the time.
Thanks, Steve.