Kawasaki/Racer X Race Report
February 18, 2006 10:55pm
Okay. This year's Amp'd Mobile Supercross Series has already been a great one. We're seeing a battle every weekend, a close points race and plenty of drama. But as crazy as it has been, there was no way, no way, you would ever, ever predict what was going happen tonight in St. Louis. It was improbable and unbelievable. It was wild and it was outrageous.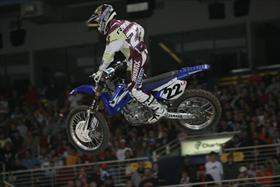 A very relieved Yamaha team is estatic to suddenly be on top.
It was – here we go – Reediculous.
It starts like this: points leader Ricky Carmichael had his worst day at the races in years. He crashed super hard in his heat race and had to qualify through his semi. Then he crashed in the first turn in the main, cased a triple on the first lap and apparently damaged his rear suspension. Then, for the first time anyone can ever remember, Carmichael, with his damaged suspension, had to pull out of the race. Carmichael hit so hard in the heat race that he actually smashed the chin bar of his helmet into his chest. He said he had a sore neck and apparently also had a sore chest, but otherwise should be okay.
But there are all of those points he was going to lose for finishing 20th. Who would take most advantage? Carmichael's Makita Suzuki teammate Ivan Tedesco held the lead and looked strong early (credit to Jake Saylor for getting the $1500 Progressive Direct holeshot). Chad Reed was in second on his Yamaha but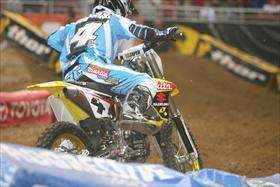 Ricky Carmichael had his first off-day at the races in, well, no one can even remember.
was struggling with a very difficult jump combination, unable to go triple-triple through the rhythm section that Tedesco was doing. Ernesto Fonseca was in the fight, too, but
James Stewart
was slowly, methodically working his way toward the front.
Then Stewart pounced, passing Reed and Fonseca in the same corner and taking over second. Then Reed sacked up and jumped the rhythm section for the first time all night and was able to pass Stewart back. Then he started closing on Tedesco, who was tightening up out front. He closed in and then made the pass for the lead near the half way point. Stewart was going to have to get around Tedesco to prevent Reed from getting away, but instead he threw it away in a corner. He came to the inside of Tedesco and grabbed the brakes to prevent running into him, and then his front end tucked and he went over the high side hard. At first he still had the bike running, but the machine was obviously damaged and when he stalled it, he absolutely could not restart it. The riders swarmed past as Stewart kicked and kicked and kicked. A whole lap passed until finally he got rolling in 19th place.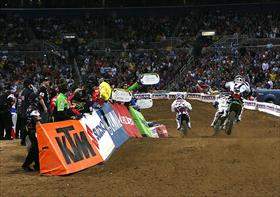 At the halfway point the battle for the lead was
this close.
So now Carmichael was 20th and Stewart 19th. Reed had the lead and held it all the way to the end, saying he felt about 300 pounds lighter after he crossed that finish line. He had been putting a lot of pressure on himself and was working very hard to win. He moved back from California to Florida and rebuilt all of his supercross tracks to match the new smaller whoop section style. He made big progress during the week, but he just couldn't show it because he couldn't jump that rhythm section. Once he finally started doing it, he was in business and won his first race of the season. Even wilder, Reed now has the points lead in the AMA Supercross Series by nine points over Carmichael and 17 over Stewart. Could you have ever predicted that this was going to happen?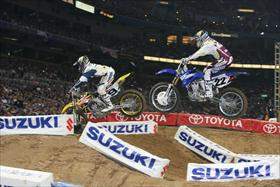 Ivan Tedesco was running strong for 10 laps - suddenly, it seems like a win for IT is a real possibility.
Tedesco took second – he's getting faster very quickly. And Fonseca was third. Good job by him.
The Lites class had good racing and lots of emotion, too. Davi Millsaps took the win, overcoming another classic bad start to move from about fifth to the lead on his Honda. Red Bull KTM's Josh Hansen had a big early lead but faded down the stretch, first yielding to Millsaps and then to the most improbable pair of contenders, Monster Energy/Pro Circuit/Kawasaki's Chris Gosselaar and Boost Mobile/Yamaha of Troy's Branden Jesseman.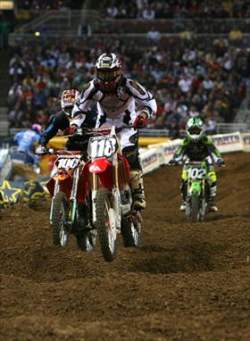 Millsaps was the fastest man in the class, passing #100 Hansen and #102 Gosselaar. He topped an emotional podium in the Lites class.
Could you have been more counted out that L'il Goose and Brando? Six months ago these two were done, gone and buried. Teams had given up on them and their careers were past the crossroads – they were almost over. The teams saved them, though, with Mitch Payton giving Goose a ride and Dave Osterman stepping up for Jesseman.
Gosselaar passed Hansen for second, and then on the last lap Jesseman got around Hansen to create one of the happiest podiums in a long time.
The whole night was just Reediculous, really.