This one's not going to be easy to write....
Let me start off with some good news. The new Racer X landed on our desks this morning, and it's a good one: 382 pages worth of really cool stuff, including Anaheims 1 & 2, the San Francisco mudder, a joint profile on Kyle Lewis and Ryan Villopoto, and an explanation as to why all of those energy-drink cans are lined up down on the starting gate.
There's also an absolutely bitchin' cover photo of
Jeremy McGrath
throwing out maybe his last two-stroke nac-nac at the Phoenix Supercross (okay, this
Chris Tedesco
shot was on the parade lap, but close enough). This cover comes just as Jeremy signs off from his Part-Time Showtime 2006 Tour, and his presence on the track for the rest of the Amp'd Mobile AMA Supercross Series will be missed by fans and competitors alike.
Okay, maybe James Stewart won't miss him, but that's only because he and Jeremy got into it a little bit at San Diego. Granted, McGrath felt like Stewart had it coming after James dropped him in his frantic charge to the front, but Stewart was pretty much racing for the championship at that point, and it was take-no-prisoners—not even the King. So depending on who you ask, either Stewart had it coming or didn't, though since it was Jeremy, well, that changes matters. Remember the batter who charged the mound after Nolan Ryan hit him with a pitch?
Either way, wow! What James did after he got bumped off the track was simply amazing. I have seen at least one guy come from dead last to win his heat race in supercross—David Bailey did it in '83 after getting dropped in the hairpin first turn at Daytona—but what Stewart did in shredding that "easy" San Diego track to blow past everyone and win was absolutely incredible.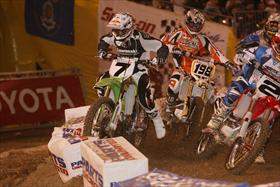 Jeremy's payback moment on James at San Diego
Copyright Stephan "Lebig" Legrand/Moto Verte
And the next time someone says the tracks are too easy or not challenging enough, pull out your videotape of that heat race and show them how Stewart made mincemeat out of those guys (and that main event wasn't exactly a yawner, either).
Injuries are down in supercross this year, at least during the actual races. While a lot of guys are getting hurt on private supercross tracks—Broc Hepler, Ben Townley, Troy Adams, Andrew McFarlane, Jay Marmont, Jeff Alessi—race injuries have been way down. We've seen close races almost every time, and all of the top guys are still out there. Whatever they are doing to the tracks, I hope they keep doing it—it's working.
But not for James Marshall, which leads me to the first tough thing to write today. As you are probably aware by now, the all-around great privateer kid was severely injured in his heat-race crash at San Diego. He had a good start, got out of shape in a rhythm section, and went down hard right in front of Ernesto Fonseca. He broke his back and may never walk again.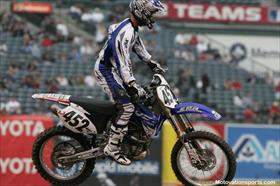 James Marshall
photo courtesy of HelpJames.org
Needless to say, the motocross industry wrapped its arms around him immediately. From the Asterisk Mobile Medics' Unit to the Wonder Warthog, from Road 2 Recovery to the Women's Motocross/Supercross Foundation, to ordinary fans and fellow privateers like
Ryan Clark
and MXSponsors.com, Marshall got their full attention. They started auctions, foundations, donations, and just did their best to make what will be a long road to recovery seem a little shorter for James and his family.
If you want to help, a good place to start is any of the above organizations, or maybe just click on www.HelpJames.org.
What is it about San Diego? It's become the single biggest race in the sport, with nearly 70,000 fans bursting out of Qualcomm Stadium. It's the conclusion of the "California Supercross season" and usually just a blast to be at. But three of the really terrible incidents in recent supercross history all happened there in the last six years: Jimmy Button's career-ending practice crash, the tragic death of Jason Ciarletta, and now James Marshall. It's a sad legacy for a really great event, though each of these accidents seemed like just that—accidents.
Here's a note about James I got from Allison Kennedy of Racer X Canada:
"I just wanted to take a second to let you know that we've been pretty shaken up by James Marshall's accident here too. James rode the Canadian nationals in 2004, in the Western Region with the Riverside Yamaha team. From the first time we met him, we were blown away by his enthusiasm, personality and his positive attitude. Virtually everyone on the series loved having him here, and he even called last summer, just to let me know he was missing it and that he'd like to come back up. I ran into him at Anaheim 2, actually he stopped in the infield after his day qualifier to hug me from on his bike, he and I have been in touch since then as Yamaha Canada was interested in hiring him for the 250 class. He was so flattered that we'd put in a good word for him. I just talked to him Friday about it, and wished him luck in San Diego. We are already sending cards and letters to him, and will be in touch. He really is an absolutely awesome kid and we are all thinking of him."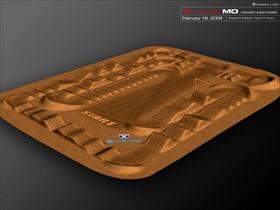 The St. Louis track.
Last Sunday night, I went to the viewing for
Kevin Crine
down in Owings, Maryland, right up the road from
Budds Creek
. Crine lost his life in a car accident, and his family and friends were trying to make the best of a very tragic situation. Friendly old rivals like
Ty Wallace
,
Jeff Yentzer
and
Tom Welch
were there, along with folks like
Mike Rossini
,
Robert Pastrana
, and
Jonathan Beasley
. There was a slideshow of Kevin's racing career, his life as husband to
Stacy
and father to
Brett
, and just a lot of people there to pay their respects. His father got a phone call from
Tim Ferry
that day, and
Ricky Carmichael
also sent his best wishes along. Number 574 will be missed by all.
The next morning, I drove out to Budds Creek and took a walk around the snow-covered facility with Beasley. While nothing is official yet, it's looking real good right now that the facility just might host the 2007 Motocross des Nations. (Racer X reader Tom Miley let us know that he's hearing similar words down there about an '07 MXdN date). We'll keep you posted as things develop.
And speaking of keeping posted, don't forget that the East Region kicks off tomorrow night in St. Louis, but that's only the preliminary bout. The real fight will come afterward when Ricky Carmichael and James Stewart line up for Round 7 of their 16-race title fight (or Round 9 of 17 if you're following the WSXGP). You can listen to the Supercross Live! webcast beginning at 8:00 p.m. EST and five for those of you out west). Also don't forget to click on AMAMotocross.com for @TheWire Live! for constant scoring and lap times all day long.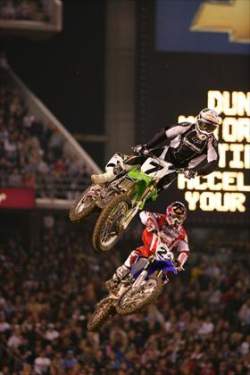 James will be looking for his first two-in-row in AMA Supercross this weekend
photo: Simon Cudby
The race will also be aired the very next day on CBS (12:30 p.m. EST/9:30 PST), which has been a bonus all season long ...
... well, for most of us. Here's a note from one disgruntled fan who may be in one of those no-show zones:
Dear Racer X,
According to my on-screen Comcast cable-TV guide there is no St Louis SX scheduled for Nashville on Sun, 2/19 at 11:30am CT. Instead is scheduled the Stellar Gospel Music Awards. Help! I've left a recorded message at (615) 248-5242, the Nashville area CBS affiliate programing dept.! Make 'em stop!!!
Thank you,
Scott Lorenz
Just a reminder: The 2005 Motocross des Nations, starring Team USA's Ricky Carmichael, Kevin Windham and Ivan Tedesco, is supposed to air on Speed on Tuesday, February 28 at 12 pm EST.
Earlier I mentioned Stewart's amazing last-to-first ride in his heat race, but what about Grant Langston's last-to-first ride? We gave Grant the business last year for adding an East Region SX crown to the AMA National crown he won after starting with a World MX crown—he was going the wrong way! But now the class is so star-packed that we can't (and won't) give Langston grief over trying to add a West Region title to his unique title collection, especially when he's battling the likes of Team Honda's Andrew Short and Red Bull KTM's Nathan Ramsey.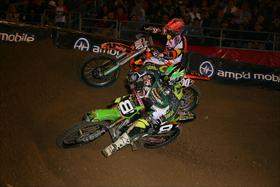 Grant's stock is rising quickly
photo: Simon Cudby
Langston will have to move up in 2007 come hell or high water—
Steve Whitelock
says you get to defend (or switch coasts) for one year after a championship and then you must move up. But the way he's been riding has certainly given a lot of folks a new outlook on his supercross potential. He used to be practically a liability out there. Now he's become one of the smoothest SX Lites riders. He's back with his old representative firm (
Fred Bramblett
's OMS) and will command a good factory ride on a 450 on '07 and beyond.
By the way, the lap times of both San Diego Lites winner Short and runner-up Langston were right around top-five all night—in both classes.
It's going to be a busy off-season. Unofficially, these riders all should be at the end of their current contracts: Stewart, Chad Reed, Michael Byrne, Travis Preston and Heath Voss. Add in the fact that Mike LaRocco is going to finally call it quits—and we're still not quite sure what Ricky Carmichael is going to do—and you have quite a silly season coming up.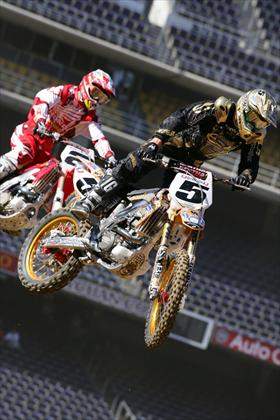 The Rock and Showtime: We may never see them race together again
photo: Simon Cudby
And no, I don't think the Mac will be back in 2006, even if Honda asks. It was really cool last Saturday night when Jeremy said on the podium, "I want to especially thank my wife. We have a brand-new baby and she wasn't giving me any trouble about going riding or training. So thank you, babe."
Let me turn this over to Ping with some West Coast notes...
With the California portion of the supercross series concluded, I can't help but think that I may have seen Ricky Carmichael ride supercross for the last time in the Golden State. The word being whispered around the pits is that he may hang up his boots at the end of the 2006 season.
It seems like just yesterday he was competing in his first supercross race at the L.A. Coliseum. It was actually 1997 and we were teammates at Pro Circuit. Although we were both riding the East Region series that year, the rules allowed us to race on the opposite coast for the initial races, as long as we weren't in the top ten in points when it was time for the East to start up (or something like that). Ricky looked like a different rider back then. When he hit a triple, he would stiffen up and lean way out over the front of the bike.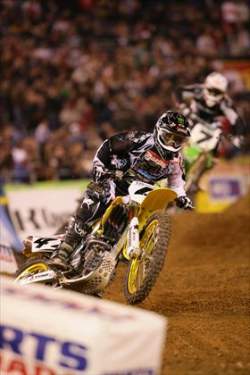 Ricky's come a long way from his 1997 rookie SX season
photo: Simon Cudby
Carmichael was more fast and furious than
Paul Walker
back in those days. If he wasn't knocking Tuff Blox off the track on every section then he didn't think he was going fast enough. He figured things out, though, and he's got a bazillion race wins and more championships than the Harlem Globetrotters to show for it. It drove me nuts when I had to race against him, but now it is just a pleasure watching him ride as a fan.
Chad Reed doesn't have shoes. Well, if he does, they aren't from his former shoe sponsor Etnies. Reed was seen at last years X Games Supermoto event wearing an experimental cooling vest created by Nike. The vest is worn underneath your gear and plugs in to a small AC unit while you are off the bike. Is Reedy working on a deal with Nike? Only his agent really knows, but he has been wearing Nike shoes to the races.
Speaking of Supermoto, the 2006 AMA schedule is finally out. According to team owner/rider/sport supporter Troy Lee, good things are coming. "We had a few stumbling blocks there for a while but now the ball is rolling and we have some awesome events lined up," Lee said. Many of the rounds are held in conjunction with AMA road racing events and we are even going to race at a CART event or two. The final race at the Queen Mary [Sister ship of the Titanic, moored in Long Beach Harbor] is going to be absolutely amazing. Also, the X Games is back and I'm sure that race will continue to be the biggest draw at Summer X. So the sport is headed in the right direction and we're pumped about it."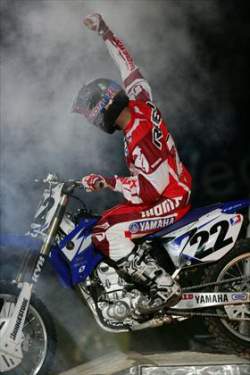 It's time for Chad Reed to pick up the pace.

photo: Simon Cudby
The 2006 AMA Supermoto Championship Schedule is as follows:
April 29 California Speedway - Fontana, CA
June 3 Road America Elkhart Lake, WI
June 10 USA International Raceway Shawano, WI
June 17 Miller Motorsports Park Tooele, UT
July 8 The Palace of Auburn Hills Detroit, MI
August 26-27 TBA (double-header) Denver, CO
October 14 Music City Motorplex Nashville, TN
November 4 Queen Mary Long Beach, CA
If there was ever going to be a reality show about a house full of motocross guys, then I have a candidate. Freestyle champ Nate Adams recently moved into Brian Deegan's old house in the Temecula hills. The former Mulisha compound will now be Nate's own personal training ground.
But he's not alone. Staying in the house with "The Donkey" (as we like to call him) are four other motocrossers. Ryan Morais, Andy Bakken, Logan Darien and freestyle rider Jimmy McGuire will all occupy rooms there. If that doesn't reek of bachelorhood enough, there is even a resident ghost living in one of the rooms.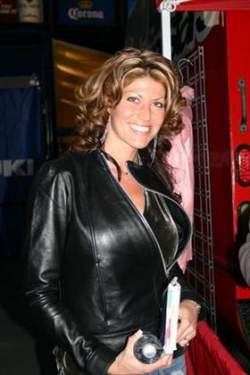 The lovely Erin Bates is not the ghost in Nate Adams' new house
photo: Ping
Nate explained: "Deegan told me that there is a ghost living here. He said that one of his buddies was outside smoking a cigarette, and when he turned around, he was startled to see someone in a hooded sweatshirt (with the hood up) sitting in a chair next to him. He was so surprised, he stammered, 'Hey, what's up?' as he walked back into the house." Bakken is the lucky roommate who has the haunted room. The 'ghost' has been seen in his room by others. Andy saw him the first night in the house.
"I was sleeping, and I kind of woke up and looked over," he explained. "I was sure I saw Nate sleeping next to me, which didn't surprise me because his bed wasn't in the house yet and we had talked about him sleeping on my bed. So I went back to sleep. The next morning, Nate told me that he had slept on the couch all night. It kind of freaked me out."
That's it from Ping, who is getting ready to go try to claim the Costa Rican championship from Adrian Roberts.
Here's a new site to check out.
Quick note from EJ: Kevin Windham was cleared by his doctor today to begin riding - albeit trail-riding.
Simon Cudby checked in from a Mechanix Wear photo shoot at the NASCAR events in Daytona today. Clint Bowyer was running in the top four early in the first Gatorade 150 qualifier on Thursday. Clint is running in the #07 Jack Daniels car and ended up finishing 21st after a couple of rain delays. The 07 car lines up 37th for Sunday's Daytona 500.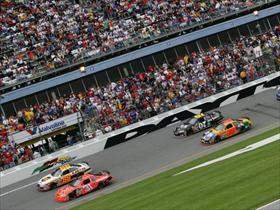 That's Andy "Rev-Up" Bowyer's brother in the #07 car
photo: Simon Cudby
Here's a note from
Andy
with more on Clint's racing so far down in Daytona: "He was kicking major ass till the right front tire went away after 20 laps. His car won't turn (too tight) so when he tries to put the wheel to it, the car goes up the track and wears out the right front. His pit crew lost a lug nut on his pit stop and he lost six positions there. Then, he came thundering back through the pack to 12th, when there was a crash. He ran over debris, cut down his left front, had to pit, then restart on a green-white-checkered with three flat-spotted tires. They should have changed all four.
"It was a bummer to what had been an amazing beginning to his Daytona Speedweek. They have two practice sessions today to work out the bugs and he should be ready to knife his way through the pack come this Sunday afternoon."
Carmichael, by the way, is planning on flying directly to Daytona after the St. Louis SX to visit with Boywer, as well as some other new friends. Stay tuned....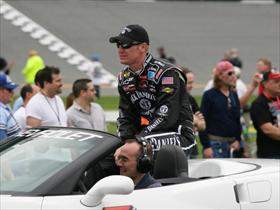 Cheer for Loretta Lynn's MX grad Clint Bowyer on Sunday in the 500
photo: Simon Cudby
Do you miss Jamie Little? Check this out for a
quick refresher course
.
In more Daytona news, the gang over at Municipal Stadium is getting stoked for Travis Pastrana to show up and do some sliding with them (Travis plans on doing the GNCC race, the dirt track, the Alligator Enduro, and then the Daytona Supercross, in case you haven't heard). Road Racer X contributor Miriam Dietrich added the following into the RRX version of Racerhead today:
Ever since I learned that Travis Pastrana was planning to run the Daytona Short Track, I've been wondering what number he'll run. He can't run his trademark #199, because he hasn't earned an AMA Flat Track national number. He can't run 199s (s is the letter that follows the number of racers from Maryland who haven't earned a national number) since AMA Pro's computer system can't accept four digits. So what's TP to do? Look for 19s on Pastrana's Suzuki at Municipal Stadium. I also couldn't resist asking the top flat track racers what they think of Pastrana racing Daytona.
J.R. Schnabel: "Any time we can get someone with a reputation of Pastrana come and ride one of our races, it's a big shot in the arm for dirt track. We need that. I hope it inspires more guys to come out and try it."
Henry Wiles: "It'll be good for our sport, and it'll be pretty cool to see him out there."
Smith: "If he's still walking then, it'll be good. It'll draw a lot of much-needed attention to our sport. It'll be good for someone like him to come in there and hopefully make people realize that it's a little tougher than it might look. Having him there will be interesting. It'll make us feel a little more superstar-ish."
Shaun Russell: "I think it's cool. He gets tons of media attention everywhere he goes, and flat track definitely needs that. Plus, it's pretty cool that someone like him—who could do whatever they want—looks at flat track as something they want to do."
Jared Mees: It's awesome. It's really good for our sport. It'll be really good when Pastrana goes out there and sees that it's a lot tougher than what it looks."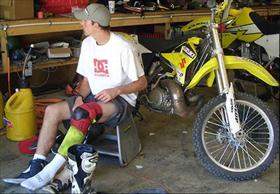 The all-around racer is going to add to his resume at Daytona
photo courtesy of DCShoes.com
Daytona is an interesting place for Pastrana to make his flat track debut. More riders show up to Daytona than any other AMA Flat Track race all year long, which means the competition is fierce. More than 100 riders come out for 60 spots in the evening program and just 16 in the main event. There's a good chance he'll make the 60-rider cut, but it'll be really tough for him to make the final 16 since short track mains are outrageously hard to make; a rider needs to finish first or second in his heat race or win his semi in order to qualify. It's commonplace for top riders to watch the main from the sidelines. How does TP's competition think he'll fare?
Schnabel: "It's tough to say. He rides Supermoto really well, and that's a little bit like dirt track. The thing that'll be tough is Daytona's one of those tracks that's tricky. The first time you go to Daytona, you could've dirt tracked all your life and you get to Daytona you just feel like a fish out of water."
Wiles: "I think he'll do pretty good. His name should get him on some pretty good equipment, and he'll probably get someone good to do his setup. I think he might high-side. At Daytona you can win one night and be watching the next. It's a pretty tough main event to make."
Smith: "It depends on whether he's been preparing for it. If he's been riding a little bit, then I'd expect him to make the [60-rider] night program and be in contention to make the main. If he hasn't been doing anything and just shows up, I doubt he'll even make the 60-rider cut."
Russell: "It depends. If he's had any kind of practice, he should fare okay. It's Daytona, anything can happen. I think it'd be cool if he made the main. There'd be a lot of people pretty excited about that.
Mees: "The guy's got a lot of talent, but dirt track racing is definitely something a little different and Daytona's the toughest main event to make. I haven't been on the Grand National circuit for that long, but I've never made that main event."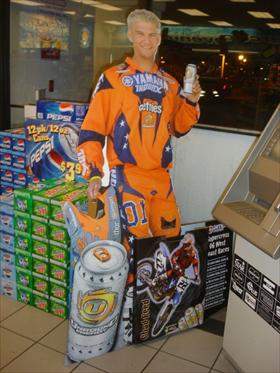 Weege spotted this last week in California at an AM/PM store: the Reed Unbound display
photo: Jason Weigandt
Congrats to
Graham Watanabe
, the son of
Scott Watanabe
from Scott USA. Scott was a
last-minute addition
to the U.S. snowboard team for the Winter Olympics over in Turin, Italy. Watanabe is a snocross racer, by the way.
Okay, time for something from Jason Weigandt of Supercross Live! on www.supercross.cc.com:
Whitelock and the Media
Every three weeks, AMA Pro Racing Supercross Series Manager Steve Whitelock holds a roundtable discussion with the motocross media to make sure everyone is kept in the loop. After a conference at Phoenix to discuss new track designs, Whitelock held another in San Diego. This time many of the questions centered on the management changes at AMA Pro Racing, as it appears Whitelock is moving upward in the ranks. Whitelock said he likes his current title and likes doing what he is doing – which is going to the races every weekend. He may have to add additional responsibilities such as keeping an eye on road racing, dirt track and hillclimb, but he will not leave his current post as AMA Supercross and AMA Motocross Series Manager.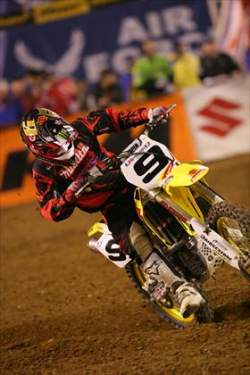 The tracks are easier but the racing is better, as guys like Ivan Tedesco will attest
photo: Simon Cudby
Talk then turned to a review of the tracks, which have gotten notably easier since Phoenix. Whitelock denied the rumor that all supercross tracks will use a "standard" whoop size, but he admitted the whoops and the rest of the obstacles will continue in the direction they are going – which is easier. "We have race tracks where racers can race each other now," said Whitelock. "We're not holding high-speed trials demonstrations where we see what obstacles everyone can get over."
Since the racing has been good this year and injuries haven't been a huge factor, everyone found those points hard to argue. But you can always go back to fighting about the new class names. A few journalists mentioned that now that AMA Pro Racing is going through changes, perhaps the names will, too, but Whitelock said the names are what they are. "We have to get away from having the displacements determine the name of the class," said Whitelock. "This way, if I have to reduce capacity of the bikes in a few years, we can do that."
Whitelock actually admitted that the AMA may have gone too far with the current four-stroke displacement limits, saying 200 and 400 were good targets. "But we let sales and marketing people decide that 250 would work better than 200," he said. Whitelock has no plans to increase the two-stroke displacement limits.
Talk then turned to other rules, such as the rising costs of staying competitive in the Lites horsepower wars. Whitelock said he's keeping an eye on the situation and may eventually have to make some changes to keep that class even. "Do not look for a ban on works suspension though in any class. They say it's a safety issue, allowing riders to have the best suspension available," he says, apparently referring to talks with factory race teams.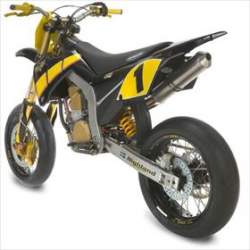 Highland Motors' new offering
Thanks, Weege. Now this note from
Robin Fisher
of Salco:
Re: the quizzical reference to Highland Motors' new 450 four-stroke MC bike by DC in the current RacerX column, it's a new model being brought out by the Swedish manufacturer of high-end, specialized off-road, motard, and dual-sport bikes (other models based on super-lightweight 950 c.c. V-twin; see www.highland.se). Single cylinder 450 c.c., 58 hp., more torque over a wider rpm range than current Japanese offerings, 212 lbs., world-class balance & dynamics; will be competing in selected FIM European events in '06....maybe some U.S. races if we find a suitable rider."
Godspeed to the father of Eddie Cole, who passed on this week.
And finally, the hard part.
The best and the worst news of the week, unfortunately, involved the Baileys. On Tuesday, David Bailey rode a motorcycle for the first time since January 11, 1987. Bailey was able to ride Lake Elsinore on a specially bike built for Ricky James, the promising young star who was paralyzed at a race in Texas last spring. It was a very emotional moment for David and his wife, Gina, whom he had married just three months before his career-ending crash at Lake Huron twenty years ago, and their son Shawn, who got to ride dirt bikes with his father the legend for the first time ever.
There is some great coverage of the moment over on www.davidbaileymx.com, and Guy B put together a nice video over at the Transworld site. When I spoke to David about it, he sounded just like the old pro he is: "I felt like I had some good style, and I even over-jumped a few spots, but for the most part I felt real smooth." Twenty years off a bike and now without the use of his legs, and the Icon still has style....
But as David and his family were enjoying that day in the sun, another story was developing down in Florida, where his stepfather, Gary Bailey, was getting ready to build the Daytona SX track for what would be the 36th year in a row. What seemed like an impossibly cruel rumor turned out to be true: Gary Bailey had been arrested for lewd and lascivious conduct. Details were sketchy for a few days, and the story seemed to be hovering above reality like a bad dream that couldn't find a place to take hold.
Then we saw the police bulletin: Gary Thomas Bailey, 62, Axton, Va., lewd and lascivious behavior on a five-year-old child."
Impossible. Not the Professor. Not the man who has easily taught more kids how to race motocross than anyone else on earth. Things like this only happen on police shows, right?
So I called Gary Bailey on Thursday morning and asked him just what the hell was going on. Free on $10,000 bail, Bailey took my call, and he sounded absolutely miserable, confused, and just plain upset. He couldn't say much, on lawyer's orders, but he did assure me that it was not as it seems, that it was false allegations by a lady, and that he would be exonerated in due time.
Then, this morning, a story came out in a local newspaper that spelled out more of what the charges are about. The details, according to what the aforementioned lady says happened, are there. The good news—if there is any here—is that the child in question was apparently just a witness to what the woman says she saw, and was never physically touched.
At any rate, it all belongs in the hands of the detectives now. Bailey will not build the Daytona SX track after all; it looks like the Dirt Wurx crew will be filling in for him. But he does plan on the truth coming out and the whole sordid affair being resolved and his name and character cleared.
I wasn't there, so I don't know anything about this case, who the woman is, or whether Gary Bailey knows her or not. What I do know is that Gary is the last man I would ever to expect to hear such a charge filed against, and I hope and pray that this is all a misunderstanding and that Bailey can go back to being the Professor. He's spent a lifetime promoting motocross—through good times and bad. It can't possibly end like this.
Gary, say it ain't so.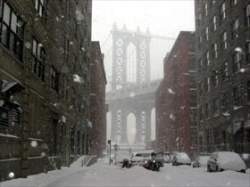 photo: Jeff Kocan