Privateer Profile: Ryan Morais
At 22, Ryan Morais may be considered a veteran in the Supercross Lites class to some, yet due to injuries and misfortune, he doesn't really have that many races under his belt. Hyped as an amateur, Ryan came into the pro ranks with high expectations, but two turns into his first pro supercross qualifier, Ryan's freshmen season was already over. This year is off to a better start, although Morais did wreck again in the season opener and was forced to miss the first two rounds of the series. We caught up with the WBR Suzuki rider, who wears #82, for this week's Sponsorhouse.com Privateer Profile. Be sure to show Ryan and his sponsors some support by clicking on the links at the bottom of the page.

Racer X: Ryan, eighth place in two consecutive races – congratulations!
Ryan Morais: Thank you! I felt pretty good, but I got a little tight because I haven't really run up front all year. I got a little nervous and the front guys put a little time on me, but it was good.

What is your best finish in your career? If I recall, it was when you had a stint with the Red Bull KTM team, right?
Actually, my best finish was at San Francisco last year when I got fourth. I was on the WBR Suzuki team last year, and I was on KTM the year before that.

When did you turn pro?
My first year was 2002 and I rode for McGrath Racing. I actually got hurt really bad at the first round and missed almost the entire year. And the next year I rode for Motoworldracing.com, and then I went to KTM, and now WBR for the past two seasons.

Tell us about WBR Suzuki team.
It's awesome. The team has really come around since last year. We've got a lot better stuff and we have a lot of better parts. Everyone is doing a really good job.

It seems like that team isn't going to go to the wayside like so many teams have in the past.
No, I think they're going to be around for a while. They already have some stuff going on for next year.

Who's your mechanic?
Mikey Campbell. He worked for Joe Oehlhof for a long time.

Unfortunately, your teammate Ryan Sipes got injured this year and has to sit out the supercross series. How's he doing?
Yeah, Ryan broke his foot. We were riding the Friday prior to Anaheim 2 and he crashed in the whoop section and broke his foot. The team was really bummed out. That was my first race back because I crashed at Anaheim 1 and separated my shoulder. So I sat out A1 and Phoenix and came back for Anaheim 2 and then he got hurt.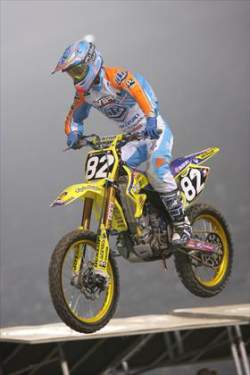 Ryan is coming off two consecutive eighth-place finishes in Lites competition

Since all three of you guys are riding the Lites division on the West Coast, what's the plan now since the series is heading east?
We're going to start testing on 450s and me and Michael LaPaglia are riding those at Daytona and Orlando.

Have you ever ridden the Supercross class before?
No, this will be my first time.

Well, good luck on your switch to the 450. But let's talk about the bike that you're riding now: the RM-Z250. It didn't really change much from last year – well, except for the bold, new graphics. So have you guys been able to do anything to improve the bike?
Yeah, Yoshimura has been supporting us a lot. They do the best they can and my bikes are awesome this year. My race bike this year is the best race bike I've had since I've been racing.

What kind of suspension are you guys using?
We're using RG3, and it's working really well.

It looks like your results are steadily improving this year.
Yeah, I've been training really hard with my trainer, Todd Jacobs, who has been training our team. Then I have David Bailey as my riding coach, and those guys have all been helping out a lot, trying to turn things around so I can be a top-five guy every weekend.

How old are you now, Ryan?
I'm 22.

You've been racing for a long time, right?
Yeah, I started racing when I was about 8, and in 2002 I turned professional and got hurt two turns into my qualifier and was out the rest of the season. Kind of the same deal happened to me when I was at Motoworld. I just had a long streak of injuries that kept me from riding, but finally, I've got a whole year under my belt without any surgeries and my fitness is starting to come back. I think people are starting to notice all of my effort I'm putting into it, and it should pay off before the end of the year.

Would you say you're 100 percent healthy right now?
Right now I'm only about 98 percent healthy because of my shoulder.

Did you hurt your shoulder in those nasty Anaheim 1 whoops? Because there's an ongoing debate about the difficulty of the tracks this year. What's your opinion on them?
I didn't think Anaheim 1 was that difficult. The whoops were huge – I'll give them that, those were hard! But I don't think they need to change the tracks. Maybe make the whoops a little easier, but I think they should leave the rest of the tracks the same. Pretty soon, if they keep making them easier, no one is going to be separated.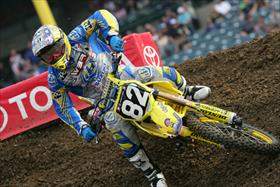 The next time you'll see #82 on the track will be at the Daytona SX in the Supercross class

So, what's it going to take for you to get up there on the podium?
Everyone around me is telling me it's possible, so if they're seeing it, I think it's possible. I've been paying my dues and putting in the effort and riding, and I've got to be in just as good of shape as everyone else out there. I've just got to get a good start and ride loose. It's not going to be easy with Langston, Short, and Laninovich, but I've been racing with those guys all my life.

Who would you like to thank?
My mom and dad especially, because I wouldn't be here without them. My brother and sister, Todd, my trainer, and David Bailey. I want to thank them for all of their effort.

If I remember correctly, your brother used to be pretty fast too, right?
Yep. Back when we were both racing, he was the faster one. He's 26 now, and he just got a bike again last year and started riding again. He can go fast for about two laps before he almost passes out!

Well, that about does it. Good luck in Daytona, Ryan!
Thanks, Billy!


Ryan Morais' Sponsors:

Williams Brothers Racing
Final Phase