Everts Wins Season Opener in Italy
Stefan Everts has started his last racing season with a victory at the Starcross in Mantova, Italy. Everts, who had been beaten by Sebastien Tortelli in the Saturday qualification race, plus in the first moto on Sunday, showed why he is a multiple-time world champion, going 2-1-1 for the overall. As for Tortelli, who showed so much over the weekend, he went 1-DNF-DNF after suffering bad luck in the last two motos.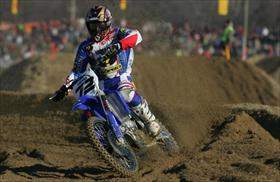 Stefan Everts will be aiming for a tenth world title this summer. (Look for more photos on mxlarge.com.)
Everts knows the season has just begun and won't look any further than this weekend.
"It's just started, but I feel good," Everts said. "The new Yamaha is really strong out of the start and I feel very confident with it. For me, that is really the most important thing. In the first moto I tried to stay with Sebastien, but I couldn't. In the second moto I felt as though I was as quick as him, but he stalled and that was it."
Tortelli held a slight lead over Everts in the second moto when he stalled the bike and failed to restart it. In the third moto, Tortelli was involved in a crash in the first corner and retired to the pits.
"We have a small problem with the bike stalling, or at least not being able to start it, but that is why we come to the races to try and see how to fix this problem," Tortelli said. "I know I have the speed to race with Stefan, so that is not a problem. In the last moto, Brian Jorgensen crashed in front of me, and I didn't want to hit him, so I stopped, then the bike stalled. I am pretty happy with some of the things this weekend, and now I will begin with my training on Monday and prepare for the Grand Prix season starting. That is what it is all about."
Once again the Mantova Starcross was a magnificent event with a large crowd and good racing.
Also showing good speed over the weekend was Steve Ramon, who finished 2-3 in the last two motos after struggling in the first with a problem with his bike. Ramon's teammate Kevin Strijbos went 3-3-7 for second overall, with Javier Vico Garcia third with 9-4-2.
David Philippaerts was the star of the Italians, going 6-12-4 and taking the MX2 class overall, while his CHAMP KTM teammate
Tyla Rattray
went 8-9-5. Both were on 250 machines.
Moto 1
1. Sebastien Tortelli
2. Stefan Everts
3. Kevin Strijbos
4. Brian Jorgensen
5. Tanel Leok
6. David Philippaerts
7. Stephen Sword
8.
Tyla Rattray
9. Javier Garcia
10. Rui Goncalves
Moto 2
1. Stefan Everts
2. Steve Ramon
3. Kevin Strijbos
4. Javier Vico Garcia
5. Stephen Sword
6. Alex Salvini
7. Chris Beggi
8. Brian Jorgensen
9.
Tyla Rattray
10. Tanel Leok
Moto 3
1. Stefan Everts
2. Javier Garcia
3. Steve Ramon
4. David Philippaerts
5.
Tyla Rattray
6. Tanel Leok
7. Kevin Strijbos
8. Alex Salvini
9. Antonio Meo
10. Bas Verhoeven
Overall
1. Everts
2. Strijbos
3. Garcia