Monday Conversation: James Stewart
February 13, 2006 12:13pm
Amp'd Mobile Supercross in 2006 is turning out to be the classic Ricky Carmichael-vs.-James Stewart confrontation that fans have expected for years. After six AMA rounds, the two have won everything, and the story this season looks to be Stewart's "New Beginning" against Carmichael's "4titude."
San Diego was a wild and successful night for Team Kawasaki's Stewart. It started with a heat-race first-turn incident that bumped him off the track into last place. He charged all the way to the front, thinking Chad Reed was the culprit, then he remarkably caught the Yamaha factory rider and made a slow in-your-face pass and took off. As it turned out, of course, Jeremy McGrath had bumped him, and Stewart and Reed talked it over.
Then, in the main, Stewart showed his new maturity by staying on Carmichael's rear fender for 18 laps, making a pass where he planned one and staying out front for the last two laps to win. It's the kind of win Carmichael will have to work the hardest to stop.
We stopped Stewart on the way out of the San Diego press conference to see what went down and what he's thinking right now.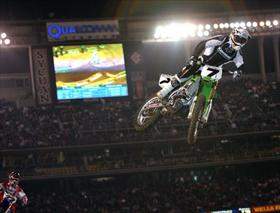 How long has it been since someone came from last to win a heat race? Stewart caught and passed Reed in less than eight laps after getting knocked off the track.

Racer X: James, you had such an exciting night - let's let you do the talking. What happened out there?
James Stewart: I won. That's it. I'm done!

Okay, thanks for the interview! Have a good celebration.
Really, it was a good night. In the heat race, I had a little accident. I got bumped off the track there. I think it might be the first time someone came from last to first in a heat race. In the main event I got a decent start. I got behind Ricky and stuff. I kind of settled in, and I rode a good race. I saw where he was fast and where I was fast. Then I passed him at the end.

In that heat race, didn't you think it was Reed that bumped you out of the first turn, and did you say to yourself, "Okay, that's it. I'm going to pass all those guy back right now?" Also, it looked like when you passed Reed, you gave him quite a stare.
No, I honestly just didn't want to ride the semi! That's one extra race I don't want to ride. I was just trying to get back up to fourth, and if I didn't, there would have been some words after the race. I talked to him afterwards. I told him I was sorry. I thought it was him but it wasn't. I went over and apologized. It was cool. We moved on and it will be good racing from here on out.

So the thing with Jeremy from last weekend, have you guys had a chance to talk, and what's your side of it?
If he can't see that I went in for the pass, and he kind of doubled and singled into that corner, I just jumped in. If he couldn't see that was an accident, I'm sorry. I definitely don't mean to take people out. I'm trying to try and race for a championship. He is the last person I'm trying to take out during a race. I guess he tried to get a little payback. I'm not worried about it. He's done until next year, and we'll see him again next year.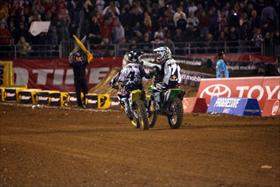 This season so far means very close and exciting racing that makes for good TV

You had "For Karla" on your gear this weekend. What's that about?
I really care for Rick Asch and the Asch family that just lost Karla. I just wanted to show my deepest sympathy and let them know that I'm always going to be behind them, no matter what. I wanted that on the back of my pants and I have one on my wrist here. I wanted to dedicate this race to Karla.

Were you holding back those 18 laps and being patient?
Like I said in the press conference, [RC] had some sections he was really good at. I felt like, if I would have made the pass earlier, it could have been a battle to the end, but I probably could have held on—but there was no need. I knew I was fast enough that if I made a few mistakes, I could get back on. I thought I rode pretty good, but I just had a few issues with the lappers. I got around that and just made my pass.

This thing with Kyle Lewis, was he getting in your way?
I respect Kyle. He has been around for a while. He has always spoken to me and I say hello to him every time. I think we just find each other out there. I don't think it was on purpose. It doesn't matter. I ended up on top tonight and we'll do it again next week.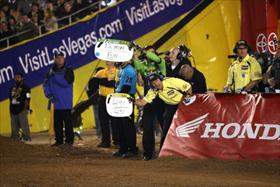 Stewart has 12 more laps to make a move; and RC's board says "49.1/49.1," meaning their lap times are the same

I thought I heard that in that main, each lap you make eye contact with your dad, once a lap, and you nod when it's time to make a move. Really?
No, we know what we do during the week and that it really pays off after 15 laps. There is no eye contact. I know what I need to do. He knows what I need to do.

You're just 11 points behind RC as we leave the West. Are you where you expected to be at this point?
I expected it to be a good season, and I just want to finish strong no matter what happens. I'm still young. I'm 20 years old and have a lot of career left. I'm happy. We're a lot better off than we were at this time last year. It's all positive.

So since this was such a close and exciting race, are you glad you did your part for good TV?
Really, good TV is great. I'm glad for the fans. I think Vancouver was the best TV for me, out front riding around!

Okay, thanks, James, and see you next week.
Thanks, Steve.