Kawasaki/Racer X Race Report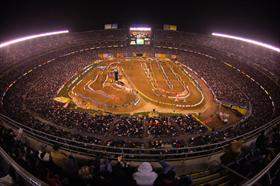 A sell-out crowd of more than 69,000 fans saw great racing all night long.
photo by Steve Bruhn
The 2006 Amp'd Mobile Supercross Series won't quit. With Ricky Carmichael taking three of the last four race wins on his Makita Suzuki and building a modest points lead, and
James Stewart
returning to his old crash-filled ways last week, it was tempting to think that RC was about to take complete control. But in San Diego, in front of a huge crowd of nearly 70,000, Stewart was able to fight back for a much-needed win.
And it was the way he did it that meant the most for this series, because once again Stewart and Carmichael engaged in an awesome battle for every one of the 20 laps in the main. The fans were pumped, the riders had fun, and the TV show on CBS will be another great one. No one knows how the next ten races will play out, but if it keeps going like this, you'll never forget it.
The action started early. The first Supercross heat race could have been called the "score settler." In turn one, Jeremy McGrath punted Stewart out of the way to get a holeshot. McGrath got taken down by Stewart last week in Anaheim and saw turn one as the perfect place to got him back. Meanwhile,
Ivan Tedesco
and
Chad Reed
were banging bars, too, with Tedesco apparently throwing out some payback from their battles of words and actions at Anaheim 2 and 3.
Tedesco not only fought back to pass Reed, he was actually pulling a small lead until he crashed. Reed said Karma caught up to him. But by then Stewart had moved to Reed's rear wheel and then put a brake/check block pass combination move that would have made Jeff Matiasevich and Damon Bradshaw proud. Stewart thought Reed had punted him in turn one. MC got off clean.
Carmichael won his heat and then grabbed the holeshot in the main – his first holeshot in a long time. Stewart quickly got into second and the race was on. 20 laps, mano-e-mano.
Reed got to second fairly quick and looked to chase them duo down. But he couldn't. Reed's three-race win streak in San Diego came to an end as Carmichael and Stewart gapped him fairly quickly. McGrath was solid in fourth and Mike LaRocco, riding the gold Samsung Wireless/Sobe No Fear Honda, was fifth.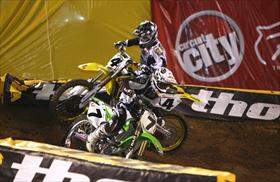 Stewart managed to get by RC on the next-to-last lap.
photo by Steve Bruhn
The battle up front was the one to watch. Stewart hounded Carmichael but didn't get too aggressive trying to make the pass. He was just counting down the laps, picking his spots and waiting. Not "toying" with Ricky, but waiting, at least.
Lapped traffic would become a factor as Stewart would lose and then gain time. The fans were pumped as they played the chess game, Carmichael protecting his lines and Stewart developing his. Finally, as the two-lap board came out, Stewart made his move and made it look easy. He went to the inside in a bowl turn and took control. The white flag came out and Carmichael stayed right there, ready to pounce as more lappers loomed. If he could have gotten a few feet closer, he could have tried the banzaii move in the last two turns, but there was no room, and Stewart held on for a big win.

Stewart says his confidence never wavered even after a rough week. He also made some changes to the bike that seemed to have helped. Carmichael said he had no regrets and just got beat.
Should be another awesome showdown in St. Louis.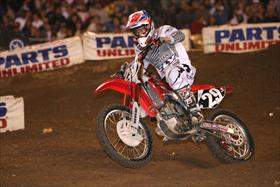 Lites-class winner Andrew Short now has the points lead in the West Region.
photo by Steve Bruhn
The West Region Lites riders won't be there, because next week's race kicks off the East Region Lites Series. The West goes into a break with Team Honda's
Andrew Short
leading the series. Short got a good start and took off in the main (
Mike Alessi
shocked everyone with a huge holeshot. Did I say everyone? I meant no one.) Alessi and his Red Bull KTM teammate Ramsey battled for second until Ramsey went by. Monster Energy/Pro Circuit/Kawasaki riders
Grant Langston
and Ryan Villopoto were mired in mid-pack, but soon they climbed toward the front. Langston got Alessi and Ramsey, and just kept charging, closing in on Short in the waning moments of the main. He got right to his rear wheel as the checkered flag came out, too little and too late.
This puts Short back on top in the series with a two-point lead over Langston heading into the break. Millsaps, Hepler, Hansen and the rest will be racing East Lites next weekend.
As for this weekend, CBS is airing the show tomorrow at 9 a.m. Pacific and noon Eastern. It's must-see TV, because this series just keeps on providing the thrills.