This week was not a good one for motocross. While the news remains good in supercross - record TV numbers, sellout crowds, battles for the championship in both classes - the sport suffered on two other, more personal fronts.
First, Karla Asch, the 15-year-old daughter of longtime Kawasaki technician Rick Asch, passed away early Sunday morning after a losing her battle with cancer. Karla had attended the season-opening Anaheim SX and appeared to be doing well, but her condition took a turn for the race. While many did not know Karla, Rick is so well-respected and admired among the riders and his fellow industry workers that a general feeling of sadness hovered over many this week. Ricky Carmichael, who worked with Rick during his days at Team Kawasaki, will run a message of support on the back of his race pants this weekend, as will James Stewart.
Then, on Wednesday, the entire sport lost a friend and hero when Kevin Crine, a hardworking racer-turned-family man from Maryland, was killed instantly when the Scion he was driving to work collided head-on with a truck. Crine had just dropped his little boy, Brett, off at daycare when the accident occurred, and news traveled fast through the industry. A funeral service will be held on Monday in Owings. Viewing will be held at Lee Funeral Home, in Owings, Md., on Sunday, Feb. 12, from 2-4 pm and again at 6-8 pm. The funeral service is scheduled at the same funeral home on Monday at one p.m.
Crine was just a great guy - a hardworking racer who was really respected on the track and around the pits. What he lacked in his wallet, he made up for by what he had in his heart, and that was a burning desire to succeed. Kevin competed for a decade on the AMA circuit, then retired from full-time racing after a big crash in 2002. He still rode a few nationals after that, but he turned his attentions to a new career and spending more time with Brett and his wife, Stacy. He was 32.
Rod Yentzer, a longtime friend of Crine's, let me know that the MDRA board has decided to retire the # 574 for Kevin. They are also going to have a memorial race for Kevin at Doublin Gap this summer, with the proceeds going to Stacy and Brett.
I also got this note from Chuck Stowers: Kevin used to ride at my farm and was a good friend to myself and many other MX racers in our local area and throughout the pro circuit.
Stowers also sent along what he thought would be an appropriate poem for Kevin's friends and family:
Somewhere
Kevin is railing a heavenly berm.
Riding the ultimate bike
On an endless trip
Around the perfect track
If you close your eyes, you can see him
Forever
We have lost a great friend
Our loss is heaven's gain
We miss you Kevin.
It is a sad day in Maryland's Motocross family," wrote Carey Hargrove. The accident actually happened 1/8 of a mile from my home. Ironically enough, it was across the street from two tracks that Kevin practiced on, one track being mine, and the other my neighbor's track which Kevin helped design and build. I use to race with him in MAMA when we were just kids, He had that long limbed-goofy style, yet a fast rider he was! He and his pops would haul his bike in the back of his father's van, which was a bright yellow rolling ad for their business, Maryland Promotions. The van had a big hat with the logo built atop of it. Like his riding style, the van you could see it from a mile away. He was a fantastic person, not one negative thing to say about the guy....
Such a shame to live in the fast paced and risky world of this sport, and then have something like this happen to such an outstanding member of the community," added Hargrove. It has struck the hearts of all of us here."
A memorial fund has been set up for Brett, and donations can be sent to:
Kevin M. Crine Memorial Fund
c/o NASA Federal Credit Union
500 Prince George's Blvd.
Upper Marlboro, MD 20774
On a personal note, I raced with Kevin for years, and I saw him grow from a promising amateur to a top-ten finisher in outdoor nationals. He and his dad were two of the nicest people you could ever meet at the racetrack, and my heart just goes out to the whole family. Kevin had grown from a nice kid to a good father, just like his own dad. I only hope his own son will someday know what a downright great guy Kevin was, and I hope he knows how much respect his friends had for him.
Life goes on....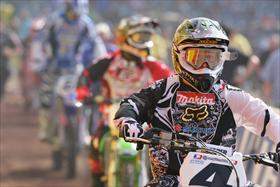 Carmichael leads Stewart and the rest into San Diego this weekend
photo: Simon Cudby
This weekend marks the sixth round of the Amp'd Mobile AMA Supercross Series, but it's effectively the last round of what I call the California Supercross Season." Five races were held in the Golden State, and it might as well include nearby Phoenix, too. And I have to say, this is the best overall vibe I've ever seen for supercross. The racing is excellent, injuries are down – most of the guys getting hurt, like
Townley
(knee),
Hepler
(foot),
Alessi
(feet),
Marmont
(leg),
Adams
(leg), to name a few, went down on practice tracks - and the numbers are up on TV and in the grandstands.
The biggest surprise to me is this: Did you really think Ricky Carmichael would be leading Chad Reed by 13 points and James Stewart by 17 as the series headed to San Diego?
You can listen to the San Diego SX tomorrow night on www.supercross.cc.com, beginning around 10 p.m. in the East and 7 out West. The laps can be watched as they tick off at www.amamotocross.com.
By the way, if you can stay off-line and not answer your cell phone for about 12 hours, the race will once again see next-day coverage on CBS, starting at 12 noon EST Sunday (check your local listings).
By the way, be sure to check out our wallpaper-sized versions of the San Diego SX track right here!

Last week, of course, Carmichael earned his 130th career win, as well as the 2006 Anaheim Supercross Championship, with a win there. RC didn't look like he had his best stuff until he got to the main. After getting beaten off the line by Stewart, RC got a break when James' front end washed out. It was pretty much clear sailing after that - for Ricky. Stewart crashed again twice, once cutting in under Jeremy McGrath and dropping the King in what may have been his last Anaheim race. There's no doubt Stewart felt bad about it, especially after Jeremy flipped him off.
Meanwhile, Reed had to battle past Ivan Tedesco to get another second, which moved him back up into second in points after Stewart could only recover for eighth place. San Diego is where Reed really got it going last year, so expect #22 to be on the gas at Qualcomm. Will that be enough for the judges to award him the win?
Fast-forward to the present day, and you're looking at the Godzilla of all supercross tracks. Come Saturday, Qualcomm Stadium will be filled with approximately 1.5 million pounds of dirt and dozens of whoops (they're like moguls in skiing), jumps (dirt ramps) and scoring towers, which are used to judge riders' tricks, style and overall smoothness [italics ours]. For those not familiar with supercross, it's the testosterone-driven motocross packed with more attitude and pizazz." We spotted that mainstream misfire over at www.signonsandiego.com
We just heard this from Road Racer X contributor Miriam Dietrich, who also happens to be the world's #1 dirt track fan.
The season-opening Daytona short track is rapidly approaching, and it's starting to look very likely that motocrosser/freestyler/rally driver/Baja racer/crazy person Travis Pastrana will be in competing there. One never knows for sure with Pastrana, so this might not be confirmed until the race happens on March 9, but my sources say it looks very possible. If it happens, this could be a major and much-needed shot in the arm for dirt track racing, and perhaps it will inspire others to check out the genre as well. For example, now that Kawasaki makes a 450cc four-stroke, wouldn't it be awesome to see Tommy and Roger Lee Hayden in action at the Springfield TT? Heck, for that matter, what about Ricky Carmichael...."
Let me switch gears here for a second: Criticism is often hard to take, but I got some very constructive criticism from Jason McCormick this week. Jason's the guy at Utopia now, and what he basically offered was this: Lately, our website has been getting too clogged up with Breaking News" that isn't so much news as it is PR; too much bombast and not enough bombshells. And he's right; I just didn't realize it. So here's a promise to you everyone reading this: Starting next week, look for less fluff, more important stuff in Breaking News. I kind of made fun of Mike Kidd and the BooKoo AX folks for sending some many missives over, and now I realize we're putting up too much fluff. Sorry (and thanks for the straight-up opinion, Jason).
I got a funny note from David Vuillemin today basically asking us to please let everyone know he's found a new mechanic. But he couldn't answer all of the emails he got from folks interested in the position or just wanting to help out. Every email I got came from your site and I really don't want to answer over 100 emails! Thanks again for your help."
Vuillemin will be working with the new guy at St. Louis next week, but this weekend Billy Bell has offered to help DV12 out for the weekend.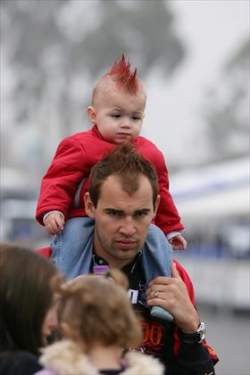 DV12 and DV1.5
photo: Simon Cudby
In another measure of just how many people check this site out, a few weeks back,
Tim Crytser
posted his Virtual Trainer column on
John Louch
's new Southern California training complex called Evolution Fitness, where professional and amateur riders can work with Louch and his trainers to build their own programs, specializing in the things they would need to succeed in motocross. Well, the story pulled in so many athletes hoping to work on their fitness that Louch now needs more trainers!
It's been an amazing how many people are calling," Louch said. It's really overwhelming, but we are going to make sure they all get personal treatment and a great training program."
Louch says interested parties have to be certified trainers or ex-athletes who want to get certified. He and the Evolution crew are looking for people who want to work at the facility. The man to contact is Charles, phone 714-742-0603. Or contact the gym itself at 951-304-0466. For more information, you can also check out the website: www.evolutionsportsclubs.com.
Okay, let me turn this over to Ping for a few words from the West Coast....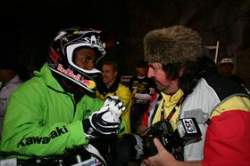 Funny caption time: What do you think was being said between Stewart and the man wearing roadkill? Send them to letters@racerxill.com.

photo: Simon Cudby
It's been a busy week out here on the west coast. Riders are prepping for the final round of the west coast swing before the break/east rounds, teams are gearing up for the trip to St Louis and everyone else in the industry is playing basketball and driving go-carts. Let me explain those last two.
The annual Oakley basketball tournament played out this Tuesday night at their Foothill Ranch compound. This year Asterisk, Fox and Mike Metzger all had teams of their own and Oakley signed up two in-house crews. I was a part of the Asterisk squad along with Dave Castillo, Logan Darien, Andy Bakken, Langers and a few other industry friends. After a few tight games, and one that went into overtime, the Fox Racing team went home with the Oakley Thumps.
Now, I don't want to discount the fact that they had some great, legitimate players but two of the guys on the Fox team team were dunking the ball. Do you know anyone in the motocross industry that can dunk? I don't. In fact, I don't know of anyone in the industry that can touch the rim of a regulation hoop without first bouncing off of a trampoline like a costumed college mascot. I can't touch the rim even with the trampoline. Here's a suggestion for Paggio and Fedoro at Oakley: Next year, have a 450 parked in the building somewhere. Each team can choose two players from other squads and they must be able to start a 450 without any help from their team. If they can't find top-dead-center and kick it to life, then they watch the game from the sidelines. I'm just putting that out there. Do whatever you want with it.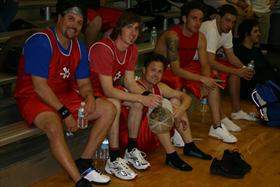 The Asterisk team starred Langers (white legs)
photo: David Pingree
Anyhoo, the game is always an awesome time, and even if you lose your first game, there is always Wahoo's fish tacos there to console you. Oakley athletes
Ernesto Fonseca
,
Nicky Hayden
and
Roger Lee Hayden
also dropped by to shoot a few hoops.
If there was an award for the grittiest player, then Langers would have won it. Our talented designer popped his shoulder out during his first few minutes of playtime. Dr. G helped him get it back into place and as soon as it popped back in, Langers headed back out onto the court. He even scored a couple buckets! Nice work, Langers.
Nicky Hayden just got back from his first MotoGP testing session in Malaysia. The Honda rider said things went well, with the exception of one get-off at the end of the session at over 100 mph! Can you imagine opening your car door and rolling out at 100 mph-plus? I don't care how sweet your leather suit is; that's gnarly. Nicky is back on a plane today, heading to Malaysia again for his next test session.
Some go-kart driving took place in Carlsbad yesterday at a Spy function. Spy invited anyone that wanted to come to a go-kart racing championship at K1 Karting. Spy athletes Jeremy McGrath, Kevin Windham, Heath Voss, Billy Laninovich, Andrew Short, Josh Grant, Jake Weimer, Danny Smith, Paul Carpenter, Bob Kiniry, Justin Brayton and more showed up to support the event.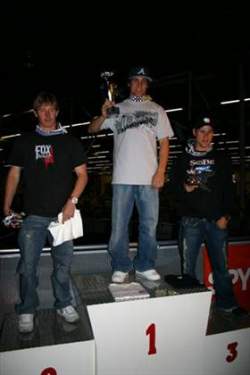 The Podium
photo: David Pingree
Each driver got a qualifier and a main event. The top two finishers from each main event transferred to a super-final for a trophy and bragging rights. Brayton won the trophy and was joined on the podium by Laninovich and
Mike Sleeter
. It was a great time and hopefully Spy will make it a yearly tradition.
Windham is finally out of his cast and sporting two new scars form the surgery. He plans on riding before too long, but he is working on something else in the meantime. The Kevin Windham Texas Hold 'em Championship will take place at the MGM hotel and casino in Las Vegas on Sunday after the Las Vegas Supercross finale. There is a $1000 buy-in and 200 seats available. All of the money will be paid back, with the winner scoring $100,000 and a guaranteed seat at the World Championship of Poker later in the year. Kevin's tournament will be open to the public. The details will be released right here on Racer X Online, so stay tuned.
There have been some questions raised about Broc Hepler's health right now. Broc had apparently injured his foot in a practice incident, but then the Team Makita Suzuki rider did an interview where he said he was fine and that the rumors were just that. Well, Mike Sleeter told me last night that he was taking a friend that crashed (KTM Canada fast guy Michael Willard from Ohio; get well soon, Mike) to see a doctor in the Temecula valley and when he walked in, there was Hepler on crutches. Busted.
The injury is minor enough that Broc will be able to start the season in St Louis, but it will be with some discomfort. Hey, the stopwatch will tell the story in St. Louis anyway.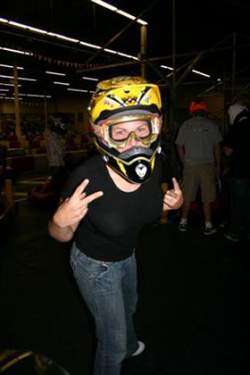 Now that Andrew has a BooKoo deal, his wife, Jackie, can get revved up even more
photo: David Pingree


Andrew Short put a deal together with BooKoo Energy, adding to the list of riders that are sponsored by an energy-drink company. In fact, I think just about everyone in the industry except me has an energy-drink deal.
The other day, I did an interview with Denny Stephenson. He was talking so fast that I couldn't understand anything he was saying. It sounded like the Chipmunks singing Christmas carols in high speed. So after the interview, Denny runs off and I switch my recorder to half speed and replay everything he just said. Turns out he's angry because he's had an energy-drink deal for years and he's not getting any props for starting the trend. Man, I always thought Denny was just hyper and talked too fast out of habit. I need to get me some of his stuff.
Last weekend's Anaheim race was well-attended. Aside from the sellout crowd (and I don't mean that everyone in attendance was a sellout, just that it was a full house), there were quite a few celebs up in the swanky little corner of the stadium known as the Knothole Club. You know him as Zach Morris, but he's really Chris Gosselaar's uncle, Mark Paul Gosselaar. I think he's on a police show now; maybe CSI something or another? Anhoo, big SX fan.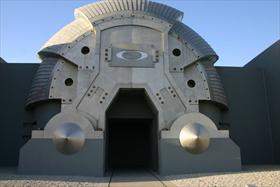 Oakley's headquarters looks like something out of a

Batman

movie
photo: David Pingree
The other name I kept hearing was Sheckler. Who the heck is this Sheckler guy? Is this a new character from an upcoming
American Pie
sequel? Well, it turns out that
Ryan Sheckler
is the best thing since energy drinks over in the skateboarding world. I apologize for being such a neophyte when it comes to skateboarding, but my skating experience is limited. I bought a neon green Vision Gator when I was nine, shot it out from under me the first day I had it and sprained my wrist, then stuffed it into a cabinet in my garage and forgot that I had it for fifteen years. Ryan absolutely crushed everyone at this summer's X Games and is already being labeled the Next Big Thing in skating. Did I mention he's 13 years old?
Shaun Palmer was also in the house. Palm was all set to represent the USA on the Olympic snowboarding squad when he snapped his Achilles tendon on an icy run in Europe. The injury will take nine months to fully heal but Shaun is optimistic about it. I asked if he can wait another four years to make a run at the Olympics. Man, I'll be 43 years old then... And I'll still kick their asses, and they know it." That's classic Palmer right there.
BMX hero Ryan Nyquist is also a big SX fan. He was even wearing a Chad Reed T-shirt supporting his favorite rider. Unfortunately for Ryan, Reedy hasn't hit the nitro button on his season yet and failed to get a win at any of the Anaheim rounds.
And Pamela Anderson was walking around, and she wasn't wearing a top! Just kidding. I just wanted to make sure you were still paying attention.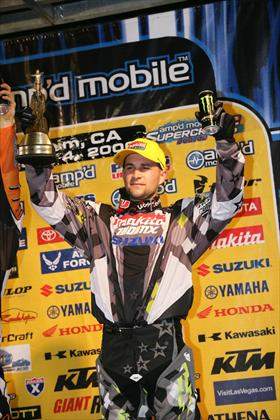 Ivan got himself a 450-class trophy to go with his dozens of 250F-class prizes
photo: Simon Cudby
Much of the drama in the race revolved around Stewart's meltdown, and particularly his pass/crash with McGrath. This was Jeremy's last race at the Big A for 2006 (and possibly forever), and he was poised to put in another strong ride until James got a little overzealous. Jeremy was through the apex of the turn and
Bubba
jumped across the track to make a block-pass. Jeremy had nowhere to go but right on top of Stewart, who was just trying to get to the front as fast as possible. Jeremy told me that he was in no hurry to pick his bike up after the crash. James tried to get his bike out but it wouldn't budge until Jeremy lifted his off.
Bubba
finally realized that and looked back at Jeremy. At that point, MC lifted his bike off and let him go, but he wasn't happy about the move.
Stewart's crashes opened the door for Tedesco to land on the podium for the first time in the Supercross class. Well done, Hot Chump!
That's it from Ping.
By the way, how ridiculously fast did Stewart pass Reed going through those whoops on the first lap of their heat race? He had to have been going 100 or so, seventh-gear wide open. Stewart still blows my mind every time he steps it up another notch. When he gets it all together, look out.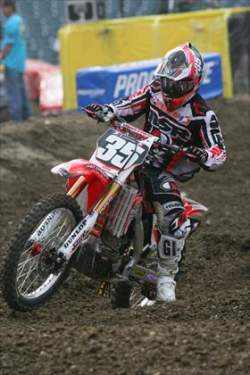 Paul Carpenter was a season-best fourth in the 250F class at A3
photo: Simon Cudby
Okay, speaking of the 450 and 250F classes, I'm still trying to get my head wrapped around SX and SX Lites names, and it's still not really working. Well, the AMA has had some pretty huge turnover in recent weeks, what with
Scott Hollingsworth
being let go and chairman of the board
P.J. Harvey
deciding to step aside after so many years of service. So would it be possible to maybe have a rethinking of the class names once everything gets settled? Just throwing that out there.
By the way, I got a phone call this morning from Troy Lee, telling me how much he thought of Patricia DiPietro, the lady in charge of the AMA right now on an interim basis. Patty has been really overhauling the system, and Troy just wanted to say how stoked he and the AMA Supermoto and NASMoto principles are with the new direction of things. Troy is the number-one son of Supermoto in America now, and he knows that 2006 is vital to the long-term survival of a series that has yet to gain a popular foothold. He now thinks all things are possible, and there may even be a season-ending race run around docks that hold the Queen Mary in Long Beach. That would be just bitchin'!
Got to get a mention in here for Rich Van Every, whose film Full Circle is gaining praise all over the action-sports world. The film about Nate Adams will get a big-screen showing on February 22 in the Boost Mobile X-Dance Action Sport Film Festival at Cinespace in Hollywood. We'll let you know more as it gets closer.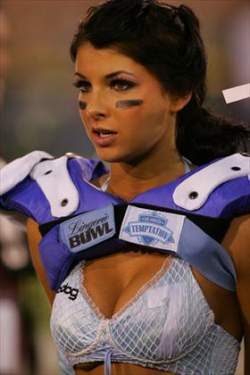 No wonder the Seahawks lost to the Steelers
photo: Rich Van Every
Van Every, by the way, got to shoot photos at last weekend's big football game. No, not the one in Detroit, but rather the Lingerie Bowl. The photos he sent over were downright funny, though the one here was just downright ... love the eyeshadow, hate the pads.
Racer X reader Chris Roady sent this note: Not stirring the pot here, just thought you guys would appreciate the parallel of this cut/paste out of Racer X talking about RC taking the torch from MC and the potential passing of it again (one of these days) to Bubba. The comment about MC counting on Ricky making mistakes throughout the series is what seemed like deja vu to me."

EJ asked Ricky's close friend and longtime mentor Johnny O'Mara, who helped prepare Carmichael for the 2001 season, how they made it happen.

"We knew we had Jeremy covered with RC's speed; we knew Jeremy was not comfortable racing at Ricky's speed," said O'Mara, the '84 supercross champion. "The one last thing RC had to get over was taking down his boyhood role model and hero - McGrath was an idol Ricky always looked up to, and I think McGrath kind of knew this. I would also say that McGrath was counting on RC's past track record: that RC would make mistakes throughout the 16-race series. That's how Jeremy felt he would win the SX series - by Ricky going down. However, I honestly believe that Jeremy knew that RC had more pure speed at that point. As you now know, the rest is history."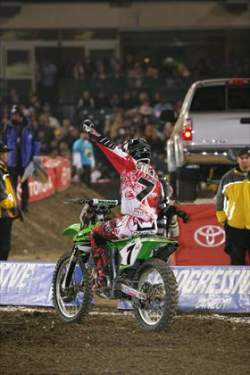 When James gets it figured out, look out
photo: Simon Cudby

Jim Mason must have also seen Stewart pass Reed in the hoops, because he sent through some TV suggestions, including this: Here's an excellent example of interesting quantification - the speed-through-the-whoops using a radar gun last year in Millville. That was outstanding! It was so cool to compare RC's speed to other's. Great idea! More stuff like that!"
Like I said above, I measured it from my own couch, and Stewart was going about 100.
Simon Cudby went out to the moonscape of Ocotillo Wells on Wednesday for a Fox photo shoot with Carey Hart, Mike Mason, and Dustin Miller. Go to www.foxracing.com to see a few spy shots of the new Fox gear. Also, it looks as though Carey is picking up a Supermoto bike this week, and he has his sights set on possibly competing at the Summer X Games.
Also, whilst on an official Travis Pastrana photo shoot at Lake Elsinore track last week, Simon was passed several times on the Vet track by a mysterious rider running Thor gear on a Kawi #323. It turned out to be the ever-smiling Troy Adams doing some laps for only the second time since his broken femur.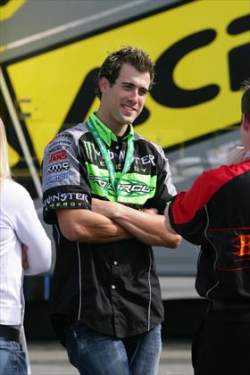 Troy is back on the bike
photo: Simon Cudby
Over in Italy, the Winter Olympics are kicking off, and motocross has someone to cheer for: U.S. Ski Team downhiller
Daron Rahlves
. He's a regular at the
Hangtown
and
Washougal
Nationals, often competing in the Boardercross and Crossover events that
Pat Schutte
organizes for the NPG.
Here's a link to the NBC Olympics' home page. On this page, under "ATHLETES", there is a really cool video clip of Rahlves racing motocross in off-season for training. He makes some great comments on the sport.
Wouldn't it be cool if they showed Daron on the tube riding his Hondas, just like they did back in '76 at Innsbruck when soon-to-be-elevated-to-godlike-status Franz Klammer rode his red KTM around the Alps?
Ncdirtrider posted this on MotoTalk: Don't know how long it will be there, but go here and check out the FoxLife Videos: The Next NASCAR http://www.foxnews.com/foxlife/index.html.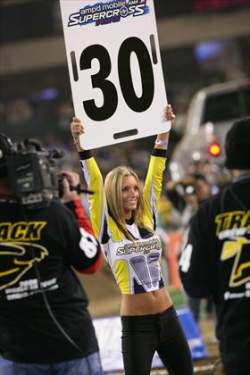 Amazing how much coverage a girl gets when she shakes her booty in front of the starting gate—well done, Alicia!
photo: Simon Cudby
I feel bad for
Jeff Gibson
. One week he's a hero, getting landed on by Carmichael, getting up and still qualifying, then scoring a terrific eighth in the San Fran main; the next he's getting the Racer X Gas Card because he didn't make the main at A3. Hang in there, Jeff.
Magoo: The Story of Danny Chandler is finally available on DVD at www.dannymagoo.com. It's an amazing film, with some truly incredible old shoots, including one very sad piece of film that shows the crash where Chandler ended up breaking his back.... All proceeds go to Danny, so please consider adding this film to your moto collection.
Spotted this on MXLarge.com: MXGeoff asked Marc de Reuver of the KTM team, What about Ben [Townley] and Andrew [McFarlane] getting injured so early in the season, USA still seems like a bad place to go for the GP riders, what do you think?"
DeReuver: Well, it's not easy. I think it's better if you do the 1st year an outdoor season only, so you have more time to adapt to the supercross. But the manufacturers want you to ride the supercross also, because it's really important for the sponsors. Supercross is huge in America. It's difficult to learn something under pressure, especially supercross..."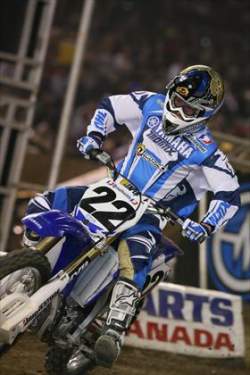 Chad is Amp'd already, but where's the rest of those phones?
photo: Simon Cudby
In another interview, Geoff spoke to the injured Townley about watching the races. He answered, That's the highlight of my week, other than having Plons harassing me online. I watch the live timing, listen in on the web cast and a sponsor of our team Amp'd mobile broadcast the races live on there telephones, so I get to see it happen live. I think it's really great for the sport, the racing has been awesome and I think there is better to come yet in this season...."
Man, I can't wait to get one of those phones!
Racer X reader Chad Sparks wrote: I thought I would add to the Bench Racing Ammo by Billy Ursic. The piece was centered around the Yamaha being the first manufacture to win a SX on a 4-stroke and the dry spell that followed. On a side note it is interesting, Yamaha will more than likely go down in the books as the LAST manufacture to win on a two-stroke. Chad Reed in Vegas '05." He's probably right.
Not sure what to make of this; here's a new motorcycle called a Highland Motors 450 MX than reader Goran Iggmark sent over....
The Familie's
Steve Astephen
pulled off the ticket request of all time when
Travis Pastrana
asked if he could get him three Super Bowl tickets – the night before the Super Bowl! Travis apparently flew the red-eye from Anaheim to get there as Astephen worked his Rolodex, and ESPN came through with the valuable tickets. In fact, Pastrana ended up in a suite, which is like asking for a free sticker in the pits and being handed VIP credentials to get you into the Knothole Club at Anaheim 1.... Times ten!
Okay, I have more, but I just realized I've typed 11 pages. Sorry. Be sure to check in later for Simon Cudby's Friday report from San Diego. Thanks for reading Racerhead, and see you at the races.
Godspeed, Kevin and Karla.