Kawasaki/Racer X Race Report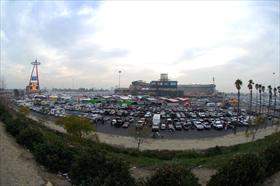 They packed the house one more time at Anaheim.
Round 5 of the Amp'd Mobile AMA Supercross series might end up being the most pivotal round of the series. Coming into tonight's main event, it looked like it might be A3 2001 all over again. Just as
Ricky Carmichael
soundly defeated erstwhile king Jeremy McGrath at the last Anaheim stop that year, initiating his subsequent dominance of the series, it seemed that
James Stewart
might take over the series tonight. In Supercross qualifying, Stewart was visibly faster than anyone else through the high-speed whoop section, using them to dispatch with
Chad Reed
. During his dominant heat-one victory, his fast lap was almost a full second quicker than that of heat-two winner Carmichael. In that second heat, the champ had somehow mistimed a rudimentary triple, landing hard on the face of the third jump. By all appearances, RC was flustered, while Stewart seemed poised to recreate the history that Carmichael had written here five years ago.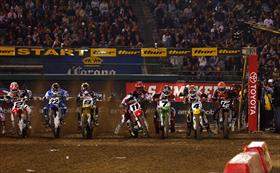 Unfortunately, it wasn't this close at Anaheim for long.
Apart from that drama, and compared to some of the other 2006 events, this one was relatively bland. The track was mellow and both classes featured runaway victories. Still, the Supercross and the Supercross Lites classes both enjoyed dramatic, championship-altering events, and it was an absolutely gorgeous Southern California day that allowed our growing sport to shine brighter than the ice in
Chad Reed
's ear. No place on earth better personifies American Supercross racing than Angel Stadium. The parking lot was packed with monster trucks, tattoos, and bronzed bodies, the pits were stuffed with every action sports-related corporation imaginable, and the anticipation of a scant two-point lead separating Stewart and Carmichael had an electricity in the air you could cut with a knife. The supercross gods were merciful after the cold, rainy, mudder we received last week. It was a wonderful day for everyone involved with supercross, save for
Nathan Ramsey
and Stewart. Both title contenders suffered heavy setbacks tonight. We mentioned in the Rev Up that there might be some funk coming. Unfortunately, Anaheim 3 had a damage plan for both of the aforementioned championship hopefuls.
If you read the Rev Up this week, you knew we were predicting a bombshell of some sort in the Supercross class. Well, if you heard an echo in the distance tonight it was from the unbelievable series of unfortunate events that
James Stewart
suffered in the main. What appeared to be a holeshot and a possible walk-away win (he decimated his heat race and was almost a second quicker than RC) got ugly in the first turn, as his front wheel skated out from underneath him. From there it got worse. One lap later, James ran it in hard on Jeremy McGrath and took both of them out in a loose corner preceding the sand section. Less than a lap later, he went down again, tipping it over in a corner. (In the press conference, RC brought up the possibility that Stewart's fork was too stiff, as the Kawasaki rider had also made similar mistakes in practice.) Three crashes in two laps pretty much spelled "meltdown." James has been cool as ice all season and it was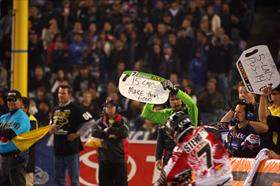 Three crashes in the first two laps led to James Stewart's undoing - after that, it was into salvage mode.
disheartening to see him suffer such a monumental bummer. He would eventually pull it together and climb to eighth, but the damage has been done, as the always-steadfast
Ricky Carmichael
sailed off with a 10-second lead and a comfortable 13-point lead over
Chad Reed
in the series standings. His teammate
Ivan Tedesco
had the best ride of his young premier-class career and made it two Makita Suzukis on the steps.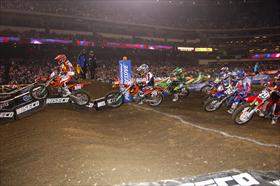 Mike Alessi grabbed Alessi holeshot #737,205, and this time he held strong to finish third,
This class has seen an amazing power struggle between the top contenders through four weeks. Grant was on it all night, as he easily won his qualifier and leapt to a huge lead in the main event. The biggest surprise in this class tonight was
Mike Alessi
, who appears to have shaken out the cobwebs in his supercross effort. Mikey Boy banged the holeshot and rode solidly to his second podium in a row. But the story in this class was the demise of
Nathan Ramsey
. Anaheim has been cruel to Nate Dog this year.
Nathan Ramsey
came into this weekend's race holding down the points lead and looked super strong early on in the main event. But that was as good as it got for the KTM rider, as he went down on lap three, had trouble restarting his KTM SX250F, and finished a dismal 13th.
Ryan Villopoto
also had a difficult night and he had to make the main event via the last chance qualifier, then had to come from dead last to an eventual seventh. The battle for the points supremacy between Short and Langston is hot, as they head to San Diego next week with a single point separating them.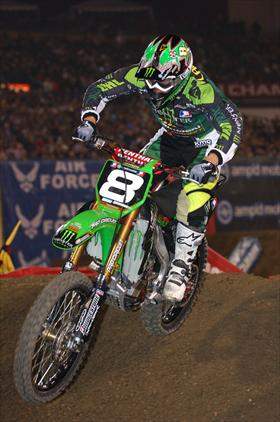 Grant Langston is easily the fastest man in the class . If he can keep consistent, the title is his.
So with round five in the books, the Lites class continues to show some serious muscle in the drama category, as seven points separate the top four. Ah, but over in the Supercross class, we have trouble. The GOAT is hitting his stride. He's won three out of five and is riding smarter, faster, and stronger than he ever has in his career. If you know your motocross history, you know that is saying a mouthful.
That's it for now, except to say thanks to Jason Weigandt for this shot at his race report this week. Stay tuned to www.racerxill.com for more from Anaheim 3 in the coming days.