The Medal Mulisha at Winter X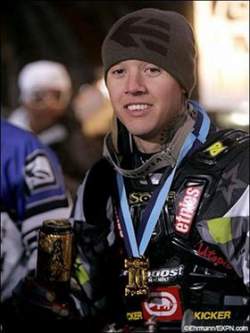 Jeremy "Twitch" Stenberg took gold in Aspen
Almost 8,000 feet up on Aspen, Colorado's Buttermilk Mountain, a high-altitude, high-drama competition on ice shook out in the Winter X 10 Moto X Big Trick competition. Compressed into a one-day affair due to the opening-round snow-out, the 10 riders were forced to throw caution to the chilly winds in an effort to one-up one each other over an ominous 90-foot ice sculpture of a jump.
After the initial field was melted down to five riders, it all came down to a sudden-death, man-against-man duel between SoBe Gold/No Fear/Metal Mulisha rider Jeremy Stenberg of California and upstart Mat Rebeaud of Switzerland. Having scored an amazing 93.01 via a no-handed backflip with his arms thrown way above his upside-down head (Stenberg had to hook his foot under a foot peg to stay on the bike), Twitch finished with a sidesaddle landing. Rebeaud, who stunned not only the Aspen crowd, but the fraternity of U.S.-based FMX riders as well by leading the way into the final with a first-place score of 92.00, was ready to go for broke in the medal round. However, a Saran Wrap backflip-to-candy bar-to-one-hander-lander scored at 92.40. It was not enough to top Stenberg.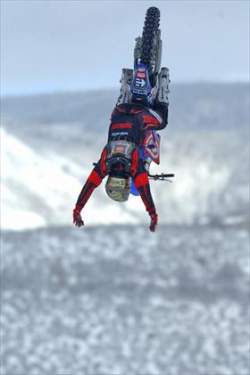 Stenberg in flight at Winter X
For all intents and purposes, the second attempt each rider was granted didn't make much difference, as both Stenberg and Rebeaud held station with their first-round scores. Stenberg won the X Games 10 gold medal. Rebeaud, a new shining star of FMX, placed second for silver. In third with a bronze medal around his neck was surprise medalist Ronnie Faisst, yet another member of the Metal Mulisha. Placing fourth was Nate Adams, while fifth went to Brian Deegan.
Final Result: X Games 10 Moto X Big Trick:
1.) Jeremy Stenberg 93.01
2.) Mat Rebeaud 92.40
3.) Ronnie Faisst 90.60
4.) Nate Adams 90.40
5.) Brian Deegan 88.00