Kawasaki/Racer X Race Report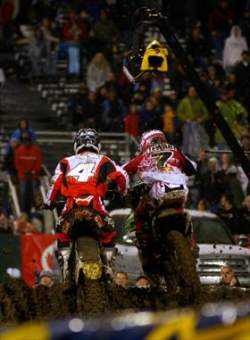 It doesn't matter if it's wet or dry - RC and Bubba are going to battle!
Come hell or high water,
Ricky Carmichael
and
James Stewart
are going to battle for supercross wins. Literally. The Amp'd Mobile Supercross from San Francisco turned out to be a mudder, but even tank-deep ruts, slimy jump faces and standing water down the straights couldn't keep the two rivals from Florida apart. In fact, in an event that was marred by crashes from everyone else, the duo stayed on two wheels all night long, and took the battle for the win down to the very last lap, making this one even better than the classic they laid down a week ago in Anaheim.
This time Stewart held on to win, but it wasn't at all easy. James took the lead early in the main from MDK Motorsports Honda's Nick Wey and tried putting some distance on the field. Carmichael was soon able to work his way into second and, just like in Anaheim, close the gap when Stewart made a few mistakes. In Stewart's defense, though, he was dealing with a ridiculous level of lapped traffic, all on a track that had become pretty one-lined. As he made mistakes with lappers, he couldn't clear some of the few jumps the riders were still able to make. Carmichael closed in, and SBC Park went nuts. Despite all the rain, the fans stayed all night to watch this one.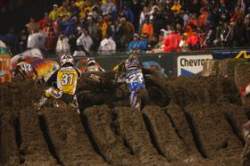 Reed struggled all night but managed to salvage fifth.
Meanwhile there was carnage everywhere behind them.
Chad Reed
crashed early and went back to as far as 17th. Sobe/Samsung Honda's
Mike LaRocco
and Makita Suzuki's
Ivan Tedesco
were battling near the top five and crashed into each other over the finish-line jump. David Vuillemin, a noted mud rider, got his BooKoo Honda stuck. Jeremy McGrath had a chain derail in his heat race and just decided to park it for the night.
The only rider to keep it going besides Stewart and Carmichael was Wey. After some struggles in qualifying, the Michigan Mafia member picked the right time to grab a rare holeshot. Wey rode solid to finish third, his first-ever podium and an amazing finish by a privateer rider. There was one caveat, though. Wey actually got lapped by the leaders! Yes, Stewart and Carmichael were so strong in the mud that they lapped everyone else.
Yes, it was once again down to Carmichael's Makita Suzuki and Stewart's Kawasaki. Carmichael made a pass over a triple, which was now a double-single, to take the lead, and then Stewart started making mistakes. It looked like it was over. But then Stewart, showing calm and patience again, was able to regroup and come back after the champ.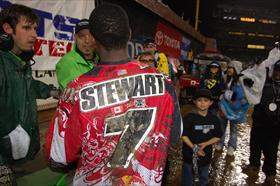 Stewart and company celebrate his win on the rebound.
Finally with one lap to go, Stewart got right behind RC and then drew up next to him as they raced down what was supposed to be a rhythm section. They battled and James was able to retake the lead just as the white flag came out. The fans were going nuts. Carmichael would try to make another pass in the same section he took the lead earlier, and they went into the whoops side-by-side. It was wild action, and Stewart managed to chop down from the outside to take Carmichael's line and take the lead. Then Carmichael bobbled in the next corner, and that was all Stewart needed to take the win in another thrilling main event. Carmichael admitted that Stewart was able to put in the extra effort and out ride him to win – typical no excuses style from RC. Wey was third, Mike Byrne fourth and Reed put in an amazing ride to gut out fifth from way, way back. Last year, Reed lost his shot at the title with a terrible finish in the Anaheim mud. It looked like Déjà vu here until he pulled it out near the finish.
The points are still really close in both the Amp'd Mobile AMA Supercross Series and the Amp'd Mobile World SXGP.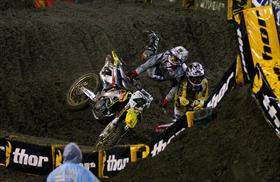 Carmichael landed on Jeff Gibson when Gibson cased a jump in heat race two. Stewart joked that "Now Ricky nows knows how it feels" in consideration of their Unadilla crash last summer.
Oh, so maybe you're wondering why it was so muddy? Well, because it rained. The San Fran track was built on Wednesday and then sat under plastic tarps until Saturday afternoon. Practice was pushed back into one session for each class, and instead of running day qualifiers, they just packed the gates with two rows of riders in the heat races. This helped preserve the track a bit, but it started raining really hard as soon as they took the tarps off. There was nothing that could be done except cut laps. The Lites main event ran eight laps and the Supercross main ran 12. No one wanted to ride any more.
In the Lites, the wild, wild West Region got even wilder. Nate Ramsey won the mudder on his Red Bull KTM, barely holding off Boost Mobile Yamaha of Troy's Brett Metcalfe. Brett was running great all night. He led early, succumbed to Ramsey, and then stayed close before attacking on the final straight and turn. Ramsey held his line and held Metcalfe off by half a wheel. Third went to ever-persistent Red Bull KTM rider Mike Alessi, who like Metcalfe was on the podium for the first time ever.
Series title contenders Andrew Short and Grant Langston had terrible nights in the mud.
And on we go to another Anaheim round next weekend. Chances are we'll see another great battle.