Between the Motos: Thunder Valley's David Clabaugh
Last week in Racerhead, I mentioned a bet that I had made with David Clabaugh, the promoter of the Thunder Valley AMA Motocross National in Lakewood, Colorado. David was taking the Denver Broncos in Sunday's AFC Championship game, and I had the Pittsburgh Steelers. If the Broncos won, I was to be a caution flagger for practice at the Thunder Valley race in July; if the Steelers won, David would do likewise at Pennsylvania's High Point National in May. How did it turn out? Thanks to Big Ben and The Bus, High Point will have one of Colorado's finest out there working the sticks in May!

Racer X: David, obviously it was a big weekend in Denver, and I hate to tell you this, but it's been an even bigger week in Pittsburgh! You, my friend, are flagging the High Point National.
David Clabaugh: Yeah, I understand that. I made the bet, and I gotta pay up!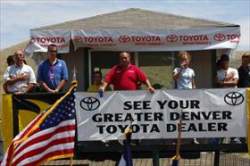 Clabaugh was instrumental in bringing Toyota into the sport

Well, the game was pretty interesting. I know that Andrew Short is a big Denver Broncos fan. He's friends with Steven Alexander, one of the Broncos who's also friends with the One Industries guys out in San Diego. Do you have any personal connection/affiliation with the Broncos?
Well, I also know Steve Alexander, just cause he came to the national and he had an autographed helmet lined up for Andrew from all the players and stuff, but other than that, I'm really not a big fan of the Broncos.

None of us really know the Steelers, but we're all sure gonna act like we do this week! I also understand that you lost another bet.
Yes, I did. On Friday, Bevo from Scott called and made me a bet. Steelers lose, he was coming to my national to sell programs; Broncos lose and I'm handing out Scott goggles, flyers, and stickers from the Scott trailer at Anaheim 3. I lost there, too! So Anaheim 3 will be a busy weekend for me.

As far as the promoters and everything goes, this will be your second year on the AMA National Motocross schedule. Any changes we can expect out at Thunder Valley?
I'm just going to try to improve on what I did last year. Being the first year, it was a big learning curve for me. This time I want to be more efficient and a little bit better in different areas and things like that. I mean, the track will pretty much stay the same—we had a great response from the area and I anticipate it'll actually be even better next year or this year, so….

You've probably been a motocross fan all your life, David, and I know that you worked really hard to reach the level of having or hosting an AMA National. Was it everything that you imagined it to be? I mean, how did you feel when you finally saw all those big rigs roll into Lakewood and realized, Hey, this is happening?
Well, actually, I was talking to John Ayers at the time, sitting with him in the Ranger and discussing things when the rigs showed up a little bit early. We were coming up with our strategy of how we were going to get them all parked and everything. I looked up and the big Honda truck was there first, then the road was suddenly full of semis waiting to get in. John said that I turned white and looked like I was scared to death—probably because I was!

Tell me something that went wrong that most people might now have known about, like, what was the one little hiccup that you thought, Wow, I wasn't expecting that?
I think the parking was somewhat of a mess. I had a big field, and I said, "Man, I'll be so happy if I fill this field with cars." Well, fairly early on Sunday morning the field was completely full and I had my parking guy calling me, saying, "Oh my God! We're out of parking space!" I knew we could either go up the road about a mile and park them and shuttle them up, or we could go into this field that I had rented that was already full. Well, the same guy who owned the packed field also owned the one right across the street. So I said, "Hey, let's just start using the other field!" We were actually on the phone with this landowner, calling him for permission as we're already shooing his horses and cows into his barn. It was like, "Hey! Can I use the other field?" He's like, "Well, ya know, I don't really know…." We're going crazy. We're actually moving cars into the field without total permission, but we did eventually get it. We were just on the edge the whole time. It could have been a major disaster if the guy said, "You know what? No, you can't use my field."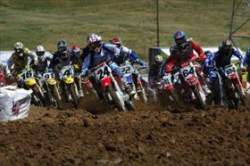 Ernesto Fonseca leads the 250-class start

Looking ahead to this year, we also have Toyota aboard as the new title sponsor for the series and I know that you were very instrumental in getting the ball rolling there. How stoked are you too see that now Toyota really is signed up for motocross and supercross across the board?
I'm really excited. I think it adds a lot of legitimacy to the series. Toyota seems to be really jumping in and trying to do a lot of good things for the sport. They've got a Toyota Zone at the supercross races [for privateers], which is going to carry over to the outdoor nationals. They seem to be really excited. I've been in a lot of meetings with the Toyota guys and they're just really energetic about the whole series. So I think that it's going to be a good partnership.

As far as the riders go, by luck of the draw last year you had the misfortune—just like we did at Steel City—with not having James Stewart around as he went through some injuries and crashes. But watching supercross right now, it looks like this summer is going to be a heck of a battle, huh?
Oh, yeah. James came out and tested the track a little bit, so there was a lot of excitement and anticipation about that whole battle, and then it didn't materialize last year. But this year, I mean, as long as everyone stays healthy, it's going to be a great summer.

Do you have the big amateur schedule this year at Thunder Valley?
Well, I have a Loretta Lynn's area qualifier and then I've got four additional, local SRAC races here throughout the summer. It's a fairly full schedule, and I also do arenacross at a building called the National Western Event Center, which is in April. That's actually my first race that I'll be promoting here in the state.

In the meantime, David, we'll be looking for you at the Scott bus, where you will be a Junior Vision Technician. Is that what they call it?
[Laughs] Yeah, I think that's it. That's the term. I should have some business cards made up that way.

Sorry about the Broncos, brother—and see you at High Point.
I will bring my flags.