Bench Racing Ammo: Amp'd Oddities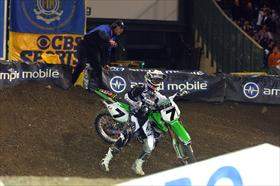 James is flying, but he's also been crashing.
"It was supercross at its best and a lot of people were seeing it," admitted SX Live announcer Jason Weigandt on his online Blog this week, regarding last weekend's Anaheim 2 Supercross. "I'm really happy for the sport right now," continues Jason, and I have to admit, so are we.

Why? Well, look at how this season is shaping up so far. We're three rounds into the AMA/Amp'd Mobile Supercross Series and it is definitely the best three rounds of racing we've ever seen – and the world is seeing it, too, thanks to the mostly excellent television coverage by Speed and CBS.

After two rounds we had a tie for the points lead in the Supercross class and after three rounds we have a tie for the points lead, along with three different winners, in the Lites class.

But I digress. So let's talk more about the Supercross class. Team Kawasaki's James Stewart came out swinging in the Canadian rounds of the WSXGP series and looked like a totally different rider from last year (with a new number and new bike to match!). Although he still had a spill at round one, James rode amazingly fast yet patient to reel in the defending champion, Ricky Carmichael, pass him and take the win.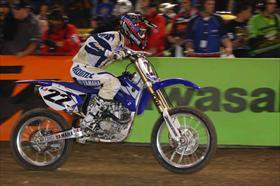 It's been 2-2-2 for #22 and he's second in points
Stewart repeated his dominance in Vancouver and Anaheim 1 – the same Anaheim 1 that
Ricky Carmichael
has yet to win in his supercross career. And then came Phoenix. A crash in the first turn forced
James Stewart
to charge from back in the pack – way back. RC had an unusually bad start and Yamaha's
Chad Reed
was out front, posting lap times just as fast as his competitors. And then he almost crashed, resulting in RC quickly closing the gap and passing Reed for the win.

And this past weekend in Anaheim showed that being the early race leader means absolutely nothing. James raced out to the lead but Ricky reeled him in and shadowed his every move until lap 18. That's when Bubba lost his composure and his front wheel in a corner to hand the lead, and win, to RC.

So after three rounds of what seemed to be a season that was going to be dominated by James and the new KX450F, we see an all–too-familiar Ricky Carmichael, who although has led the least laps of the top three (RC has led 12, Reed 14, and Bubba 26 in three AMA rounds), but still finds himself in the points lead. And throughout his career, Carmichael has never lost a points lead—ever.

Bubba now finds himself five points out of the lead in third place, one point behind Team Yamaha's Chad Reed (2-2-2 for #22), but vows that his confidence isn't affected. And you can't count Chad Reed out. Every year he's off to a slow start but always brings his A-game for the second half of the season, and he's a heck of a lot closer now than he was last year!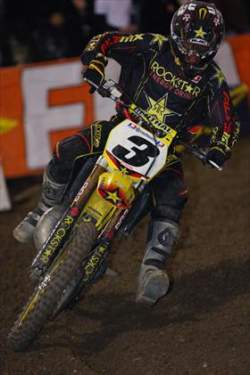 Mike Brown was the lone two-stroke in the Supercross class last weekend
The two-stroke is barely alive in the Supercross class.
Mike Brown
, the lone two-stroke (which was a Rockstar Suzuki RM250) in the Supercross class at Anaheim, finished dead last in the main event, the same week that Team Honda's Jeremy McGrath and BooKoo's David Vuillemin switched from two-stroke CR250s to the 450. In fact, Vuillemin pulled the holeshot in the Supercross main event on his new CR450, one week after MC, ironically enough, did likewise in his last 250 ride – and maybe became the last man to ever lead a lap on a 250.

It's been a very interesting year thus far, and we have 13 rounds to go!