Kawasaki/Racer X Race Report
It was yet another classic race in what is becoming a classic season of Amp'd Mobile Supercross. Ricky Carmichael and James Stewart kept the crowd on their feet for nearly 20 minutes, battling for the win and control of an amazing series. Seemingly dead locked on speed, the Floridians chased each other around Angel Stadium until the 18th lap, when Stewart lost his front end in a corner and crashed, handing the lead and win to Carmichael. Stewart, who still struggles with starting his Kawasaki KX450F, got passed by Yamaha's Chad Reed and ultimately finished third, with Reed second.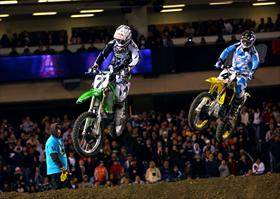 James and Ricky were thisclose for most of the main.
But the results don't tell the tale. This was a good one, as all three contenders got bad starts in the main and had to fight each other on their way through traffic. BooKoo Honda's David Vuillemin grabbed the holeshot in his first race on a CRF450, but Makita Suzuki's
Ivan Tedesco
was soon into the lead. Stewart and Carmichael had to work to catch Hot Sauce, who was riding well and not making it easy to pass. He held Stewart back for a moment and even made life tough on his teammate Carmichael. By the time Ricky cleared Ivan, Stewart had a two second lead, and since he had run much faster than Ricky in both practice and in his heat race, it looked like James was in control.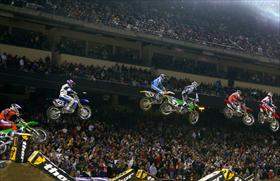 All of the contenders got bad starts.
But slowly, Ricky found the edge, and just kept creeping up closer and closer as the pack battled through lapped traffic. Stewart struggled mightily in the whoops and nearly through it away twice there, as he admitted he had bad line selection through those whoops. When Stewart made a few more mistakes, Carmichael was able to get to Stewart's rear wheel, and for about ten laps, the fans had all they could handle.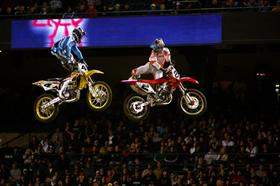 Carmichael and McGrath put on a show in opening ceremonies.
No one was sitting as Carmichael chased Stewart around, much like the crowd was on their feet in Toronto. It appeared Carmichael was setting Stewart up, but in reality he said he didn't even know what lap it was, and he nearly let the race go by without making a move. With two laps to go, the duo approached
Mike Brown
, who had fallen in corner. Stewart tried to guess which way Brown would go as he remounted, lost focus, and lost the front end. Carmichael avoided him and went on to win. He was pumped, as expected.
Reed had been buried in traffic, and he was so mad at Tedesco for holding him up that he called him out on the podium and had some words with him after the race. He had no chance to catch the two out front, until Stewart fell and he inherited second. Tedesco was fourth, and Jeremy McGrath rode another awesome race to grab a top five on his 450. He just out dueled Fonseca, who finished sixth.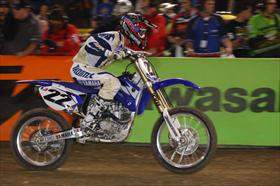 Reed is staying in the hunt.
As for the points, it's too close to even bother counting, as Carmichael now has a lead in the AMA Series and Stewart has a slight lead in the WSXGP points. There's plenty of racing left to go.
This race will air on CBS tomorrow at 10 a.m. pacific and 1 p.m. eastern. It's a must see and dare I say an instant classic.
Onto the Lites. Grant Langston finally settled down the Wild, Wild West Region Lites by winning with some ease. GL was faster than everyone all day and night, and when he finally got a good start in the main, it was over. Andrew Short tried to hang tough but took second, with Nate Ramsey third and Bill Laninovich fourth. Late in the race, Ryan Villopoto made a run at Laninovich, but he crashed with a lap to go, opening the door for Star Racing's Sean Collier to put in another great finish with a fifth.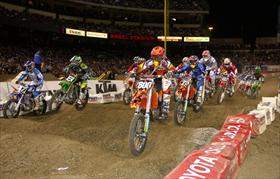 Mike Alessi grabbed a classic Alessi holeshot, but it was Langston's first good start of the year that eventually led to a win.
Langston and Short are all tied up at the top of the Lites charts.
So that's the word from Anaheim. Another great race, and another week without knowing who really is the man in these series. Carmichael, Stewart and Reed are close in points, on speed and on everything else that counts. Keep on believing and we may have that dream season we've all been waiting for.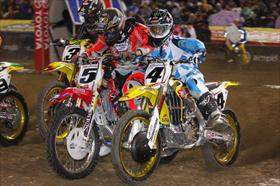 You think this guy wants it?