Last Saturday night, I pretty much lost my voice. As the Phoenix Supercross unfolded before me, I found myself first cheering for
Jeremy McGrath
, completely stoked that the second-oldest man in the race had grabbed the holeshot and then, in a move that will surely go down in supercross lore as the greatest bow ever taken, did a nac-nac over the first triple jump.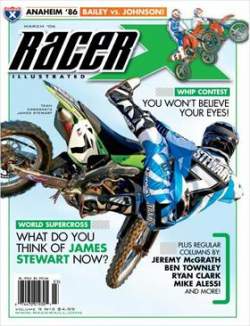 The first cover for #7
Then I started cheering for
James Stewart
—the latest
Racer X
cover rider—to get back up there, the series points leader and dominant rider thus far in the 2006 Amp'd Mobile Supercross Series, after he went down in one of two first turns. With the way he's riding, if anyone can get up from last and make it happen right now, it's the red-hot Stewart.
But the crowd was focused on the looming battle out front, for after gobbling up Jeremy, Chad Reed suddenly had Ricky Carmichael raging up through the field behind him. Both men starved for a win, I was literally shouting out loud, happy to see it all finally happening.
Okay, I didn't actually see it. I was only listening to the Supercross Live! race call, staring at the track design on my computer screen, trying to figure out how far back Ricky really was and how far up Stewart was moving and just what the splits were on AMAMotocross.com. It was close to one in the morning back East, and Andy "Rev-Up" Bowyer was right there with, shouting out like we were kids listening to a football game on a transistor radio. And though it may have only been the next-best thing to being there, it was quite a night.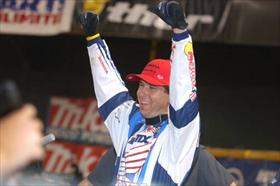 MC's fourth included a holeshot and a first-lap nac-nac
photo: TFS
Now, as I write this, I am on an airplane headed back to LAX, because I'm damned sure not going to miss the next round of this three-man slugfest that's become the 2006 season. Anaheim 2 is tomorrow night, and Angel Stadium is going to be packed to the brim once again, as Stewart, Carmichael, and Reed line up again for another 20-lap showdown. Right now, supercross is as good as it gets.
So who's it going to be this weekend? In my opinion, Stewart's still got the momentum—the way he settled in at third and then decided to take what the race was giving him without the risk of throwing it all away was a sign of that new patience he started showing in Toronto. Carmichael's win will definitely give him more confidence, and it was plain to see (and hear) just how excited he was about winning—he even dropped the mother of all f-bombs as he rode up to his mechanic, Mike Gosselaar. And Reed must be thinking that Phoenix was his night, as his stumble after the halfway mark cost him a nice little lead and gave Carmichael just what he needed to make things happen.
If you can't be at the race, make sure you listen to www.supercross.cc.com's live webcast, beginning at around 10 p.m. EST (seven out West). You can watch the laps tick off on the AMA site, and CBS will offer next-day coverage to most of the country (alas, Seattle once again appears to be preempting it for who-knows-what). And if you're wondering what the track's going to look like, click here!
I know it's still way, way early, but it's been a long time since we had this kind of real championship drama. RC's four titles have all pretty much been either runaways or a methodical closing of the deal as he cruised through the late rounds with a secure lead.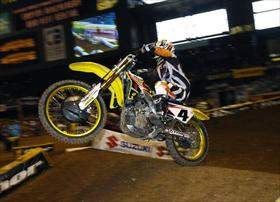 Ricky's win made things even more interesting for A2
photo: Carl Stone
Before that was McGrath's run of seven wins, none of which were really that close. Even the title he lost to
Jeff Emig
in 1997 wasn't as drama-packed as it was just strange, what with MC struggling on the 'Zook, early points leader
Doug Henry
getting hurt in a tangle with
Jimmy Button
, and Emig trying to get comfortable with the being the man that season.
Of Jeff Stanton's three titles that came before the reign of Jeremy,'92 stands out more for Damon Bradshaw's late-series blunders than it does for Stanton's finesse. Jeff was the original "Ice Man" out there, but it was Bradshaw's collapse at the L.A. Coliseum final that we remember more than anything Stanton really did that season. (And the one SX title Stanton lost in four years, to the enigmatic Jean-Michel Bayle, was another one that was more surreal than suspenseful.)
Which takes us back to supercross' real glory days and Rick Johnson, who won in '86 and '88 (Jeff Ward was the title winner in '87). RJ was dominant in '88 and the first six weeks of '89, but that first SX title twenty years—the one that started with the loss to David Bailey at Anaheim '86, the greatest supercross race ever—is the series that stands out in my mind as a battle of the heavyweights similar to what we have today. Back then it was the Hondas of RJ and Bailey, plus Johnny O'Mara, and the Kawasakis of Ward and Ronnie Lechien, plus Yamaha's superstar Broc Glover and the star-crossed Keith Bowen. Throw in rising stars like Suzuki's Erik Kehoe and George Holland, Honda's Micky Dymond, Yamaha's Scott Burnworth and so many more, and you have a lineup like we have right now.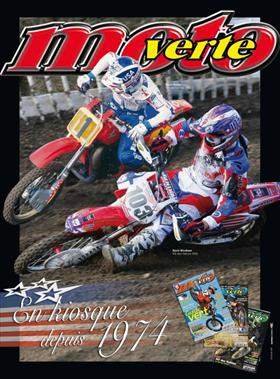 David Bailey is suddenly everywhere these days!
Coincidentally, this is the 20
th
anniversary of that great Anaheim race (January 18 was the actual date of what was the '86 series opener). Bailey and Johnson will no doubt be there (helping out WBR Suzuki and Suzuki proper, respectively), and chances are you're going to see and hear a lot about the great date in history. Team Honda's
Andrew Short
might even be running an almost all-white Fly outfit, similar to Bailey's legendary duds, and he will be running the new
"Bailey" lid
that One Industries is offering, with the help of Bailey himself.
The only thing about this new lid: How many people will actually race in them and how many will put them on the mantle or in their bedrooms and just stare at them for years to come? Personally, I'm buying two.
Switching gears to the SX Lites, the biggest surprise to me is that that Grant Langston has yet to win, that Short remains inconsistent (he really jacked his foot up last week), and that Mike Alessi just looks way out of sorts out there. I know the kid has been dealing with some bronchitis issues, but he just doesn't look comfortable.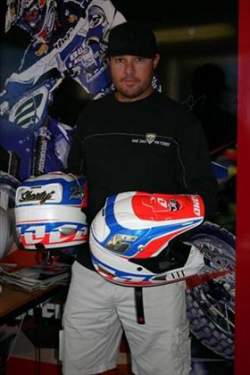 Shorty's Anaheim 2 lid by One Industries
photo: Ping
Also, little brother
Jeff
broke both feet this week, then headed off to South Carolina for some work and rehab. He hopes to be ready by the St. Louis East opener. The sad part about it is that the word around SoCal was that Jeff looked pretty darn good in supercross.
Quick commercial break: Fubar is having a winter blowout special on Racer X clothing right now, with 50% off all casualwear. Check it out at www.racerxwear.com.
STAT OF THE WEEK:
AMA Supercross
Laps Led

Chad Reed: 14
James Stewart: 11
Ricky Carmichael: 10
Ernesto Fonseca 4
Jeremy McGrath: 1
Yes, Reed is best in laps led, even if he hasn't actually won a race yet. And how cool is it that MC's name flashes up in there? The thing is, with Jeremy switching to a four-stroke this weekend, as Weege mentioned on the webcast last week and Ping reported yesterday, that one lap might just turn out to be the swan song for 250cc motorcycles in supercross. David Vuillemin, one of the other holdouts, is said to be making a switch down in Texas, and if both he and MC roll out on thumpers this weekend, well, I'm not sure that Mike Brown and Robbie Reynard have it in them to lead laps in the mains just now. When those guys go to four-strokes, that's the end of it….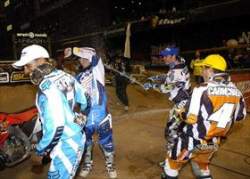 Chad, Ricky and James cover the King with bubbly
photo: Carl Stone
I e-mailed back and forth with Jeremy on a few things this week and asked him about his excellent ride: "I guess the start really helps a bunch, especially for an old guy like me!" he wrote. "I sure loved it, though! Getting fourth felt like I had won the race.…"
Jeremy, by the way, was as bummed about TV missing his nac-nac as the rest of us were. Maybe it will be on 411's SX Exposed when the new DVD comes out. (And speaking of 411, congrats to Marc Fiore, formerly of TWMX and White Bros., on his new gig there.)
If you're a football fan, this is a big, big weekend—especially if your team is still alive. The Pittsburgh Steelers are playing the Denver Broncos, and after doing so well with my Georgia friends in the Sugar Bowl (thanks, Kristin C.), I was in a betting mood. So I've got the Steelers against David Clabaugh, the promoter of the Thunder Valley National in Colorado and a bona fide Broncos fan. If the 'Burgh wins, David has to fly to the Steel City or High Point National in Pennsylvania and flag during practice on Saturday; if Denver wins, look for me to do likewise next July at the 2nd Annual Thunder Valley National. Let's go, Steelers!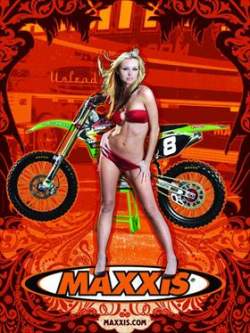 Holy smokes
Oh, and speaking of Kristin Cheatwood, she sent over the latest Maxxis poster. What do you think?
Congrats go out to Live Nation's Mark Abernethy, who is going through that time-honored tradition that just about every man must go through at least once in life: He's trying to stay out of the way while his fiancée, Carrington, plans their wedding! Like I told you on the phone, Mark, the right answer is always "Fine by me, Honey."
The Jammer checked in from New York to say thanks for his SX Legends trading cards. He said he likes Stewart in the series—Jimmy Weinert has always been a Kawasaki man—but he's just glad there's a championship race. "But I got to give it to that little S.O.B." he said of Carmichael, "he will find another gear, another second, another whatever-it-takes to get the job done." Weinert added that he already has a ticket booked for Vegas.
But he still liked Stewart, and for good reason: "He's got it figured out now, and that KX450F does whatever you want it to do. The power goes from the bottom right to the top, it turns, it does everything—even an old man like me can ride it!"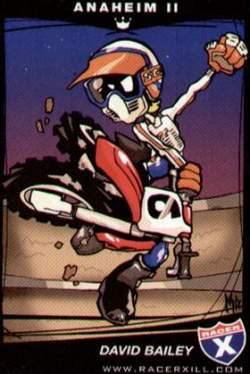 More Bailey! Get his SX Legends trading card at the Racer X booth at Anaheim 2.
And even more Bailey: One Industries sent us 200 of those very cool retro sticker sheets that come with the new Bailey '86 lid, and rather than do a contest, we want to share them with the 200 fastest Racerhead readers we have. We just need to do a self-addressed, stamped envelope and the first 200 who send in get one of these Bailey sheets! (Everyone else will get stickers, just not the whole sheet.)
Start writing now!
Racer X
Dept: Bailey '86!
122 Vista Del Rio Drive
Morgantown, WV 26508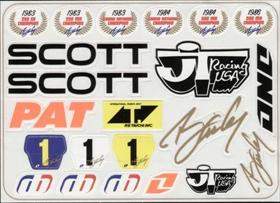 We've only got 200 to give away, so get your request in WFO!)
By the way, the "PAT" sticker in there is a nod to
Pat Boulland
, the late, great French motojournalist who was so influential in the 1980s when Bailey, RJ, and French stars
Jacky Vimond
and Bayle were at the top of their game. Legend has it that Boulland was one of the few Frenchmen who really supported Bayle's decision to come to America in 1989, and that's why JMB wore the "PAT" sticker right above his visor. In those pre-Photoshop days, it must have been a bitter pill for other French journalists and photographers to swallow.…
EJ stopped in at the press conference for Anaheim 2, which featured the Yamaha of Troy riders. Unfortunately, Andrew McFarlane was not there—he's got two broken toes—but Branden Jesseman was, and EJ is stoked to report Brando really seems like a different and more open person, and he looked great on the bike. Here's hoping Jesseman gets back up there where he belongs!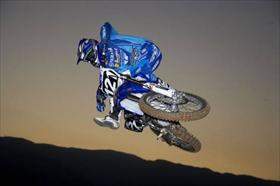 Jesseman will be riding the SX Lites' East for the blue team
photo: Frank Hoppen
There's a feature in the new
Racer X
by
Bad Billy Ursic
on the revitalized Yamaha of Troy team and manager
Dave Osterman
's efforts to turn the program back around and get them where they used to be. Make sure you check it out—good reading and great photos by
Herr Frank Hoppen
.
In more PR news, I wrote my "Reason for Being" column in Racer X this month about motorcycle toys then and now, and last night I got an e-mail from David Evans, James Stewart's manager, about his new deal with Mattel and Hot Wheels. Congrats to James on hooking up with such a huge company, and here's hoping even more new dirt bike toys are in the making—don't have a four-stroke Kawasaki one yet!
And my heart goes out to regular reader Reese Dengler and every other SX fan in the Seattle area. Turns out that for the second time in a row, the local CBS affiliate, KIRO TV, will not be airing the Anaheim Supercross on Sunday! Can somebody please get this man a videotape?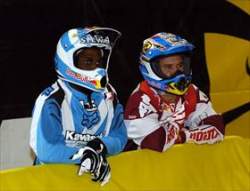 James and Jeremy wait for the Phoenix main
photo: Carl Stone
Reese's question: Why doesn't Speed Channel show the AMA Supercross races that are also shown on CBS, just like ESPN2 used to also show the ABC ones?
Okay, gotta turn this over to Ping:
First, some sad news…
West Virginia and its residents, including the Racer X staff, were disgraced this week. If you watched the season premiere of American Idol, you know exactly what I'm talking about. John, a deputy sheriff from West Virginia, strutted out in front of Simon, Randy and Paula and belted out the most humiliating rendition of "I Shot the Sheriff" I've ever heard. Even Paula told this guy that he sucked big-time. It made for good television, though.
The week leading up to the Phoenix Supercross was a difficult one for Team Honda's Andrew Short. While practicing at the Honda test track, Short injured his right foot. The doctors called it "soft-tissue damage." One speculation is that he tore a ligament away from a bone in his foot. Either way, Shorty didn't ride all week leading up to Phoenix and was in a considerable amount of pain all night. A cortisone shot was out of the question because he would lose some sensation in his foot and would risk injuring it further if it was torn off the peg again. So, considering the situation for Andrew, Saturday night went pretty well. The injury should be fine by Anaheim 2.
The KTM Junior Supercross Challenge had to add a line to its rulebook this week. One young rider in Phoenix was jumping the first two jumps of the triple jump. When another rider tried it and crashed, biting his tongue and bleeding profusely in the process, Sel and the crew at KTM decided to ban any of their riders from doubling the triples. There have been instances in the past where riders doubled the triple consistently and safely, but KTM doesn't want to see any of their kids get hurt. Good call, guys. Nothing ruins a good night of racing like an 8-year-old with blood gushing from his mouth.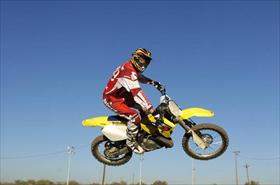 Pastrana is riding some supercross again
photo: Carl Stone
The rider, by the way, was
Patrick Evans
, the son of David Evans, who happens to be
James Stewart
's manager, as mentioned earlier. The kid was bummed that he couldn't do the big jumps, but he had some friends in his career to cheer him up, including
James Stewart
, Jr. and Sr.,
Beeker
,
Travis Pastrana
and more. This kid might have a future in SX!
The WBR Suzuki team had another rough weekend. With Ryan Morais on the sidelines with a separated AC joint, Ryan Sipes and Michael LaPaglia were holding things down for the team. Unfortunately, neither rider qualified for the main event. With David Bailey coaching the riders and a great group of sponsors behind them, the WBR Suzuki guys will come around soon. Morais is back in for Anaheim II this weekend, so maybe he can spark the team to life.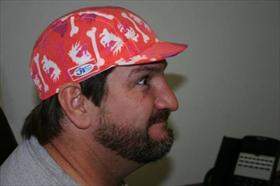 Ron Lechien in his new favorite hat
photo: Ping

Robbie Reynard is another rider that struggled through the Phoenix round. With McGrath and Vuillemin both switching to 450s this weekend, Robbie and Mike Brown will be the last of the two-strokers from here on out. But that's not Reynard's trouble. Robbie got a spider bite or some type of small contusion on his right forearm after the Anaheim opener. It didn't seem like a big deal until it started to swell up and hurt a few days later. It turns out Robbie had staph infection in his arm. Staph is one of the meanest, gnarliest infections you can get and actually live through. The Asterisk medical team sterilized the wound and stuffed it full of gauze so Robbie could get through the night. Think he got arm pump?
With Troy Adams out for the entire supercross season and Ben Townley joining him on the sidelines with a torn ACL, Pro Circuit will have both of their first-stringers watching from the sidelines. Chris Gosselaar is scheduled to fill in for Adams, while nobody has been recruited yet to fill the spot left vacant by Townley.
Last night, the first Dirty Hairy's Backyard Bonanza took place in Murrieta, CA. Launi DiMaggio and Mike D promoted the event, which featured two old-school minibike races. What that means is that the bikes were completely stock, the way minibike racing got its humble beginnings. Temecula Motorsports provided ten identical CRF50s, with only taller handlebars and wider foot pegs on them. The Randy Menenga-designed track was tight and fun and was a nice tip of the hat to the old days of minibiking in Jeff Emig's backyard.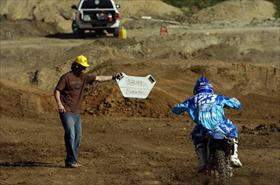 Ryno has been working with Metcalfe and Josh Grant
photo: Carl Stone

Ryan Hughes, who took a break from training Josh Grant and Brett Metcalfe, was on hand, knocking people off the track and wrapping banners up in his wheel. In his heat race alone, I think he crashed six times, each get-off more entertaining than the next. The main events were won by trainer Randy Lawrence and some 13-year-old kid who flat-out flew (I think he mows Launi's grass or something).
The after-party continued (for the adults) at a nearby bar where Monica Ramsey was putting her karaoke title on the line with Li'l Donnie Emler, Dano, Ronnie Renner, Langers and anyone else hammered enough to grab the mic. No word on the final results yet.
And here's some words and very cool photos from Carl Stone:
"I went out this week to a track Grant and Metcalfe were testing. It's Tommy Harrison's track, not too far off the 10 Freeway in Yucaipa. Grant's dad, Mike, takes care of the track daily and is out on the bobcat more then he is home. Such is the life of a moto dad!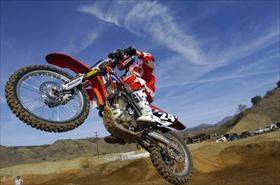 Josh Grant works out at the Harrison track
photo: Carl Stone
"Grant told me he rides that track nearly three times a week and the Honda track at night sometimes. He is looking good for sure—I just have to get used to his new number (which still somehow seems familiar!)
Tyler Evans
was also out there putting in some laps."
Carl also got to see Travis Pastrana doing some riding out West on a mostly graphic-free motorcycle. Pastrana is hoping to make it back into the series for a race or two, maybe starting with Daytona.
Wow. I just realized I'm outta time. Thanks for reading Racerhead. See you at the races!