Thursday Rev-Up: Ghosts of War
Fate silent warriors sleeping souls will rise
Once forgotten soldiers come to life
Fallen mercenary, dormancy is done
Not content with wars we never won

Memories can't ignore
Anguish of before
Satisfy the scorn
Rise ghosts of war

--Slayer


Hello, everyone, and welcome to the Rev-Up! Now, before I get started, please do not take the war anthem to heart; there is a real war going on, and it needs all of our best wishes and prayers. Make no mistake, I am here to entertain you. These words of inspiration, encouragement, and all of the noise I try to bring every Thursday are just for fun. I am using "Ghosts of War" metaphorically to describe the vibe that will be in the nighttime air in Anaheim this Saturday.
Anaheim has been the site of some of the most incredible battles in the history of our sport. In fact, twenty years ago yesterday—January 18, 1986—it was the site of the greatest supercross battle of all time, the legendary David Bailey-vs.-Rick Johnson slugfest that serves as the benchmark for all supercross thrillers. This venue is home of the wildest fans, the heart of our industry, and the hometown race for the King of Supercross himself, Jeremy McGrath. Let's dive into the madness that has all of us fired up, and get Revved Up for another epic race in Anaheim!
Supercross Lites
We knew this series was going to be a brawl, and so far this class is bringing the heat in a big way. After two wild and hard-fought races, a scant eight points separates the top five, and leading the charge so far is
Billy Laninovich
—even though he has yet to win! Billy has paid his dues and fought through a staggering amount of injuries and setbacks. He is getting good starts and riding excellent. A certain confidence emerges from holding the points lead, and Laninovich could be ready to bust out with a win this weekend. If he does, watch out for the biggest whip of the decade, because Billy throws 'em huge!
He has a fight on his hands, though.
Grant Langston
has maybe been the fastest rider so far, and he has to be champing at the bit to stand on the top part of the steps.
Andrew Short
and
Nathan Ramsey
have failed to use their experience to capitalize on consistency. All the same, both riders are carrying the mail and should be ready to race for a repeat win this weekend.
And then we have our new phenomenon,
Ryan Villopoto
. He has been getting great starts and riding the wheels off of his Monster Energy KX250F. If this young man bangs a holeshot this Saturday night, he has the potential to show the rest of the veterans the taillight. And there is still hope for
Mike Alessi
. Now is the time, if he wants to turn his title hope around. But he has to get on his best horse, because the rest of the pack is slowly pulling out of his reach.
All things considered, I say we see the third different winner in as many events when the dust settles this weekend.
Supercross
Oh, the drama! It's going down, folks! The GOAT had his horns at attention and charged last weekend in Phoenix. I knew the man was hungry after throwing it away at A1, but when I saw him get punted over the Tuff Blox in his heat race last weekend, I could only imagine the gravel in his belly and the spit in his eye!
Ricky Carmichael
went to town in the 20-lap main event, got a little payback from his heat race, and took the checkers with his fist punching the air like a madman.
He has that look in his eye now, folks. I've seen it before. It was the same look he had when he beat McGrath for the first time in San Diego. As the GOAT gallops back to Anaheim, his hooves are sharper than ever. And why is this? Did you happen to see the colors he won with? Dale Earnhardt had his black car, Allen Iverson has his sleeve, and Ricky Carmichael has his orange gear. I don't care if you are superstitious or not, history doesn't lie. And supercross history says, when RC starts a streak wearing orange gear, things tend to get apocalyptic for the competition. But he has two soldiers standing in his way before he can begin said streak, and these guys are ready to brawl!
James Stewart
did something last weekend that made me smile and nod in silent appreciation. After murdering his heat race, James bit the dirt in the first turn of the main. The man went from dead last to fourth in 10 laps. He made it to third just one lap later, and was then faced with a 10-second deficit to the leading duo of
Chad Reed
and Carmichael. But instead of going all "
Bubba
" on us, he took a deep breath, controlled his rage, and settled in for another podium finish. Could he have caught them? He might have!
Remember the cheesy old T-shirt that read "To be old and wise you must first be young and stupid?" It is becoming clear that James has gained the most important weapon of all, the weapon of wisdom. It'll take a mountain to hold him back this Saturday night. It's a mountain he has already climbed three times. I always like to say, "It ain't no step for a stepper." James will be ready to march Saturday night.
At this early stage in the game, the man that has me shadowboxing is
Chad Reed
. He kooked it in Canada, but the "Thunder from Down Under," as Todd Harris used to like to call him, has been rumbling loud and clear from the onset of the AMA series. He almost had it won last weekend. The bar is set so high between these three top warriors that the room for error is toast. You have to bring it with precision for 20 laps. Reed nailed down 19 of them in Phoenix. If he had not slipped up that one little bit, those four seconds he lost would have been the difference between Carmichael throwing his helmet in victory or sulking his shoulders in defeat. Be that as it may, Reed blinked and the GOAT got hungry and ate. I still can't believe he saved it. Watch out for #22 this weekend, the man is ready.
Ah, but there is another aspect on the horizon. As mentioned earlier, this week marks the 20th anniversary of the SX battle heard 'round the world between Rick Johnson and David Bailey. Take time to check out the banner atop this column and admire the new One Industries David Bailey tribute helmet (
Andrew Short
will be wearing one this Saturday night to harness some of the power in those colors and try to wake those ghosts of war from that unforgettable night in Anaheim that took place two decades ago for some extra supercross mojo.)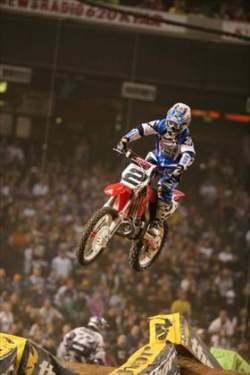 Jeremy McGrath
And hovering around the nucleus of my theme for this week is Jeremy McGrath. Anaheim is the House that Jeremy Built. You think "Part-Time" is washed up? Did you see The King bang the holeshot last week and immediately twist his CR250R sideways and chuck a fat nac-nac to bring the house down? (Okay, it wasn't on TV, but it sure sounded cool on the 'net and on some of the photos I've seen!) McGrath still has some magic left, and the word on the streets is he may have some more strokes this weekend, too.
So here we go, gang! A race doesn't get any more anticipated than this. The sound and the fury are within earshot. The spirit of competition is in full force and, with the right set of eyes, you will be able to see the soul of our sport shine like never before this Saturday night. Memories can't ignore, satisfy the scorn, and rise ghosts of war!
Thanks for reading, see you next week!