Privateer Profile: Sean Collier
Laninovich, Langston, Alessi, and Metcalfe—all top factory-supported riders in the West Coast SX Lites class who have yet to lead a lap after two rounds. But a rider who led a couple laps last weekend and has come into the season virtually unnoticed is Saugus, CA's Sean Collier. After a mediocre 2005 supercross season, Collier switched to Yamahas and found what he was looking for: speed. In fact, at the practice track Sean has shaved over five seconds off his lap times from last year. A crash and DNF at Anaheim 1 didn't get this Star Racing/Lucas Oil Yamaha-supported rider down, as he rebounded nicely in Phoenix, where he led two laps in the main event and stayed in second place for most of the race before a slight bobble relegated him to sixth. You can show Sean and his sponsors some support by clicking on the links at the bottom of the page.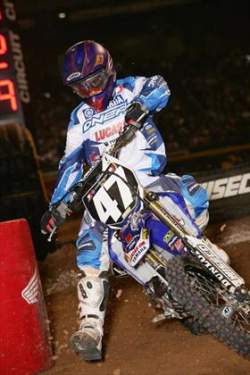 Sean Collier is coming off an impressive sixth-place finish in the SX Lites class in Phoenix

Racer X: What's up, Sean?
Sean Collier: Oh, I just got done riding out at the practice track.

Where?
It's at one of my buddies' house, Josh Bagge. He lets me ride his private track and occasionally I'll go up to the Yamaha track. There's also a new track they built up the 126 that's about 15 minutes away from my house, so I go up there sometimes. It's nice; I've got a few tracks this year to ride one, so it's pretty good.

Well, Sean, it seems like all that practice is really paying off, because that was one heck of a ride last weekend in Phoenix. Congratulations!
Yeah, thanks a lot, I appreciate it! I wish I would've held on for that second place, but those guys were pressuring me and I got a little nervous and kind of blew it. But I just have to try and redeem myself this weekend.

How do you go from a 22nd-place finish at Anaheim 1 to nearly winning Phoenix?
Yeah. Well, at Anaheim I crashed the very first lap in the whoop section and I ripped my hot-start lever off and it was totally engaged. I don't know if you're familiar with four-strokes, but when the hot start is engaged it causes the bike to run at higher rpms and it pops. My front end was also really twisted, so I went over to my mechanic, and by the time I got over there and he straightened my front end I was already two laps down, so my mechanic told me not to ride so I didn't hurt myself.

Yeah, it's better not to risk throwing your entire season away for one race. But today I was talking to SX Live! announcer Jason Weigandt, and he said you were keeping Nathan Ramsey very honest for much of the race in Phoenix.
Yeah, I was staying right there! I was kind of surprised, because I really wasn't riding hard at all. I got a good start and Villopoto and Short went down, so I was in the lead. I was pretty nervous and only held the lead for two laps before Ramsey got around me. I just tried to stick with him and run a comfortable pace. And I wasn't pushing at all, I was just kind of riding around, riding consistent, trying to hit that rhythm section every single time. Everything was going good until I started to notice Villopoto, Short, Langston, and Laninovich coming up, so I started to get a little nervous, and as soon as I started looking over, I lost my focus and they started catching me until finally, with two laps left, I freaked out and just dropped my times from 56s to 57s and 58s. It was a bummer because my fitness is really good this year and I didn't get tired at all, but I just freaked out.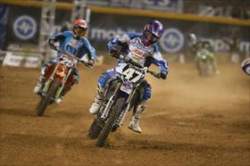 Sean led two laps in the SX Lites main event, shown here leading eventual winner Nathan Ramsey

Were you expecting to be up there in Phoenix or was that a total surprise?
Well, I didn't expect to be up there. I was shooting for top-five or top-ten and the top-three is really good. I know if I can ride as fast as I can that I'm capable of top three, for sure. But running at a comfortable pace, I know I can be in the top five. I'm going to shoot for the top three now. I mean, now that I was running up there and hanging with Ramsey no problem, I figure why not? He looked like he was pushing harder than me, and Laninovich said that was the hardest race he ever raced in his life. And that was by far the easiest supercross I've ever raced in my whole life, so … I don't know, I'm surprised. I've just been working real hard, and I told myself this year that I want to drop my lap times at the practice track four seconds a lap, and that's what I've done.

Wow, four seconds a lap is a lot! Tell us how you cut that much time of your laps.
Well, the track that I ride out here is identical to the supercross track from two years ago in Dallas. So I looked at Tedesco's lap times from that race, and I think he was doing 59s, I believe it was. So I said, Okay, I'm doing 1:03s and 1:04s, so I want to drop it four seconds a lap and I want to get down to the one-minute range. And that's what I did. I just started working everyday and I started getting my times down and about a month ago I finally got my times down to 58 and even 57s. So that's a couple seconds better than Tedesco was running on that track. I know it's probably a little different from that track, so give or take a couple seconds here and there, and I figured I'm in the ballgame. And you also have to put into consideration that I'm riding this track every week, so the more you ride a track, the faster you get on it. But that's what I'm running now and I'm consistently doing that for 20 laps.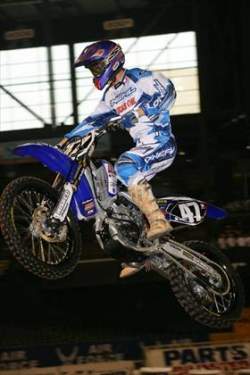 Collier is a good fit on the Star Racing/Lucas Oil Yamaha squad and has lofty goals for this season and beyond

In practice in Phoenix, your best lap time was the ninth fastest on the day, so that had to give you some confidence going into the qualifiers.
Well, I was actually kind of bummed because I don't want to be ninth fastest—I want to be closer to the top three and top five. It kind of takes me a little bit longer to get used to the track, and I just have to learn how to really push it, because if you watch Langston and those guys, they really put down some hard laps. They charge into those corners really fast, and that's what I have to work on—entering and exiting the corners a little faster and going through them like Langston, just laying it over. That's what I've been working on, so hopefully I can get my times down there. I want to be up there in that top three—that's my goal. I want to be up there battling for championships next year; I don't want to be battling for top-tens.

Tell us about the split start—did you like it?
Well, I liked it because the corners were cool. You had a couple more corners, where most supercross tracks don't have that many corners. So it was more like a motocross track where you rail into the corner. But for a start, it's just havoc coming into the first turn. Everyone is going everywhere and I'm sure you noticed how tight they are. So if you're not right up there in front, you're screwed. You can get caught up there, like Stewart and Ricky. And I almost went down in my day qualifier. I went for the holeshot and I noticed Lawrence had a better start than me, but I said I was going to go for it and I almost got plowed over the berm, so I learned and went to the inside in the main and it worked great in my heat race and the main.

You're a member of the Star Racing/Lucas Oil Yamaha team this year, and it seems like you've adapted to the Yamaha really well.
Yeah, I really like the Yamaha a lot! I rode Kawis the first part of my career on 60s and 80s, and then I rode Hondas all the way until this year. I don't know, I just tried really hard last year but my speed wasn't there. And as soon as I got on my Yamaha, the first day I already matched my fastest lap time on my Honda. And the second day I was faster than I was on my Honda. The motor is a little stronger, especially on my race bike. We have Yamaha helping us out a lot doing the motors and it's just an unbelievable bike. The power is great, and also my suspension. I have Ross at Enzo helping us a lot, and also Brad on our team, who can also help out with the suspension. It's just a really good package I have going on right now and it seems to be working out really well.

How's the atmosphere on the team with Bryan Johnson, Matt Goerke and Martin Davalos.
Absolutely awesome! We all get along great and we help each other.

How did that deal come together for you?
Well, my supercross season was pretty bad last year, so I decided to move up to the 450 class because I just couldn't get the start on my 250F privateer bike. I raced the last six nationals and did pretty good, so Bobby wanted to talk to me and we had a meeting at Glen Helen, and that's how it happened. I put a good finish in at Glen Helen and we sealed the deal a week together.

Well, you're sitting 13th in points right now, but where do you hope to be at the end of the season?
I want to be closer to the top five, for sure. That's what I'm shooting for. There are a lot of fast guys and the top 15 guys all have a lot of potential. As you can see, there's probably going to be six different winners this year. It's just going to come down to who can get a good start and run the most consistent laps. My starts seem to be pretty good this year and it's imperative that you get good starts. If not, you're going to struggle.

Who do you want to thank, Sean?
Yeah, I want to thank Star Racing, Lucas Oil, Tornado Air, Big Gun, and definitely Yamaha, along with the rest of the team sponsors. I also want to thank my family and my girlfriend.

Cool. That wraps it up, Sean. Good luck this weekend!
Thanks, Billy.


Sean Collier's Sponsors


Star Racing
Lightspeed Carbon Fiber
Stomp
Lightspeed
JD Built
Web Cams
Wirtz