Racer X Virtual Trainer: John Louch
John Louch has been in the MX training business for several years and currently trains Red Bull KTM pilot Josh Hansen. John and his partner, Matt Neal, recently opened a state-of-the-art, high-performance gym in Southern California that has the MX industry buzzing. The name of the gym is Evolution Fitness, and as that moniker suggests, John and his partner have taken training in a traditional gym to a whole new level. Virtual Trainer decided to give John a call and find out first hand what all the hype is about.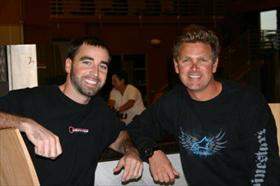 The faces behind Evolution Fitness: Matt Neal and John Louch


Racer X: John, thanks for taking the time to talk about MX fitness and Evolution Fitness. Before we get into that, tell me a little about your background and how you got into the sport of MX.
John Louch: Well, I'm from South Africa and actually grew up with Greg Albertyn. He lived down the road from me and I've known him since I was 7 years old. We used to ride and race together, and then when BMX came to South Africa, I really got into that—and that's when I really got into training hard. BMX is tough and requires a lot of conditioning, so when I was younger, probably 11 or so, I used to train every day.
After a while when I was a little older, I got back into racing MX and ended up here in America. I became a firefighter at first. That also contributed to my interest in training because a lot of the guys that I worked with at the time were really fit and into training. I did that for a few years and then went back to South Africa and got into something called Combat Challenges, where we used to have extrication competitions, and you had to be in great shape to compete. A few of the guys were personal trainers on the side, so that's how I got into the training side of it. I got all of my certificates and then later returned to America.

Did you start working in fitness then?
Yes, I started working at World Gym. I really liked being around the gym, so I got a few more certifications and started to personal train. For some reason people liked having a foreign trainer—maybe it was my accent or something—but I was always busy and thought, Wow, what a great way to make a living! I actually met Heath Voss at World Gym, and soon after that I started training Heath. Albertyn and I were actually partners in a personal training company, and I used to go to the races with him and hang out in the pits and talk to the other riders about training. That led to Travis Pastrana's mother approaching me one day about training Travis for MX, and that's when I really broke into the MX industry. From there, I worked with Grant Langston for three years, and now I train Josh and also Aaron Gobert in road racing full time. I am also going to start working with Jeremy "Twitch" Stenberg in freestyle, and I have also worked with Nate Adams and guys like that on a part-time basis.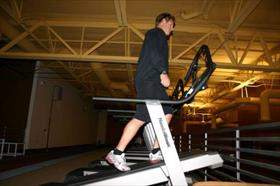 Running at an incline is great training

So is training Josh and Aaron your full-time job?
Yep, my full-time job is working with Aaron and Josh, but I also own the personal training in L.A. Fitness down in Encinitas. I own a personal training company with about 20 trainers and we train everyone from professional surfers and car racers to football and baseball players. I don't actually work there; I just own 50 percent of the business and keep more of a watchful eye on it more than anything else.

And now there's Evolution Fitness, right?
Yes, my newest venture is a gym called Evolution Fitness, which is owned by Matt Neal. I have known Matt for years and have always wanted to open up a facility were you could do VO2 testing, strength training, rehab, nutrition, and stuff like that for serious athletes, not just people who are casually working out. I wanted to create a place where an athlete could go and hire a trainer that really knew what he was doing for a particular sport. Not a 24-hour fitness trainer, not an L.A. Fitness trainer, but a highly skilled trainer that is used to dealing with a sports athlete.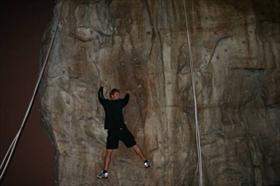 John Louch on the rock wall Evolution Fitness

How long has Evolution Fitness been around?
Well, actually, Evolution Fitness was also a personal training company at L.A. Fitness. But just recently, Matt opened the Evolution Fitness gym, which is a state-of-the-art facility. If an athlete walks in there, whether they are a baseball player, MX rider, or skateboarder, they are going to be stoked. If you want to get the most out of your training, you need to be in a place where the trainers know how to train you for MX, or any other sport for that matter. This is what I feel Evolution Fitness offers that other gyms don't—sport-specific training for whatever sport you want to excel in. We take the guesswork out of training for certain sports, including MX, and tailor exercises so they are sport specific to that sport.

What else does Evolution Fitness specialize in?
One of the big things we are into that I think is extremely important is rehabilitation. It has been my experience that most doctors, when rehabbing an athlete, don't always understand the importance of getting the athlete back in the game as soon as possible. Speed of recovery is very important. Most rehab places are used to dealing with general injuries that people sustain while at work. They are not used to dealing with professional athletes and don't always understand the importance of getting a guy back on the track. I believe that if an individual works hard enough and gets proper rehab, he or she can get back to where they used to be and maybe even better in a reasonable amount of time. So with Evolution Fitness, I thought it would be a great idea to have sport-specific rehab at the gym available to athletes. We understand how important it is to not only get good, safe rehab, but fast rehab is also very important.
When I used to train at other gyms I would meet these young kids who would show me these things that they were learning from their high school coaches and I just thought that some of the stuff was just crazy. I saw a lot of things being done wrong from improper weight training to inadequate rehab. So basically, Evolution Fitness is going to focus on teaching young athletes how to train, eat, rest, and rehab properly in the hopes that if you learn things the right way at a younger age, you can perform better as an athlete and have a longer career.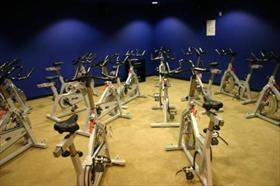 If it's too cold to cycle outside, there's always spinning

Where is the gym located and who can join?
It is located in Murrieta, California, right in the heart of the Murrieta/Temecula area, and it is open to everyone. I always get approached by moms and dads at the races on how to get their sons or daughters into a training program that is specific to MX or if I could recommend a good MX trainer. Quite frankly, I don't know very many trainers that are available that I would recommend. But now, with this new facility, I can tell people to go there and I know that they will get good sport specific training for MX. At the facility, they will have access to trainers and programs that I am involved with and will oversee to be sure that everything is being done the right way.
We also plan on working with riders that don't live in California. What a guy could do is come out to the facility for a month or so and get put on a program and learn from the trainers and then take that information back home with them. They can get all of their testing done and then as they come back later for another visit we can do the testing again and compare the results to see if they are improving or not.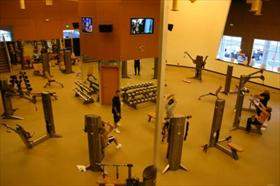 Evolution Fitness

With the internet the way it is anymore, they could be virtually connected to their trainer and the gym all the time.
Yes, the level that someone can take it to is totally up to them.

What type of equipment does the new place have?
We have free-motion equipment that I think is just awesome for the serious athlete. Of course we have a free-weight area, a rock-climbing wall, basketball courts, racquetball courts, and—one of my favorite things—the spinning bikes. We have a really unique setup where riders can go into the class with individual heart-rate monitors. Normally, when two heart-rate monitors get too close together there is interference, but we have a system where they don't interfere. It's really quite unique because we can have a whole group of guys in the class and monitor each rider and give them input as to where they need to be, heart-rate-wise. We also have a sprint track so people can do interval training and work on their flexibility. We also offer a full range of nutritional advice and monitoring. Mental training is also something we believe strongly in at Evolution. So basically, within our facility an athlete will have access to sport specific training in whatever sport they choose and every aspect of the training process will be covered. For the MX guys, we currently have four trainers that will be working under my direction to provide MX sport specific training.

How can people get more information on the gym?
They can check out the website at www.evolutionsportsclubs.com or they can call directly at 951-304-0466. If guys are calling regarding MX training, be sure and ask for Matt.

Sure thing, John, and thanks for taking the time to tell us about this awesome new gym.
Yeah, sure, no problem, Tim. Any time!