Bench Racing Ammo: Jeremy's Last Win
A little something different for Bench Racing Ammo this week. Jeremy McGrath's last supercross victory came at Anaheim 2, four years ago this week. With MC getting so close to the podium just last weekend in Phoenix, EJ wanted to look back on that last big win for the King of Supercross.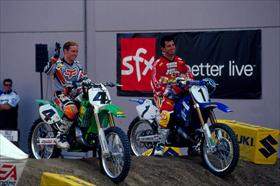 Jeremy and Ricky reenacted their Anaheim II moment at The Tonight Show
photo: Simon Cudby
"Yes, I knew I had a big fight coming, but I wasn't sure of when because RC's results were pretty unstable up to that point," said Jeremy McGrath of the week heading into the third round of the 2001 AMA Supercross Series at Anaheim.
For the first time in years, McGrath was shaken. A few days earlier, the best stadium motocross racer in the history of the sport had been beaten, straight up, in San Diego's Qualcomm Stadium by a kid named
Ricky Carmichael
. After an intense battle which saw the duo swap the lead five times, Carmichael—who had won his first and only supercross at the outdoor Daytona a year prior—had taken the measure of 71-time main-event winner, sending him to the canvas and lifting the 60,000 fans present up and out of their polyurethane seats.
But now it was a week later and time for round three, the two sudden rivals for supercross supremacy having driven north up the 5 Freeway and back into the Big A, better known among race fans as "the House that Jeremy Built."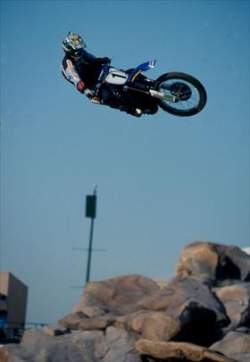 Jeremy McGrath
photo: Shiba
That night, at approximately 10 p.m., the gate dropped into the crunchy, rust-colored warning track dirt of Edison International Field (as it was then named), sending the 20-man 250cc main-event field roaring down the start straight. McGrath arrived at the apex of the first turn first, but it was Carmichael and his Chad Watts-tuned Kawasaki KX250 taking the lead after getting a better jump off the step-up ramp at the turn's exit. Team Yamaha rider David Vuillemin also snuck ahead of McGrath, but by the beginning of lap two, McGrath was up to second, his sights firmly aimed at the back of Carmichael's jersey.
On lap four, Carmichael stumbled going into the whoop section, allowing McGrath to draw up alongside him. McGrath pulled a deft outside-inside move a few turns later and stole the lead.
Content to follow McGrath, Carmichael stalked the seven-time supercross champion, eyes fixated on the Yamaha's blue rear fender. By lap 13 (of 20), the flying duo had 19 seconds—an eternity on a supercross track—on
Kevin Windham
, who was way back in third on his factory Suzuki.
At the three-quarter mark, McGrath made a small bobble and Carmichael smelled blood. In what would become his classic "go for broke" approach to racing, with three laps to go, Carmichael inadvertently slammed into the reigning champion at the end of the whoop section. McGrath flashed Carmichael an annoyed glance as the #4 bike led the way up and over the finish-line jump.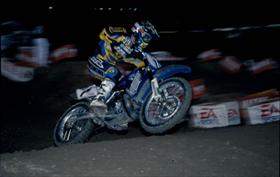 photo: Shiba
Even with his notoriety for having a hot temper, Carmichael knew he had banged the champ, and in a show of respect, in the following turn he went to the outside, giving the King wide berth on the inside. McGrath shot back into the lead and the chase was on again.
With two laps to go, Carmichael, his hands and feet coming off the bike in a frenzy, stalked the Californian. With the overflow crowd roaring, the white flag was waved. Toward the very end of the conclusive lap, the two riders attacked the whoop section with Carmichael making a final, desperate dive into the final turn. McGrath hung tough, though, and raced up the finish-line jump to win by less than a second. Then then rolled atop a jump at the far side of the track, came to a stop and shook hands.
"That was the best race in five years, I think," said McGrath later that evening.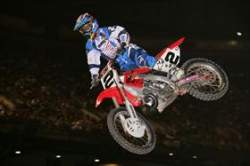 Jeremy is coming off a fourth-place finish in Phoenix
photo: Simon Cudby
"I could have been a jerk and did some off the wall things—punted him into next week—but I want to beat him fair and square," countered Carmichael
Five years on, McGrath is able to bring himself to admit that Carmichael had his number.
"The Anaheim 2 race was a very difficult one because, for one, it was a battle until the very end and, for two, I didn't realize until after that race, but my conditioning was not enough to be riding like that every week and I didn't really get to assess my fitness at Anaheim 1 because that race was relatively easy," says McGrath, looking back. "I will say that I didn't expect that kind of speed and pressure out of RC because up to that point, I did not see anything out of him or anybody else that I couldn't handle—or at least that's what I thought. I know that after that race, I was kicking myself for not being better prepared. I knew it had to happen one day, but I didn't think it would be then. So, to say the least, I was definitely chasing my tail trying to gain more fitness for the rest of the season, but as you know, by the time you figure it out, it's too late, which was the case here."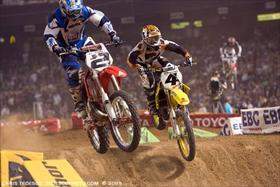 MC and RC: 2006
photo: Chris Tedesco
Carmichael would immediately take control of the sport, winning the last 13 races of the '01 series to clinch his first of three consecutive AMA Supercross championships. I asked Ricky's close friend and longtime mentor Johnny O'Mara, who helped prepare Carmichael for the 2001 season, how they made it happen?
"We knew we had Jeremy covered with RC's speed; we knew Jeremy was not comfortable racing at Ricky's speed," said O'Mara, the '84 Supercross Champion. "The one last thing RC had to get over was taking down his boyhood role model and hero—McGrath was an idol Ricky always looked up to, and I think McGrath kind of knew this. I would also say that McGrath was counting on RC's past track record: that RC would make mistakes throughout the 16-race series. That's how Jeremy felt he would win the SX series—by Ricky going down. However, I honestly believe that Jeremy knew that RC had more pure speed at that point. As you now know, the rest is history."
Carmichael agrees with O'Mara's take on the fact that, yes, he had to kill his idol. "I looked up Jeremy so much, but if I wanted to beat him, we knew I had to put that aside," he said recently.
It's now winter of 2006 and Jeremy McGrath, still down in the AMA Supercross/Motocross Series Guide as having 72 career supercross victories, is making yet another six-race comeback. Six years removed from his last supercross victory, does he still think about it?
"I do still think about my last race win, and I am glad that I got beat by somebody that went on to dominate after me, because I would have been very upset if my results just started to dwindle and all of a sudden I was getting fourths and fifths or worse," says McGrath. "I am a very fortunate man, and I know that. I am also very glad my last win came at Anaheim, in front of my hometown fans, where it all started."
Could it happen again? Could MC win supercross number 73? He did holeshot and place a highly impressive fourth last weekend at Chase Field in Phoenix. It sure would make for one hell of a story!