Monday Conversation: Ricky Carmichael
Ricky Carmichael won a very important race at Phoenix, reenergizing his Makita Suzuki team just in time to prevent Stewart's remarkable speed and newfound consistency from giving them a long headache that only a win can cure.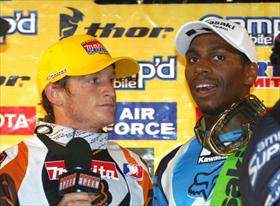 It's on. RC is determined to match Stewart's speed.

Carmichael wasn't sure what to expect in Saturday's main after getting punted into the split first turn in his heat race, and just to be defensive, he gated opposite Reed and Stewart and ended up bogged on the start on the wrong side of the split. Stewart, however, was now the one to get punted—and in the same place! The Kawasaki rider was on the ground, then back up and kick-starting his big 450. RC worked his way to the front and made an aggressive pass on Reed. (RC later deflected questions on this by mentioning the heat-race first turn, which happened to involve Reed.) With all this going on, we stopped RC at the press conference for a few more thoughts on the win, which moved him into a tie with Stewart in the Amp'd Mobile AMA Supercross standings at 45 points apiece, one better than Reed's 44.

Racer X: Ricky, it looks like Phoenix is good to you.
Ricky Carmichael: [Laughs] Yeah, I always said that it's a good place. I got my first 250 podium here in 2000. Now I'm ecstatic. I didn't think the night was going to go that well. I believe in myself, and I believe in my abilities, but after that heat race [where RC got pushed into the Tuff Blox off the start] I was like, Damn! But I got it done. A lot of people said the track is easy but I saw a lot of mistakes being made out there. It was fun, and I enjoyed racing Chad. We kind of had our differences tonight, in the heat race and the main event. But I have a lot of respect for him. I really do. He is a great champion and a great racer. Hopefully we can continue to have good battles on the clean side and do what we gotta do.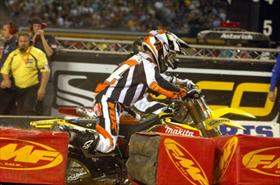 RC's night went wrong before he even got around his heat-race first turn. Reed got the best of him here and RC would remember.

In that aggressive pass in the main, was there any contact?
I didn't feel any contact. Maybe there was. I'm sure if you ask him what happened in the heat race on the start, like, there was contact there made, so…. You know what? The main thing is, we kept racing and we had a good race. I'm just really happy for our team. They were kind of down and out. Hopefully this will pull us through and build some momentum.

What has it been like for you since Toronto, with James winning three races and all?
It's been tough. But that's why we work hard, for nights like tonight. That's why we bust our asses at home. It made it worth it. I finally won another one! But it is a long series. The track was good tonight. I felt like you could ride over the edge a little bit and the penalty wasn't so steep. That was nice. The SX Lites race was also good. That's what we need.

Did you follow the fuss over last week's track?
I think all of us followed it. I just want everyone to stay healthy. I'm in a different stage in my career than the other guys, so I look at it in a different way. We need to see good racing. It's going to help Chad; it's going to help Bubba; it's going to help everyone. I mean, that was so bitchin' to see MC out there. That was so fun, and he hung in there for a long time. That's what we need. As far as complaining, I don't think I've complained too much over my whole career. I feel that it gets you nowhere. I have my thoughts, and what I think they should do may not be the right way, but I'm just in a different stage than they are, so it will help everyone down the road.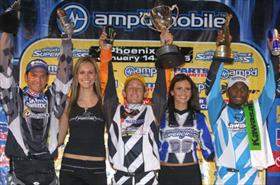 This is how relieved RC was to get a win right now.

At what point in the main tonight did you know you had it?
Hmmm … about lap 17. Three to go. It was still dodgy about lap 12, I think. I looked up at the board and it said lap 12 and I was like, Shit! And then I looked up and saw lap 17 and I'm like, Ah, okay, I got this picture-perfect.

Did you know what had happened to James?
No. I figured he was behind me, so I didn't know.

Were you getting anything on your pit board as far as lap times?
I was taking the right side of the split lane, so I really couldn't see it.

Where do you go from here? Are you still changing the bike?
Yeah, we have to improve on the bike. There's no doubt about it. It needs to get a little better. I think I'll get better, too. We'll try to build some momentum. I think my speed is there; I just need to smooth it out a little bit.

Is the number of wins between yourself and James and Chad going to be mixed, or will someone take over?
If we all keep going 1-2-3, it's going to take a lot of wins, unfortunately.

Okay, thanks for your time.
Thanks, Steve.