Kawasaki/Racer X Race Report
One year ago the perfect storm in supercross died a quick death in Phoenix. After James Stewart broke his arm in practice, Ricky Carmichael reestablished his dominance and Chad Reed left the race in a 21-point hole, the season was basically done.
This year, it began here.
The series has taken on a whole new life as Makita Suzuki's Carmichael romped home the winner, Kawasaki's Stewart crashed in the first turn and put on a charge from last to finish third, and Yamaha's Reed took second for the second week in a row. All three contenders have shown the speed and ability to win races, Carmichael and Stewart are tied for the Amp'd Mobile AMA Supercross Series points lead, and Reed is just one point behind.
And as if that's not good enough, Jeremy McGrath grabbed the holeshot in the main and rode a great race, finishing fourth. A few hours before the event, rumors were swirling that McGrath would park his CR250 and race a 450 at the next round of the series. Now he's cashing a $1,500 holeshot check from Toyota and celebrating a very solid top-five ride.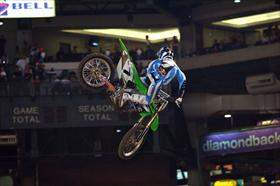 James Stewart salvaged third after crashing in the first turn.
TFS photo
And in addition to all of that, the AMA Western Region Lites Supercross Series is on fire too. Red Bull KTM's Nathan Ramsey bounced back from his poor ride in Anaheim to win the race. Behind him, the series' top riders traded mistakes and positions in a tremendous battle. Billy Laninovich took second on the Sobe Samsung Honda and Grant Langston was third on the Monster Energy Pro Circuit Kawasaki. Laninovich is now the points leader in the series, but there's almost too much to call right now with so much action going on, so let's just rewind back to the top of the evening.
First, the Phoenix track was much easier than Anaheim, but it also featured the split-start section, with half the riders going left in one section and half going right. And the whole layout was covered in dry, dusty Arizona dirt that became choppy, hard and slick by the time the main events rolled to the line. The obstacles didn't offer much separation between the top riders, but the slick terrain caused everyone to make mistakes, so the racing was very good.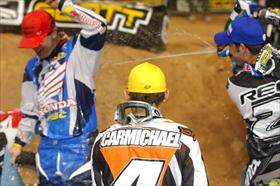 Carmichael and Reed reminded Jeremy of what the podium is like.
TFS photo
Reed and Stewart won the heat races while Carmichael struggled with a bad start in his. In the main, McGrath picked the right-hand lane of the split start, which was supposed to be slower since a rider can't get to the rear brake lever as easily in a right-hand turn. But MC nailed it like he would have in 1993, and he grabbed the holeshot. He actually led for a bit, while Carmichael got yet another bad start and was working his way forward. RC said that he had some trouble with his bike bogging at the U.S. Open, and while Suzuki has made changes to fix that, the changes have hurt the bike off of the start.
Meanwhile Stewart was even further back after crashing in the first turn. By the time he got up he was a full straight behind the 19th-place rider.
So Carmichael and Stewart went to work again picking off riders on a very slippery track. By the time Carmichael got into second, he was nearly eight seconds behind Reed, and Chad was matching RC's lap times. It was Reed's race to lose, and he lost it. Chad spun coming over a jump and crashed. He picked it up and maintained the lead, but soon Carmichael was on the case and made the pass. It was a hard pass, too, as Carmichael was forced to get aggressive. He shut down Reed's line and prevented Reed from jumping a triple, which gave Carmichael a cushion. Reed then set back after him, but he made one more mistake in a difficult rhythm section and had to single a few jumps. That gave Carmichael enough of a lead to win the race.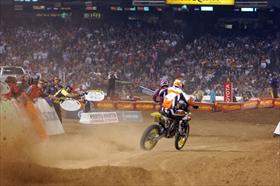 Carmichael got yet another bad start, but he clawed his way back to the front.
TFS Photo
Stewart, meanwhile, worked his way all the way back into third. He admitted he backed it down when he got into third, because he was riding on the edge to get there. But this is still a much more patient James Stewart. When asked what went through his mind as he got up from the first-turn crash, he answered it simply with the word "Championship."
McGrath hung tough over Nick Wey to finish fourth, and the fans were pumped over the effort of all of the riders. It's on in this class.
In the Lites,
Ryan Villopoto
came from the LCQ to grab the holeshot yet again, and he battled
Andrew Short
early.
Grant Langston
was in the hunt until he stalled his bike. Then Short and Villopoto crashed into each other, which put Star Racing Yamaha's Sean Collier into the lead. Collier rode the race of his life. He yielded only to Ramsey and stayed right behind the Red Bull KTM rider. Short, Langston and Villopoto hooked onto each other and headed back to the front. They then caught Laninovich, and the four of them stayed completely hooked to each other.
Collier hung tough, trying to cling to his first podium ever. Sadly, he finally got swallowed up by the pack and dropped from second to sixth with just a lap to go. Then Langston got aggressive and stuffed Short for third, and Villopoto followed him right around to finish fourth. Laninovich held them all back, claiming it was the hardest race he has ever run in his life. And Ramsey won, cutting his points deficit from 16 to eight.
It doesn't get much better than all of this. Get your tickets to Anaheim 2 now, and don't forget to watch the Supercross class tomorrow on Speed Channel, 6 p.m. EST.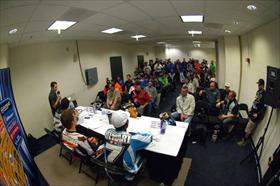 The press conference after the race was packed - people are excited about this series!
TFS photo