"Um, I told you so!"
First of all, a reminder that you can listen to the live coverage of tomorrow night's Phoenix SX over at www.supercross.cc.com, beginning right around 10 p.m. EST and 7 out West.
Make sure you download the track design right here to help you follow along with the call from Weege and Hollywood. Also, don't forget to watch the event at 6 p.m. Sunday on Speed (with the SX Lites from Phoenix airing next Saturday on Speed at 6).
And while we're at it, don't forget to watch Anaheim's SX Lites main tomorrow at 6 p.m. (East) on Speed!
Now, about that first line: "Um, I told you so!" It could have been from anyone who had the foresight to jump on the Bubba bandwagon before it rolled out of Florida to start Amp'd Mobile Supercross.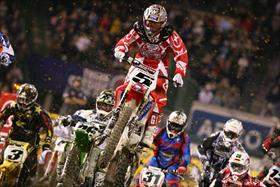 Mike LaRocco quietly proved that he's still a force to be reckoned with
photo: Simon Cudby
But it was actually
Tim Ritchie
from
Red Bud
who said that about
Mike LaRocco
. He's a good friend of the veteran's, and he was noticing that LaRocco was getting little play in the build-up to Anaheim 1. Well, The Rock was true to his nickname, putting in a solid ride on the #5 SoBe/Samsung Honda and basically reminding everyone that not only is one of the sport's all-time greats, he's still got some game, too—good call, Tim!
As for the Big Three, they all did pretty much what I expected them to do out there: James Stewart was the fastest and won, Ricky Carmichael was right there but made a mistake, and Chad Reed is also back to his old flying self.
What surprised or disappointed you about Anaheim 1? That's this week's Troy Lee Designs Racer X Online Poll question.
Let me turn this over to
Pingree
right here….
Everyone is talking about the surprises of the new season after Anaheim 1. Of course, Bubba was surprisingly patient and fast. Reed turned on like a light switch on the fourth or fifth lap of the main event and seems to be the Chad Reed of 2004. And Carmichael was going to make it interesting, but we'll have to wait until this weekend for that to shape up.
In the Lites class, Ryan Villopoto has to be one of the biggest surprises. Ryan got out front early and led more than half of the laps in his first main event—not bad for a kid who barely made it through qualifying! Even though he looked like Opie Taylor from The Andy Griffith Show standing next to Erin Bates on the podium, the fact is … he was on the podium. Still, I couldn't help but whistle the theme song to that show as he held up his trophy on the podium. Ryan is going to be really good at uncorking champagne by the end of 2006.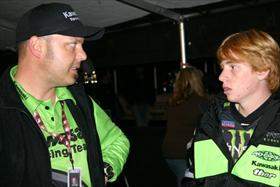 Opie Taylor checks in with Kawasaki team manager, Mike Fisher
photo: Ping
Team Honda's
Andrew Short
rode a solid race and scored his third Supercross Lites win, which was a nice way to start a new AMA season after his troubled rides in Canada.
Grant Langston
turned in the fastest times in the Lites class, coming back from a first-lap crash to fourth. GL and Andrew are going to have some good races this year.
Another guy that shocked me is arenacross ace Darcy Lange. Darcy rode up front all night and held on to a solid fifth. If he gets some confidence going, Lange could see the podium very easily. The Racer X Canada guys must be stoked.
What about the disappointments? Personally, I thought Jeremy McGrath would be more toward the front. His 11th-place finish in the main behind fellow two-stroker David Vuillemin was probably not what he hoped for. I hope he gets on a roll and makes a run at the podium before his stint is over.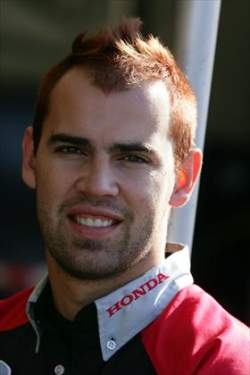 David is one of the last, best hopes for the two-stroke crowd
photo: Simon Cudby
I realize that one race does not a season make, but there were some riders that didn't make the Lites-class main event that should have. For instance, Team Rockstar Suzuki.
Jason Lawrence
is just as talented as Villopoto, but he parties and acts like a young
Ron Lechien
. News flash,
J-Law
: the Dogger was winning races and championships in his heyday. Not qualifying for the final is unacceptable for a rider making half a million dollars a year.
Ryan Mills
also missed the main event. Hopefully, Milly rebounds this weekend in Arizona.
The WBR Suzuki team looked poised to post some solid results leading up to the opener. Ryan Morais crashed early on in the day and separated his shoulder, taking him out of the night. Morais hopes to be able to race in Phoenix. Ryan Sipes struggled all night, finishing 19th by the end of the evening. Rookie Michael LaPaglia didn't qualify for the main event, but this was his first professional event. Michael will have better days.
Three really fast brothers, Nicky, Tommy and Roger Lee Hayden, were taking in the season opener in Anaheim. They bought a house in Southern California to stay in when they are testing or in the area. Nicky is looking forward to getting on his Supermoto bike while he is out here. That will be a good day to be at the cart track.
Cahuilla Creek was busy this week. With the supercross races in town, it seems like talent from all over the world is here watching. And while they are here, they are spending some time at the track. Sebastien Tortelli was busy with the KTM crew dialing in the 450 that Seb will race here in the States. Tortelli is contracted to race the MX1 class in Europe this year, but he will compete in a few selected rounds Stateside. His race bike for the world championships is a full works bike and a prototype for what we will see on the 2007 KTMs. He can't race with that machine here in the USA, so the orange squad is dialing in a production race machine for him.
With the Off-Road series about to get underway, David Knight, Kurt Caselli and many others from the off-road world were also getting in some last-minute testing before their seasons begin. Ryan Hughes was working on his Suzuki as well. I even saw Stephen Sword circulating on the track, unless it was a really good impostor. Travis Pastrana was also there riding laps. The Suzuki rider is tentatively hoping to race at Daytona.
"I really want to do the supercross, the flat track, and the Supermoto race during Bike Week," Pastrana said. "I think that would be a lot of fun. We'll see, though. Right now it's just fun to be back on a bike."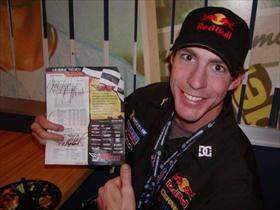 Travis shows off his Davi Millsaps autograph!
photo: Scott Wallenberg
The word we're hearing is that Travis wants to race them all at some point this season. No, not at all of the races—rather, all of the Suzukis! An RM125, an RM250, an RM-Z250, and a 450. That should be interesting!
There's a new message board getting started that is going to be grabbing gears quickly: www.MXinsiders.com is Racer X contributor Andy "Regis" Harrington's creation, and it should be one of the best places to talk motocross. The site will also feature photos, stories, interviews and music all for only $1 a month. Be sure to check out www.mxinsiders.com.
That's it from Ping; now here's a quick commercial for Marc Estabrooks' new project:
SX Results on your Desktop!
Tired of scrambling on to get the results from the latest supercross so you can add up your fantasy SX team score? Well thanks to Moto Brew you can get Amp'd Mobile Supercross results on your desktop!
Widgets are small desktop applications that run on both Mac and PC computers. They are completely safe, and contain no Adware or Spyware. Developed by Yahoo! Widgets will open a world of fun on your desktop! Once you've downloaded the Yahoo! Widget Engine, you'll be able to download any of the thousands of widgets available, all FREE!
From XM radio, to clocks, schedules and reminders, you'll wonder how you ever got along without them! To learn more, and grab the Moto Brew Supercross Widgets visit: http://widget.exost.com.
Speaking of Marc, he also designed the
Racer X
Supercross Legends trading cards for us again this year, featuring all of the past AMA Supercross Champions. We are giving them out at the
Racer X
booth at every round of the series, and you get a free set (and a 2006 Team USA Calendar) if you purchase a new subscription or renew your old one. One guy who really dug his new trading cards from Anaheim was
Craig Huggett
, who sent us this note:
"Thank you very much for the trading cards you sent me. I have since had them mounted and framed, and attached is a picture of the final product. We are in the process of decorating our 'MotoRoom'!"
Our brand manager Mike Farber sent a bunch of the trading cards around to some of the men featured, including The Jammer, JMB, Hannah, Fro Daddy, Jeremy McGrath, Johnny O', Mark Barnett and the rest. Well, 1980 AMA Supercross Champion Mike Bell ran into one young fan and dropped us this note:
"I was at the Knothole Club last Saturday night and up walks Nicky Hayden, who proceeds to dig through his pocket to pull out his new prize possession. He looks back at me and says, 'Look what your brother Scotty gave me earlier this evening.' It was his new Mike Bell Racer X trading card and he seemed so excited to have it. Now that's pretty cool!"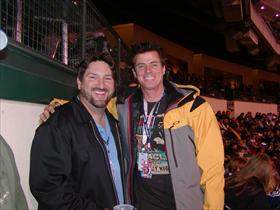 That's Mike Ron Lechien and Mike Bell in the Knothole Club
photo: Scott Wallenberg
If you were in one of the markets that saw the CBS coverage of the Anaheim SX get
dropped for local programming
, I feel for you. A few years ago when
Scott McLemore
and a crew from ABC filmed
High Point
for network coverage, the Pittsburgh affiliate ran a damned infomercial instead. Turns out that the local owners of some of the network broadcast partners did not even run NASCAR at 100 percent for several years. This is something that is 100 percent beyond the control of the network and, in this case, the promoter. But the good news is that they can only do it so many times a year, so hopefully the people who missed last week's race will get to see Phoenix on Sunday.
Want to help out Wonder Warthog Racing so they can help out the privateers? Check out the online auction they're having right now for a
1991 Jeremy McGrath jersey
.
Turns out a collection of 29 old-school jerseys were donated to Wonder Warthog Racing by Dana Kellstrom of Dana K. Business Parks, and Chris Neitzel, an actual privateer himself. The collection includes jerseys from Bayle, RJ, Emig, LaRocco, Jeff Ward, and many others. WWR will be auctioning off one old school jersey per week. Check out the current auctions at wonderwarthogracing.com/auctions. As Scott told us, "All proceeds will go to the noble privateers . . ."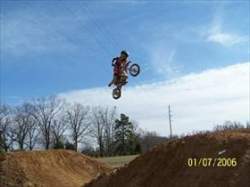 There's going to be another fast No. 7 in Phoenix!
photo: David Evans

David Evans is the manager for James Stewart, as well as a rider himself, and the father of an aspiring young racer. Patrick Evans will make his KTM Jr. SX Challenge debut in Phoenix this weekend. His dad told us a funny story about it: "He's pretty excited to get picked for the race—we tried for over a year! But he did want to run the number 7, so Big James and I asked Sel from KTM at the A1 press conference if we could run the 7. Sel dialed the office right in front of us to see what number Patrick had been assigned and low and behold, he already had 7. Out of 15 kids that's amazing!"
Good luck to Patrick and all of the kids in this week's program.
Here's a note from Kevin Foley, who I mentioned last week, but then a small boo-boo. "Great to see you last week at the A1 press conference and thanks for the shout out in Racerhead # 1. I do need to say though that I am not the West Region Sales Manager, that job belongs to Mr. Rocky Aiello, who has held that position for many years. Prior to my in-house position in the legal group I was a District Sales Manager in the Yamaha Motorsports group so perhaps that is the sales connection."
Sorry for the mix-up, Rocky!
And in other Yamaha news, our very best wishes go out to Darrin "Rookie" Sorensen, who has been battling back from the effects of a weakened blood vessel in his brain. He is being subbed for with his rider Chad Reed by the highly respected Alan Olsen.
Cards and letters for Darrin can be sent to Yamaha Motor Corporation, attn: Racing Department at 6555 Katella Ave. Cypress, CA. 90630.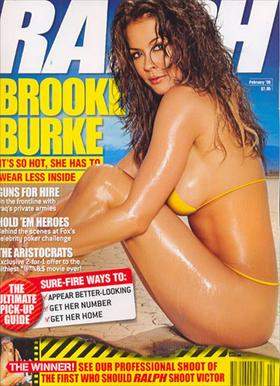 This mag rates Reedy as one of the all-time best blokes ever!
In other Reed news, he was ranked #74 on the "100 Best Blokes Ever" for Australian guys in
Ralph
, the Down Under
Maxim
-style lad mag.
I saw Leeann Tweeden last weekend in the Knothole Club last Saturday night, and the host of NASCAR Nation was telling me about some of her recent trips over to Iraq and other parts of the Middle East in order to entertain the soldiers for the USO. She also told me about this link to her 2006 Maxim TV Calendar shoot. It's good stuff!
Yes, there are some people talking about the USA vs. Canada hockey games in the Winter Olympics next month in Torino, Italy, but in our industry it's all about USA vs. Canada in the annual Racer X Ice Hockey Tournament at the Indy show. For more information, click here.

In totally unrelated news, here's an update from Griffin Cotter on the Racer X basketball team: "I wanted to thank you for sponsoring our team. We aren't the best basketball players in the world and we aren't winning a lot of games but we sure are having fun. Everyone is very excited and honored to play on this team. We also have the best-looking uniforms in the league. Our record is 0-3-1 and we will decide the tie on Saturday. The regular season doesn't matter record-wise, as everyone goes to the tournament. Thanks again."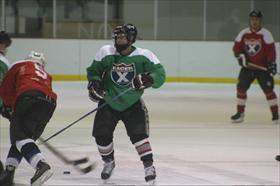 Racer X on ice?
photo: Scott Wallenberg
Yesterday, while thinking of the great ride that young
Ryan Villopoto
put in at his first-ever supercross race at Anaheim 1, it got us thinking about
Ricky Carmichael
's first supercross.
So we did a Racer X Wear Flash Trivia contest online and asked, "Where was Ricky Carmichael's first ever 125cc supercross and what place did he finish?"
Have a clue? While many of our contestants guessed the 1997 Indianapolis Supercross, it was actually the second Los Angeles Coliseum race in 1997. It was a special event that was not only the first and only supercross win for Brian Deegan, it was RC's first supercross race where he won his qualifier and then went on to finish 11th in the 125 (Lites) main event. His point did not count, as he was an "East" rider that year.
So congratulations to the following Racer X Online readers who correctly answered the trivia question. Your 2006 Amp'd Mobile Souvenir Program is on its way!
Scott Lindley - Los Angeles, CA
Pat Burke - Broad Brook, CT
Clint David - Huntsville, TX
Derek Egbert - Provo, UT
Chris Stringer - Fort Collins, CO
Check out this very cool video stream on of the Maxxis EnduroCross.
On a sad note, one of Northern Indiana's nicest people, Larry Read, passed away on January 3, 2006. Mike Kidd was a good friend and coworker of Larry's, and he wrote this on www.readsracing.com: "Working and loving motocross 365 days a year was Larry Read and his families life. They travel all over the United States with the BooKoo Arenacross Series and will be in Reading PA this weekend. At his bedside, Larry made it clear to his family to keep going after he died because this is a business and we know what we all have to do… So this weekend you will see his daughter Carol and her Husband Mike and the Klinger kids working at the event doing what they love to do and what there father and grandfather would see no other way…. A great man will be missed."
Godspeed to Mr. Read.
Anyone looking for a good East Coast SX Lites rider for their team? Our friend
Dennis Jonon
, cover boy on the latest
Amateur MX
mag, is looking for a ride—help a brother out!
On the business side of things, there's a very interesting article about Steve Astephen of The Familie in the new Outside magazine. He works with riders like Chad Reed, Nathan Ramsey, Travis Pastrana and more.
Speaking of athlete managers, management company International Racers Inc. has recently been getting involved in motocross. Though they're new to dirt bikes, International Racers is actually one of the pioneers in rider management, having represented such road race stars as Kenny Roberts Sr., Kenny Roberts Jr., Wayne Rainey, and Tommy, Nicky, and Roger Lee Hayden. So far, their MX involvement seems to center around FMX riders; they recently started working with distance-jumper Trigger Gumm, and we just got word that they picked up Brian Deegan as well.
Red Bull has a pretty cool thing planned for Sunday after the Phoenix SX: They're planning to take McGrath, Pastrana, and John Hopkins up in an aerobatic plane with a guy named Kirby Chambliss, who is the top aerobatic flyer in the country. They're doing it is about an hour south of Phoenix.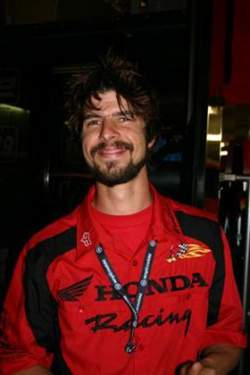 Alex Ewing joined Team Honda and is temporarily spinning wrenches for Jeremy
photo: Ping
Here's a new
amateur motocross website
to check out.
Congrats to Brian Deegan and his wife, Marissa, who announced the arrival of their first son, Haiden Brian Deegan. Born on January 10, Haiden weighed in at 7.8 pounds and is 20 1/2 inches long. Haiden joins big sister Hailey, who is 3.
And now, let me turn this over to Slawo Przybyla, an Eastern European SX fan who attended the ADAC Super-Cross in Dortmund, in which a few American riders participated. English is a second language to Slawo, but he's pretty good at it, as you're about to see….
With last weekend's SX race in Dortmund the SX series in Germany came to an spectacular end. Dortmund was always known as the highlight of the Super-Cross series. It's a race with a long tradition and some of the craziest fans and atmosphere. Unfortunately, it was once again scheduled on the same weekend as some Super-Cross race somewhere in the USA known as "Anaheim 1," so that meant that U.S. guys like Jason Thomas, Eric Nye, Daniel Blair were missing as they were recruited back to America to battle it out. Well, I am sure some of them would have preferred to race here to take a shot at the Toyota Corolla which was the prize for the overall winner after three days of racing. Nevertheless a few US riders stayed here and tried hard!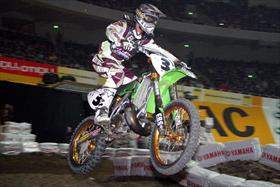 Evan was enjoying Germany last weekend—at first
photo: Domanowski/Stromberg
Clear favourite for the overall win was
Evan Laughridge
who has ripped the tight arenas all across Germany the whole winter long and was the most successful rider coming into that race. He was also the only U.S. rider who stayed nearly all the time in Germany during his mission. While everybody else traveled back and forth Evan got accustomed to the lifestyle here, got treated by his team like a family member and focused 100% on his job here. But as it usually is in life and Moto-Cross: it comes always different than one expects. After two crash filled nights, 2nd place on Friday and a 10th place on Saturday, all his chances to win the car were destroyed as he got injured on the last day. Evan broke his outer bone above the ankle when his foot got caught in the rear wheel of
Julien Vanni
in the whoops right after the first turn in his semi on Sunday. He took a flight back home on Monday, had already surgery and is sporting now two new screws in his leg and will be in a cast for about three to four weeks. No happy end for his succesful SX-Series debut in Germany.
Another not-so-lucky rider in Dortmund was 21-year-old Dylan Lord. After a 4th place on Friday and 11th on Saturday he went down hard on Sunday suffering a concussion and a broken vertebrae. Because of his concussion he couldn't remember exactly how the crash came together but he thinks he got cross-rutted on a double jump and hit the ground hard! He is in a very good clinic in Dortmund, specialized in crash victims and is going to be released next Tuesday. But everybody was super-relieved to hear that there are no signs of paralyzing.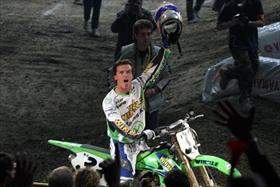 A very happy Donnie McGourty in Dortmund
photo: Domanowski/Stromberg
Finally, a good note from another American racer. Florida's
Donnie McGourty
, who struggled the whole season long, sometimes even with qualifying finally had his big breakthrough! After two DNQ's on Friday and Saturday he suddenly found his magic back and was at the right time at the right place to take the lead in Sundays Final and ride a great win back home. Everybody could see that he and his team people were stoked to finally get this monkey off their backs!
Donnie's statement: "I felt like a fish out of water the first few races, I train on a normal SX track here and go race very tight arenacross style tracks in Europe so it took me a while to get used to it. It felt awesome to get a win in my last race for the off-season, it definitely ended on a good note!"
The weekend was definitely full of ups and downs as is every race weekend in this sport. Luckiest rider this weekend was overall winner Julien Vanni from France. He managed somehow to win the overall and the car without even racing the Final on Sunday! He missed to qualify for the Final but due to the bad luck of Laughridge and Markus Mauser, who was also in the points chase for the car, he had enough points together to win the overall! Second place also went to French racer Cyrille Coulon, followed by Austria's Mauser and another Frenchman Alexandre Rouis. Craig "Ando" Anderson who also spent a good time in the US already rounded up the top five. So could Anaheim top that drama? ;-)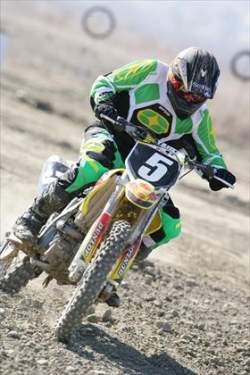 EJ trying out a new set of gear
photo courtesy of Eric Johnson
And now a note from
Jorg
of Realmx.com: "Just wanted to get you a quick update on the injured riders Evan (I brought him over here) and Dylan. I talked to both of them today. Evan broke his outer bone above the ankle. He took a flight back on Monday - in a regular seat without since the airplane was full which was not too comfortable with a recently broken foot! Yesterday he got surgery, two screws were put in and everything went well. Three to four weeks cast will be necessary.
"Dylan crashed hard on a double jump by his own in Sundays other semi race. He thinks he got cross rutted but he can't remember exactly because he got a concussion. Also he got a broken vertebra in the middle of his back, don't know the exact #. But no signs of paralysis, thankfully. I live not far and will try to visit him tomorrow or Saturday."
BooKoo Honda's David Vuillemin has an interesting new sponsor: Berkey's Plumbing and Heating and Air. Owner of Berkey's Billy Stevens said, "David fits the type of rider we have always sponsored in the past. He's a great family man and a terrific role model for kids. David will put Texas back on the map in Supercross." Berkey's is a family owned service company in the Dallas – Ft. Worth area providing unparalleled service since 1996.
Well, that's about it. Sorry I was all over the place today, but it's been a long afternoon of meetings and interviews—Racer X is getting ready to expand on a few horizons. Check out this site over the weekend for more from the Amp'd Mobile Supercross Series in Phoenix. And thanks to all of my friends around the world who asked about the tragic situation with the coal miners here in West Virginia. It's a reminder of how lucky we are to work together and cheer for our favorite riders in the motocross world. My dad always liked to remind me when I complained about having to flag a local race or sell programs at the front, or even pick up garbage, that, "Hey, it still beats working in a coal mine." Last week was a grim reminder.
Thanks for reading Racerhead (and thanks to Mark Phares for the Hoegartens!!!) See you at the races.
And by the way, Happy Friday the 13th!